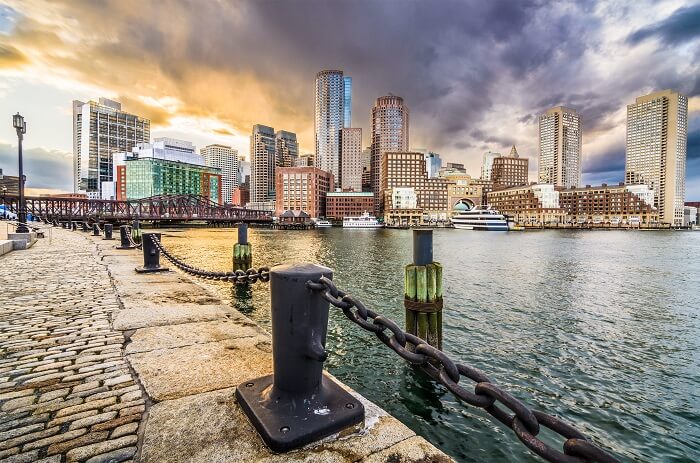 5 Reasons to Choose Boston, MA for Your Next Travel Nursing Assignment
If you're ready for your next exciting adventure as a travel nurse, look no further than Boston. This picturesque East Coast city offers generous nursing salaries, unique opportunities for professional growth and plenty to keep you busy when your shift is over. Here are five reasons Boston is an ideal destination for your next travel nursing assignment.
Top 5 Reasons To Start a Travel Nursing Career in Boston, MA
1. Competitive Salaries For Nurses
Nurses who want to maximize their earnings can enjoy generous compensation in Boston. According to the Bureau of Labor Statistics, nurses in Massachusetts make more than the national average, earning an annual mean salary of $92,140 ($44.30 per hour) compared to $75,510 ($36.30 per hour) for the rest of the country.

A typical travel nursing assignment in Boston pays between $1,255 and $1,910 per week ($31.38 to $47.75 per hour), depending on factors such as specialty, experience, qualifications and the facility's needs and budget.
Travel RNs may also receive benefits such as fully furnished accommodation or a housing allowance, travel reimbursement, guaranteed hours, overtime and signing or completion bonuses. Be sure to ask your recruiter about the salary and benefits included in your specific travel nursing assignment.
2. Prestigious Hospitals
Boston is home to renowned hospitals that look great on your resume, including institutions on the U.S. News and World Report Best Hospitals Honor Roll. If you can land a travel nursing assignment at one of these Boston hospitals, you can grow your clinical experience by working alongside industry leaders, learning new best practices and experiencing diverse cases. Some of these renowned Boston hospitals include:
Massachusetts General, which boasts the country's largest hospital-based research program. It's one of Harvard Medical School's teaching hospitals and is nationally ranked in 16 adult and five children's specialties. It earned the number two spot on the Honor Roll in 2019-20.
Boston Children's Hospital, ranked the top children's hospital in the country in 2019-20. This teaching and research hospital is one of the top in the nation for pediatric cancer, orthopedics, neurology and diabetes.
Brigham and Women's is Harvard's second largest teaching hospital. Ranked as the 13th best hospital in the nation, its specialties include cancer,cardiology, gynecology, neurology and rheumatology.
There are many other excellent hospitals in the Boston area in need of travel nurses and offering opportunities for professional growth.
3. A Top-Ranked Healthcare System
A travel nursing assignment in Boston means you're working in one of the best healthcare systems in the country. U.S. News and World Report ranks Massachusetts second in the nation for healthcare, just behind Hawaii, based on:
Access to healthcare, including health insurance enrollment, wellness visits, dental visits and affordability. Only 4% of adults are uninsured in Massachusetts, compared to an average of 13.8% in the entire country.
Quality of healthcare, such as success rates of hospitals in performing certain procedures, preventable hospital admissions and nursing home quality
Public health, based on rates of obesity, smoking, mental health and mortality
4. Vibrant Urban Living
There's no shortage of things to do in Boston on your days off. The city comes to life throughout the year with events such as the St. Patrick's Day parade, the multistage Boston Calling Music Festival, the Boston Pride Festival, Boston Harborfest and America's Hometown Thanksgiving Celebration.

If you're a sports fan, you can cheer for one of the city's professional teams, whether it's the Red Sox, Celtics or Bruins. History buffs can delve into the past by walking along Freedom Trailor visiting the Boston Tea Party Ships and Museum. Neighborhoods such as Chinatown, Beacon Hill and Little Italy in the North End offer afternoons of exploring.
5. Plenty Of Travel Adventure
If the outdoors beckon, you can ice skate on the Boston Common Frog Pond in winter and sail or paddleboard on the Charles River in summer. The Boston Harbor Islands offer spectacular vistas and beautiful trails and beaches to discover. When you feel like a getaway, you can head to beautiful Cape Cod or travel a little farther to the famed Martha's Vineyard.
Adventure is waiting in Boston! If you're ready to put your RN skills to work with an exciting travel nursing assignment in this dynamic city, browse current job openings on the AMN Healthcare's website.