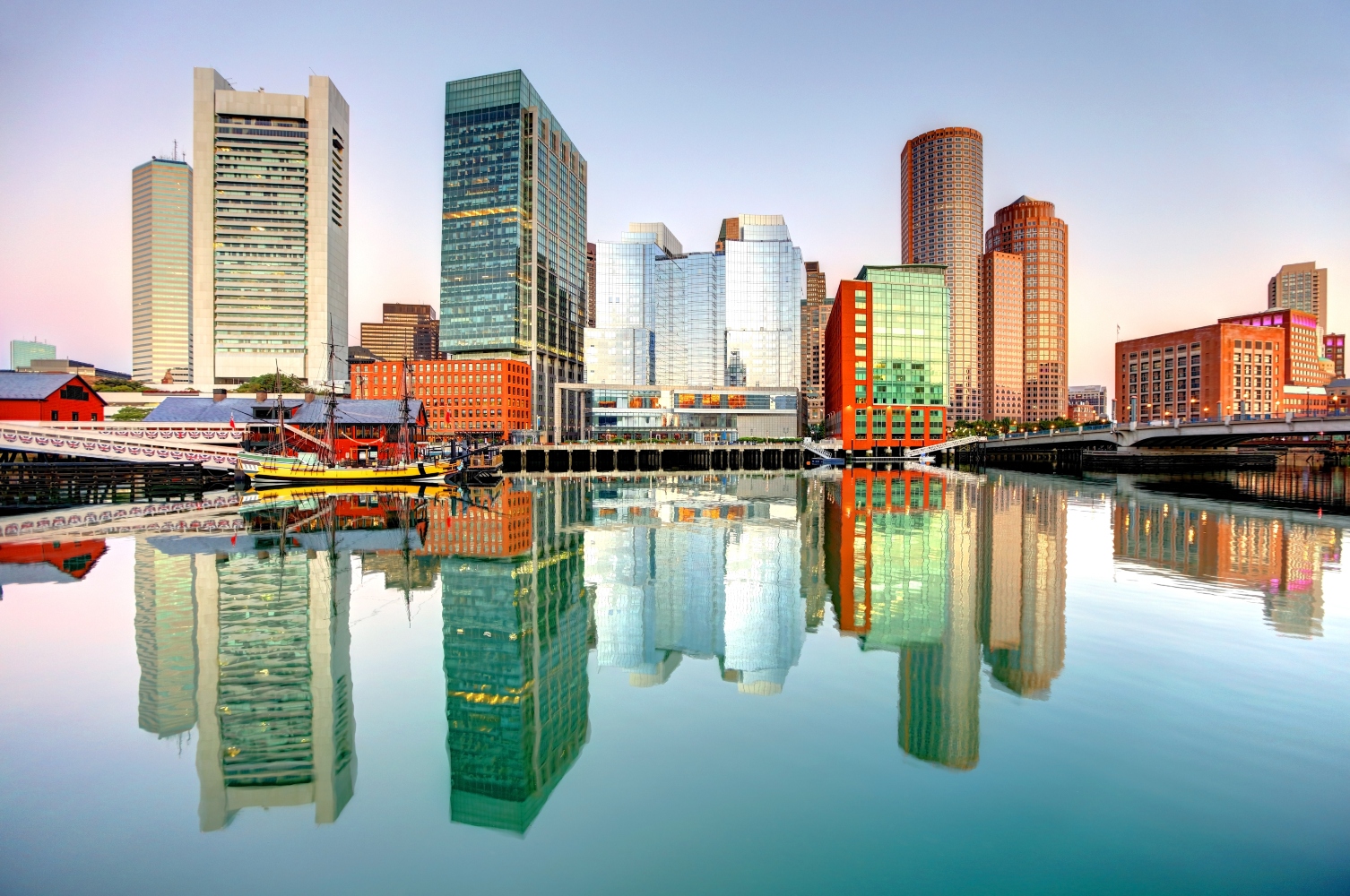 The Healthcare Professional's Guide to Boston
Boston has long played a critical role in U.S. history since it was first founded by Puritan Colonists in 1630. Fast-forward almost 400 years, and this New England city offers a fantastic lifestyle with something for everyone. With its deep historical roots, innovative medical community, thriving downtown area, and prestigious universities, it's no wonder why Boston is a favorite destination for healthcare professionals.
Lifestyle benefits
Boston has many nicknames, the most widely used being "The City on a Hill," "The Hub of the Universe," and "America's Walking City." It's no wonder why the last nickname truly resonates, as Boston consistently ranks in the Top 10 Most Walkable Cities in the U.S. (more on things to do and places to discover on foot later).
Of course, a competitive salary is one of everyone's favorite benefits of working as a healthcare professional. You can make an excellent living working with AMN Healthcare while maintaining a flexible schedule.
Other benefits of working in Boston:
You'll never run out of opportunities to enjoy yourself. Boston offers a nearly endless array of ways to pass the time. Museums, sporting events, festivals, fine dining…you name it, Boston has it.
You can set your schedule. Once you know your work schedule, you can plan the rest of your time accordingly. Want to spend an entire day, leisurely wandering in and out of shops? You can do that. Want to plan a weekend at a music festival? You can do that, too. Some healthcare professionals ask to stack their workdays together, so they'll have blocks of time so they can travel more extensively during their downtime. Others just go with the flow.
You can plan future vacations around your job. Did you leave your friends and family at home to take a job in Boston? No worries. You can arrange to take a week, a few weeks, or even a few months off in between jobs so you can return home. Or you could travel around the country--or the world!
You can return to Boston for future jobs. Once you're licensed to work in Massachusetts, you can easily take future jobs in the state--without having to go through the process of getting another license.
Let your recruiter know your career goals and ideal lifestyle so they can help you determine what kind of housing you'll need to book to accommodate your support system.
Boston's Healthcare Scene
Working with a staffing company like AMN Healthcare is a great way to find out what it's like to work in a particular kind of healthcare facility.
What kind of healthcare facility do you have in mind when you envision yourself working in? Do you want to work in a large urban medical center, or do you prefer a smaller hospital in the suburbs? Are you eager to work in a teaching hospital, or do you prefer a community hospital model?
It's important to start thinking about the facility that works best for your career growth and goals. With the wide array of healthcare jobs that we offer in Boston, this foresight will help you narrow down your options.
We typically have openings in the following types of facilities:
Large Hospitals / Academic Teaching Facilities
Mid-Size & Smaller Hospitals
Magnet Facilities
Rehabilitation Centers
Home Health Organizations
Children's Hospitals / Pediatric Facilities
Nursing Homes / Long-Term Care Facilities


You can also search our job database for jobs for specialty roles. If you have a specialty certification or training under your belt, your experience is sure to be in demand. Higher education is also an industry that attracts many students, scholars, and professors to the Boston Area. The city is home to Harvard, MIT, Boston College, and Northeastern University.
Taking a job in Boston is a terrific opportunity to boost your career, too. When you list that job on your resumé, that experience will make you a more desirable candidate for future jobs, wherever you go.
Things to do, see, and eat
We know you'll work hard when you're on the job. But we hope you'll devote just as much energy to enjoying your time off, too. Spend your time off to play tourist and explore the many activities and attractions we've rounded up on this list of suggestions:
The Freedom Trail
This iconic 2.5-mile path throughout the city is a great way to get acquainted with Boston's deeply-rooted history. The trail (which is mostly composed of brick) takes walkers to 16 different points of interest that helped shape American history. Walkers will find museums, churches, a ship, burial grounds, and other sites during the tour that winds from Boston Common through the North End to the Bunker Hill Monument.


Fenway Park
Regardless of your affinity to your hometown team, no visit to Boston is complete without checking out one of America's most beloved ballparks, Fenway Park. Home to the storied Boston Red Sox, feel free to sit in the stands for a ballgame or go on a guided tour where you can get behind the scenes info about some of sport's most notable legends.


Museum of Fine Arts
Founded in 1870, the Museum of Fine Arts (MFA) is the city's oldest and most well-known art institution. The beautiful building encompasses over 60,000 square feet and houses one of the country's most important collections including masterpieces by Vincent Van Gogh, John Singleton Copley, and Paul Revere.


Samuel Adams Boston Brewery
This isn't your average pub. This brewery is the original home of Samuel Adams. Today, visitors can enjoy free guided tours, beer samples and a taste of American brewing history.


Food Halls
A plethora of delicious food is also a key draw that continues to put Boston on the map. And what better way to sample the local fare than a visit to a food hall where you can taste several different cuisines in one visit? The North End's Boston Public Market

features over 35 different vendors and an outdoor farmers market, while the newer-to-the-scene

High Street Place is backed by James Beard Award nominated chefs and boasts an ultra-modern aesthetic. Eaters can enjoy everything from world-famous clam chowder to Mediterranean picks and fried chicken!


Boston Tea Party Ships & Museums
Step back in time to 1773 and hop aboard a floating museum to learn all about the infamous Boston Tea Party. Voted the "#1 Best Patriotic Attraction"

by

USA Today, the stars of the attraction are full-scale replicas of 18th-century sailing vessels. You can also enjoy live re-enactments of the event that changed the course of American history, as well as afternoon tea in Abigail's Tea Room.

Faneuil Hall
Delicious dining options? Check. Astounding street performers? Check. Historic building? Check. Great shopping? Check and check. The noteworthy Faneuil Hall Marketplace

and Meeting Hall really does have it all. What served as a meeting place for Patriots on the eve of the American Revolution has evolved into a vibrant place for people from all over the world to come together to enjoy.




Boston Harbor Boat Cruise
Once you've explored the city on foot, it's time to take your adventures to the water and take a cruise on the Boston Harbor. There are several different options to choose from including whale watching tours, upscale dinner cruises, tall ship charters, and even a thrill boat ride on an infamous speedboat called the Codzilla.


Skywalk Observatory
Ready for the best view in New England? Look no further than the Skywalk Observatory where you can see up to 100 miles away on a clear day. In addition to the bird's eye view, Skywalkers can enjoy an audio tour, the Dreams of Freedom Museum, and a multimedia movie theater.


Boston Public Garden
Adjacent to Boston Common, the Public Garden

is famous for its beautiful flora, ornamental design and of course, the recognizable swan boats and lake. The park is the first botanical garden in America, dating back to its establishment in 1837. Spend your day walking around the exquisite grounds and enjoy an idyllic boat ride to take in all the sights.
Why work for AMN Healthcare?
We proudly offer an incredible array of well-paying healthcare jobs, including many in Boston. We're also proud of our dedicated staff of recruiters, our clinical experts and other support teams for healthcare professionals, the excellent benefits, and all the other opportunities that we can offer.
Here are a few key reasons to consider signing on with us:
We make it easy for you. We designed the AMN Passport app to make it easy to search for jobs and book assignments. You can also use the app to manage your assignments, connect with like-minded professionals, and much more.
You'll gain access to our database of healthcare jobs. We have the largest, most comprehensive database of healthcare jobs in the industry, including exclusive contracts with several leading healthcare organizations, including prestigious magnet hospitals.
We offer full-time support. Our team wants you to succeed, so we offer support and make sure you get everything that you need. Your recruiter is always available to talk with you about current or future jobs. We also have dedicated team members to answer questions and troubleshoot problems if you have need help with housing, credentialing, or payroll, too.
We offer round-the-clock clinical support. If you run into a question about a clinical matter on the job, you can call our clinical team and receive urgent assistance at any time of day or night.
We offer licensure assistance. Depending on your role and location, we offer various levels of licensure support to help you work as soon as possible.
AMN Healthcare also offers some of the best benefits in the healthcare industry.
Premium health benefits. Perhaps more important than ever before, our health benefits will give you the peace of mind to know that you have access to healthcare when you need it, too. Our options include PPO and HMO health benefits, as well as life insurance, vision insurance, and disability insurance – for you and your family. Plus, you don't have to wait a month or three for these benefits to kick in. Coverage starts on Day One.
Retirement savings. We offer a generous 401(k) matching program that will help you save money for your retirement.
Free continuing education. To make it easier for you to stay updated on the latest evidence-based research and developments in your profession, we offer free continuing education unit (CEU) courses.
Complimentary Employee Assistance Program. Your well-being matters. That's why we provide you and your family with resources for healthcare, mental health, financial health, and other support. Learn more about this robust support program here.
Interested in working in Boston? Contact an AMN Healthcare recruiter to start the application process or visit our job search page to find a job that's a great fit for you!