Your Impact on Language Interpretation
Start Making a Difference Today
As a language interpreter at AMN Healthcare Language Services, you'll be part of a supportive, diverse interpreting team committed to growth and engaging in best practices.
Enable patients to have meaningful access to their healthcare information
Improve health equity through enabling patients to control communications about their health
Support top facilities nationwide with compliance and cultural competence in their healthcare services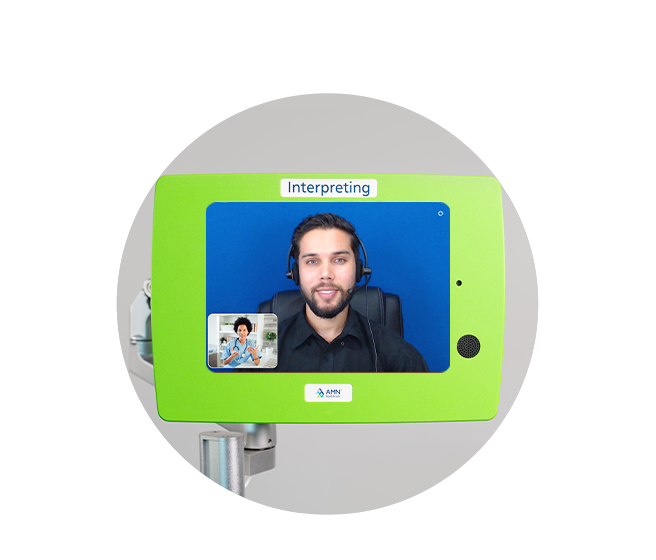 Our Language Services Team Knows Interpreting
Our Team is Led and Managed by Interpreters
We provide high quality language access services in critical healthcare encounters. Our benefits include:
Competitive Pay
Professional development opportunities
Supportive team environment
Equipment and training
Monthly salary
Overtime
Interpreter Qualifications
For Sign Language Interpreters
National certification at or above NAD level 4, RID CSC, RID CDI, CI/CT, NIC, or BEI Advanced
Minimum of 2 years of community / medical interpreting experience
Familiar with state laws and the Americans with Disabilities Act
Extensive working knowledge of the NAD/RID Code of Professional Conduct and Deaf Culture
For Spoken Language Interpreters
Minimum of 2 years of community/medical interpreting experience
When applicable, national certification endorsed by NCIHC or NBCMI preferred (CHI, CMI )
Third-party Medical Interpreter Language Proficiency Assessment
Credentialed in medical interpreting preferred
Extensive working knowledge of the National Code of Ethics and Standards of Practice (IMIA, CHIA, and NCIHC)
Take the First Step in Starting Your New Nursing Career
Take the first step to starting your new career.