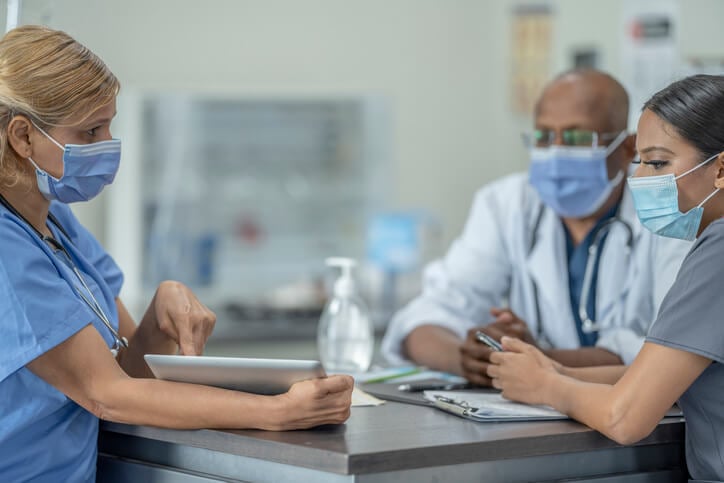 What to Expect on Your First Day of a Travel Nurse Assignment
What to Expect on Your First Day of a Travel Nurse Assignment
Remember what the first day of school was like? After going to your classroom, you met your new teacher, sat down at a desk and hoped that some of your friends were in your class. There are some similarities to your first day at a new nursing job. You arrive on time, ready to make a great first impression, and may join a cohort of new hires for the beginning of your orientation.
But it's a little different with a travel nurse assignment. Your first day as a travel nurse at a particular hospital or clinic may your first day…but not anyone else's. It's like arriving in the middle of something that's already happening.
So, how do you get your bearings and make sure can contribute quickly? It starts with knowing what you can expect on your first day of a travel nurse assignment and taking the time to prepare as much as possible.
Anticipate some type of orientation
Your assignment facility will very likely offer some type of travel nurse orientation on your first day. This will help you get your feet wet, so to speak, while you learn more about the organization and its policies. It's a great chance to ask questions about everything from the electronic health record (EHR) system to workflow to the best place to park on campus (if you don't already know). You may get a tour of the facilities, and some type of unit orientation with a preceptor who will guide you.
But the exact format and length of orientation can and will vary from organization to organization. You might have a travel nurse assignment at a hospital that provides several days of orientation, and starts with shadowing another nurse before taking direct patient responsibilities. Or you might just have one or two days of an introductory period.
Travel nurse Teri Knight, RN, took on a short-term, crisis nursing job at a hospital in San Francisco in December 2020. It wasn't the ideal time for an extended travel nurse orientation, as it was at the high-point of the COVID-19 pandemic, and the hospital desperately needed her (with her critical care skills) to get working right away.
"I was really thankful that the educator at the hospital took me and one other person aside and said, 'I'm going to teach you what you need to know' and gave us a crash course for 12 hours," Knight said.
The educator gave her an introduction to all the key points: the basics of charting in Epic, the EHR system in use, how to use some of the new equipment in the ICU, and where to look up a physician's orders.
"So I would know enough so I could make it through my day when I started the next day," Knight explains. "She was awesome."
Anticipate some butterflies
You might be a seasoned nurse, but your first day as a travel nurse at a new facility can still make you a little nervous. It's normal to be a little jittery when starting a new job, including a travel nurse assignment.
The best way to calm your nerves is to prepare well for your first day. A few key strategies:
Find out exactly where you need to clock in, who you should meet, when you need to be there, and what you need to bring (your travel nurse recruiter should provide a set of first-day instructions).
Before you arrive, work to complete any online training modules that are required.
Figure out your commute and how long it will take to get to your new workplace with traffic.
Get a good night's sleep the night before your first day as a travel nurse.
Lay out your scrubs and essentials you'll need to take before you go to bed.
Set your alarm so you will have plenty of time to get ready and won't feel frazzled.
Arrive early, take some deep breaths, put a smile on your face, and do your best to make a good first impression.
With some advanced preparation, you will feel more confident and ready for your first day as a travel nurse--and the entire assignment.
Luckily, no one will expect you to know everything the first day on the job. Ask questions and seek help when you need it. Think of yourself as a sponge, ready to soak up knowledge and information from others, suggests travel nurse Kristine Lamb, RN.
"Go in and don't act like you know everything," she says.
After more than three decades in nursing and more than five years working travel contracts, Lamb still relishes the chance to learn something new on every travel nurse assignment.
Anticipate some other nurse travelers
You might not be the only contract nurse at your new facility. In fact, you may find yourself working side-by-side with other travelers on the same unit. Let them be a resource for you. They know what it's like to adjust quickly to a new work environment and a new team of co-workers, and they may have some good advice for you. They may also welcome the chance to tell you more about your new city, or even do some exploring with you on your days off.
Anticipate the unexpected
As a nurse, you've probably encountered all sorts of challenging situations, and have learned that you need to be prepared for almost anything. Emergencies happen. Staffing crises happen. Patient surges happen—especially in the current COVID environment. These things can happen on a travel nurse assignment, too. When they do, turn to your preceptor, your manager or your fellow nurses to help you out.
If you happen to encounter some difficulty that needs further assistance, top staffing agencies like AMN Healthcare will also have a team of clinical liaisons who are available 24/7 to provide advice and assistance at any time during your assignment.