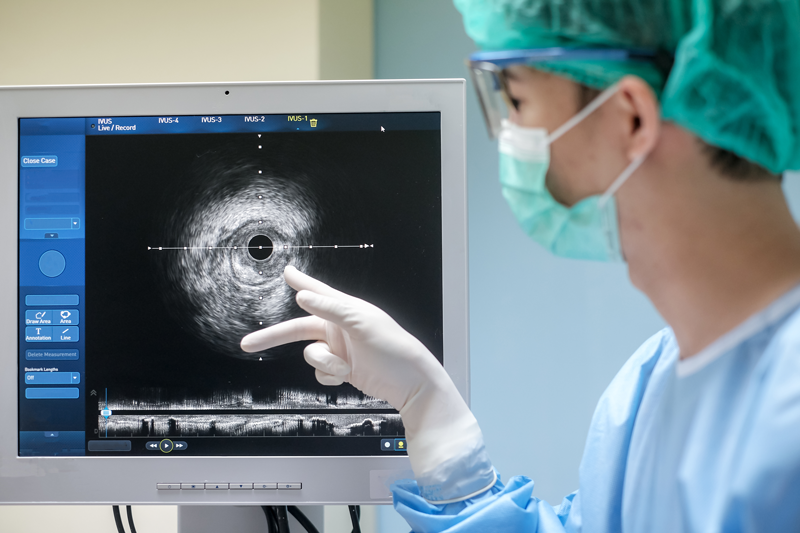 How to Start Your Career as a Travel Sonographer
Travel sonographers are part of a dynamic profession that assists physicians and other health professionals in diagnosing illness by operating ultrasound equipment that uses high-frequency sound waves to record images of internal organs.
With opportunities in all 50 states and settings that include hospitals, physician offices, diagnostic imaging centers, and clinics, AMN Healthcare, the leader in allied healthcare staffing, currently has more than 250 travel sonographer jobs available.
"Ultrasound is one of our steadiest modalities," said Annetra Walker-Shook, senior principal recruiting consultant for AMN Healthcare. "It's a dynamic profession. You can specialize in cardiac, breast, obstetric, gynecologic, neuro, musculoskeletal, vascular, and abdominal sonography."
How Travel Sonography Jobs Can Boost Your Career
Travel sonography offers many benefits, including the chance to explore different parts of the country, learn new skills, experience various specialties and settings, and receive competitive pay and benefits.
"Many travel sonographers will learn much more while traveling than they would work in one setting as a full-timer," said Ashley Franco, director of recruiting for AMN Healthcare. "A wide variety of sonography experience will strengthen your skills in the field and allow you to make more money traveling than working in a permanent position."
Franco said that many sonographers work travel assignments to boost their savings, while others will use the extra pay to afford significant time off between assignments.
Like many travel healthcare jobs, assignments can be competitive, especially in popular locations. Therefore, candidates want to be prepared to travel.
​Preparing to Work as a Travel Sonographer
1. Obtain Your Certifications
Travel sonographers must have a least one year of post-graduate experience and a registry through the American Registry for Diagnostic Medical Sonography (ARDMS), the Cardiovascular Credentialing International (CCI), or the American Registry of Radiologic Technologists (ARRT).
Some facilities require graduation from a CAAHEP-accredited program, and five states require a state license in addition to a registry: New Hampshire, New Mexico, North Dakota, Oregon, and West Virginia.
"The more certifications and locations you are open to traveling to, the more options you will have for travel contracts," said Franco. "For example, a traveler who is AB, OB, and RVT certified is typically more appealing to a facility versus someone who is only certified in one or none of the registries for sonography."
2. Be Flexible
Picking where you want to work is a great benefit of travel sonography, but being too area-specific can limit assignment selection. The more locations you are open to trying, the more job selection you'll have. Also, travelers will normally hit the road every three months or so for a new assignment and will discover that every facility is different. The ability to adapt to new protocols and equipment is critical.
Franco said to remember that travel sonography jobs are different from working as full-time staff because there is a reason many facilities need extra assistance from travelers. For example, you could be replacing someone on medical or maternity leave, or perhaps the facility is short-staffed. Therefore, it's essential to go in there with the mindset that you're there to help them.
3. Ask for References
Along with obtaining at least one registry through ARDMS, CCI, or ARRT, Walker-Shook suggests talking to your manager, supervisor, or director about serving as a reference. References can set your resume apart from other candidates.
4. Get Marketable Experience
Having hospital sonography experience can be a plus since most travel sonography assignments are in hospital settings. Experience working in both adult and pediatric settings can be a significant asset for landing assignments, as well.
When You're Ready to Travel
If you meet the requirements above and are ready to become a travel sonographer, contact a AMN Healthcare recruiter, who will walk you through the application process. The recruiter will need your resume and certifications.
Your recruiter will talk to you about your experience, your goals, and your interests regarding settings and locations, and then review available sonography assignments. Any potential assignment will be discussed; once you agree that you're interested, your recruiter will submit your candidate packet to the employer, help set up an interview, etc.
Once a job is booked, you'll go through the onboarding process, including a physical exam, drug screen, background check, possible online modules, etc. The team at AMN Healthcare will also arrange your free housing or provide a housing stipend and cover other travel-related expenses. Onboarding is usually a two-to-three-week process, and our team will be there through every step.
Ready to start your travel sonographer career?