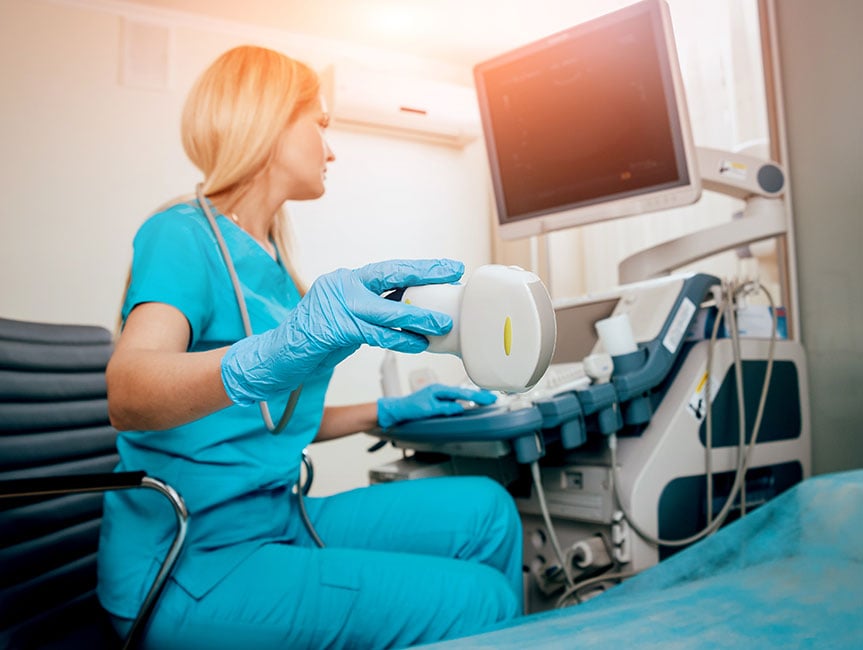 Sonography Jobs in California: Pay, Outlook and the Benefits of Working in the State
If you're an ultrasound technician interested in the best relocation areas for your career, California sonography jobs offer the pay and job security to keep you comfortable with a number of additional benefits to sweeten the deal. For the sonographer that expects solid compensation and the ability to advance professionally, California sets itself apart as the state of opportunity.
Experience all the benefits California has to offer with a travel sonography job from AMN Healthcare.
California Sonography Jobs Pay Well
When it comes to the highest annual wage for sonographers, the Bureau of Labor Statistics lists California at third, only slightly behind Alaska and Hawaii. Ultrasound technicians make an average of $92,660 per year across the state, and positions often come with a full benefits package. When you break it down by local area, California has the only cities in America that average over $100,000 annually. In fact, metropolitan areas in California hold the top six positions for highest annual salaries in the United States. Salinas offers the highest wages with sonographers being paid an average of $114,250 per year. Four other California cities and metropolitan areas pay a six-figure average, including Salinas, Sacramento, San Francisco and Stockton, and set the bar high for the rest of the state. This means lucrative professional opportunities for sonographers who consider California for their next career move.
The Job Outlook for Sonographers in California is Strong
The overall national projected growth for sonographers in this country, from 2016 to 2026, is 23 percent, more than three times the average projection for all occupations. California already employs a significant number of sonographers to handle the medical needs of current residents. The development of new sonography procedures, use of ultrasound as a radiation-free alternative to X-rays and the shift of imaging procedures being performed in laboratories and doctors' offices lay the groundwork for the almost 26 percent projected growth for this profession at the state level. California sonography jobs are already in abundance across the state, providing an environment for ultrasound technicians to take charge of their career trajectory, secure in the knowledge that a variety of professional opportunities will continue to be available.
Additional Benefits In California
Although California offers strong wages and job demand for sonographers, there are a number of other benefits that make the state an excellent place for an ultrasound technician to call home.
No State License Required
While some employers will require registration with the American Registry for Diagnostic Medical Sonography (ARDMS), California is among the states that do not require licensing for ultrasound technicians through the state board. This means there are no fees or continuing education courses required by the state to practice as a professional sonographer.
Complete Benefits Package Likely
The health benefits package that many California sonographers receive often includes medical, dental, vision and life insurance. In addition, many professionals are offered vacation days and sick leave. Some employers will even cover job-related education courses.
California Labor Laws
The labor laws in California are arguably some of the most beneficial to employees when compared to the rest of the country. The state offers protections that include:
Prohibiting potential employers from asking about salary to affect pay negotiations
Structured rules regarding paid time off and vacation
Right to privacy at work
Access to personal payroll and personnel records
The overtime laws in California are also extremely beneficial to employees. As long as a sonographer is not currently enrolled in school, any time worked over eight hours in a day, 40 hours in a week or the first eight hours on the seventh consecutive day of work earns time-and-a-half wages. Any time over 12 hours in a day or past eight hours on the seventh consecutive day of work earns double pay. With these set guidelines, medical professionals who work long hours will see a big boost in pay.
Ultrasound technicians looking for a change have the opportunity to take advantage of all the perks California sonography jobs provide. Competitive wages, a strong employment outlook and state-specific benefits ensure sonographers are fairly compensated for their time and enjoy the job security they deserve. When you factor in the beautiful coastline and desirable climate, it's clear that California is the state to be in for sonographers who seek a positive impact on their personal and professional lives.