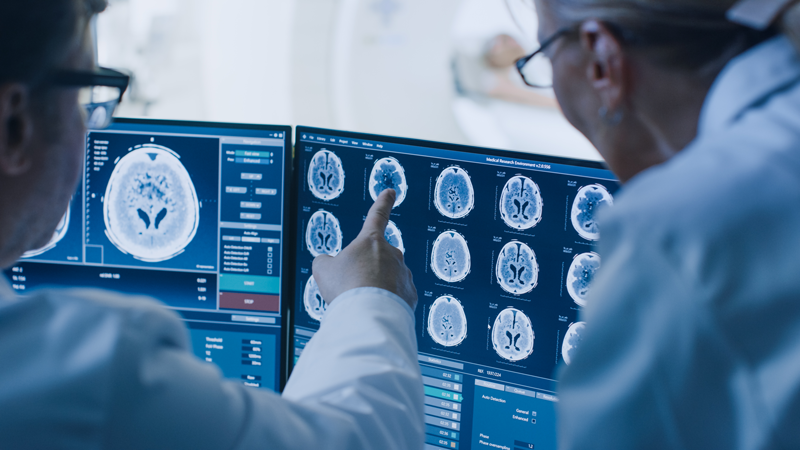 How to Start Your Career as a Travel CT Tech
Computed tomography technologists, or CT techs, are in high demand for temporary assignments around the country. If you're looking for some flexible and rewarding work options, now is an excellent time to consider starting your travel CT tech career.
A CT technologist is a well-paying, fast-growing occupation. These clinical imaging professionals use computerized tomography scanners to create internal organ and tissue images to diagnose patients' medical issues. According to the U.S. Bureau of Labor Statistics (BLS), CT tech jobs are projected to grow 7 percent from 2019 to 2029, which is faster than the average for all occupations.
The state of travel CT tech jobs
Since the reopening of elective procedures in late 2020 and the advanced research in response to the COVID-19 pandemic, travel CT tech jobs have flourished. Allied health staffing professionals are keeping busy placing candidates in a variety of assignments across the country.
AMN Healthcare currently has a record number of travel CT tech job openings nationwide, and with higher pay packages than in recent years, according to Kacie O'Neill, a senior recruiting consultant. In addition to a wealth of opportunities, CT tech travel assignments offer excellent benefits you don't typically find in full-time CT tech jobs.
"Travel offers flexibility, in that some travelers take the entire summer or fall season off," said O'Neill. "Along with the great pay, you have ample opportunity to see parts of the nation that weren't originally on your travel bucket list. But most importantly, you get the satisfaction of helping out facilities that need your skills."
In the past, California and Washington were two of the highest-paying states. But now, top-paying CT tech jobs are all over the country, including Alaska and Hawaii.
O'Neill noted that although CT tech jobs are plentiful, many candidates will still see a high level of competition for travel assignments, so a detailed profile and understanding of the hiring process are integral to getting the interview and the job offer.
Steps to becoming a travel CT tech
Once you contact AMN Healthcare, a recruiter will be with you every step of the way to becoming a travel CT technologist. Yet O'Neill listed some basic requirements for applicants who want work travel CT assignments. A candidate must have:
An associate's degree and an American Registry of Radiologic Technologists (ARRT) registry/certification. ARRT certifies and registers technologists in various disciplines by overseeing and administrating education, ethics, and examination requirements.
An American Heart Association Basic Life Support (CPR) certificate.
"Remember, some facilities require that you have your CT and radiology registries, while others require only a radiology registry with at least one year of CT experience," said O'Neill. "Most states require a state license to practice. Talk to your recruiter about the timeframes of each state and your best plan of action for obtaining your license."
O'Neill also pointed out that facility hiring managers don't have much time to dissect resumes or candidate profiles, so it's critical to get it right the first time. Make sure your resume clearly:
Shows where you've worked
Includes specifics such as whether your former workplace was a teaching or trauma hospital, and whether it was large, regional or critical access.
Lists the equipment/scanners and EMR/charting systems used;
Lists your critical accomplishments and schooling.
Ready to travel?
Whenever you're ready to get started as a travel CT tech, you can apply on the AMN Healthcare website or call to speak with a recruiter. After answering questions and discussing your goals, your recruiter will create or update your profile, go over current travel contracts, and submit your candidate profile to jobs of interest. From there, he or she can help you prepare for interviews.
Once you land an interview with a hiring facility, O'Neill suggests asking specific questions about shift type and hours, call requirements, and the equipment and charting systems used. You'll also want to know about scrub colors required, and any parking fees at the facility (if in a big city),
"Also, ask the manager about the job assignment location and if they have any leads for housing if you're taking a housing subsidy," O'Neill said. "Hiring managers know the area and want to help out."
If you're not quite ready to travel, O'Neill said it's a good idea to update your profile and start a relationship with a recruiter until you're ready to begin an assignment. The sooner you get your profile updated, the less you'll have to do later.
Once you're ready to accept a job offer, "You're in the driver's seat," according to O'Neill.
"You'll hear from us during the interview process," she said. "After you accept a contract, we'll check on you during the credentialing phase to make sure you're on track to start on the agreed-upon date. We'll reach out on your first day to wish you good luck, chat with you in the first week to see how your assignment is going and do weekly check-ins. Before you end your assignment, we'll get a game plan in place for what's next, update your profile with the current assignment, and get an updated reference."
Many states are quick to process your license, so O'Neill recommended reaching out to your recruiter to discuss the best plan. The AMN Healthcare licensing team can assist with any licensing paperwork after you accept an assignment, and the facility agrees to wait for your license to arrive.
AMN Healthcare has hundreds of computed tomography technologist travel jobs across the U.S., and a team of recruitment specialist who can help you start your allied travel career.