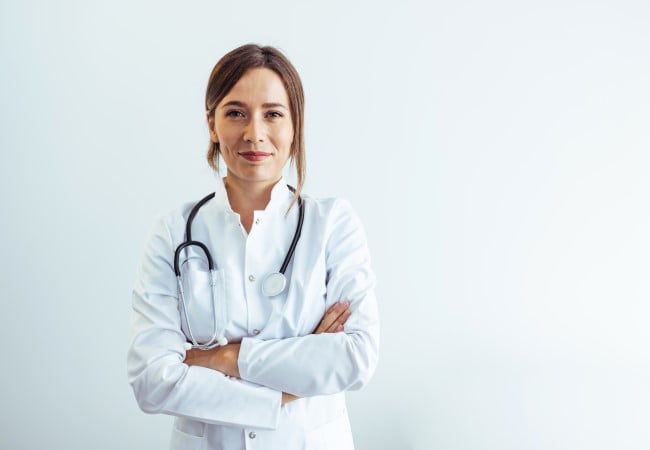 The Scoop on Locum Tenens: Definitions, Stats, Perks & More
Curious about locum tenens as a career option?

Check out this quick overview to get a locum definition, understand the history, learn the latest statistics, and discover the unique benefits of the locum lifestyle for physicians and advanced practitioners.
What Are locum tenens? A short history
Doctors have a long history of filling in for each other when necessary, but it wasn't until the 1970s that this practice became formalized in the United States.

Staffing agencies began working to help fill vacancies on a temporary basis, especially in rural locations. The concept was named after the Latin phrase locum tenens, which means to hold a place.
"Locum" definition: A locum, or locum tenens, is a person who stands temporarily for someone in the same profession, usually in reference to physicians or clergy.
Over the years, the use of locum tenens physicians has expanded to a broad-based and systematic component of medical staffing that includes temporary jobs for physicians, physician assistants, and advanced practice nurses such as nurse practitioners and CRNAs.

In the early years, government grants helped make physicians available in medically underserved areas, ushering in the modern era of locum tenens staffing. Now a multi-billion dollar industry, locum tenens offers benefits for employers and clinicians alike.
Some basic facts about locum tenens
Locum tenens have been around for nearly 40 years ago
It's estimated that 40,000+ practitioners work as locum tenens annually across the U.S.*
Locum practitioners work in medical practices, hospitals, urgent care, outpatient clinics, etc.
Assignments can be part-time or full-time, and vary in length
Locum tenens physicians and advanced practitioners are considered independent contractors
Locum staffing agencies connect candidates to locum jobs at no cost to the practitioner and provide a host of benefits
How locum tenens jobs work
Locum tenens staffing agencies like AMN Healthcare partner with hospitals and other healthcare facilities to fill their staffing gaps and recruit qualified physicians and advanced practitioners.

Recruiters work directly with candidates to manage the details of their job search and relocation, including contracts, medical licensing, privileging, housing, professional insurance, pay, and benefits.

Locum tenens assignments can range from a few days to up to six months or more and are available to practitioners in a wide variety of medical specialties. Opportunities are available across the country.
The perks of working locum tenens
Locum tenens providers enjoy a unique lifestyle that allows them to travel to new places or stay close to home, with full-time or part-time assignments. They are independent contractors, able to exercise more control over their work/life balance.

Some top benefits of locum tenens jobs include:
Flexibility: choose where and when you want to work
Excellent compensation, free housing, and paid travel expenses
Medical moonlighting: a part-time option to add to your experience or income
Professional growth from working at new facilities, learning new best practices
The chance to try out a new city—just for fun, or to consider a move
More time to concentrate on patient care instead of managing a practice
Some jobs offer the chance to give back to underserved communities
As a transitional step: at the start of a career, between permanent jobs or before retirement
Similar Locum Tenens Content You May Also Like:
Are locum tenens jobs in demand?
Absolutely!

Locum tenens physicians and advanced practitioners are found in 9 out of 10 healthcare facilities and have become a common solution to a variety of staffing issues.

Here are some statistics and highlights from a key 2017 industry survey:*
94% of healthcare facilities report using locum tenens physicians within the past year
26% report using locum tenens nurse practitioners or physician assistants within the past year
Primary care is the area with the highest demand for locum tenens (43.5%), including:

Family practice
Internal medicine
Pediatrics

Other specialties in high demand include:
Hospitalists
Behavioral health providers
Emergency medicine physicians
Nurse practitioners
Physician assistants
Surgeons
Anesthesiologists and CRNAs
FIND locum tenens jobs in your specialty across the U.S.
Why do facilities want locum tenens
Just a few years ago, it was common to have healthcare facilities ask, "What is locum tenens, and how can it help us?"

But as the industry has grown, more and more healthcare employers have discovered the importance of using locum tenens physicians and advanced practitioners to maintain continuity of patient care. They have come to rely on their skills and expertise.

And new research confirms that locum tenens physicians are as safe as staff.

The 2017 staffing trends survey* found that facilities primarily hire locum tenens to fill in until permanent doctors and advanced practitioners are found, or to address staff turnover.

Locum practitioners are also used to cover staff vacations or continuing medical education courses, meet rising patient demand, and provide flexible staffing options for peak usage times and special projects.

AMN Healthcare company, places physicians, NPs, and PAs in rewarding locum tenens positions across the country.
*Source: 2017 Survey of Temporary Physician Staffing Trends, by AMN Healthcare.