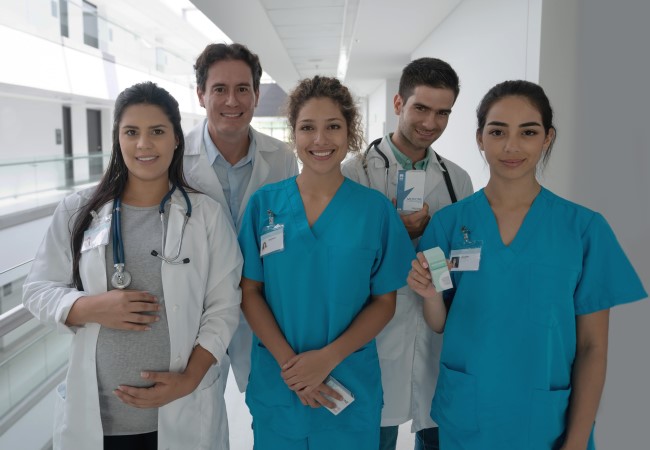 Starting Your Career as a Locums New Grad
You're ready to hit the ground running—med school graduation is upon you! So, what's next on your medical career journey? Unsure of which direction to move? There are likely so many questions to be asked and answered as you seek to start your permanent practice. Let us help you navigate this exciting, yet uncertain time.
The world of locum tenens can be an excellent place to start your full-time career—providing a wide array of job opportunities for new grad physicians, physician assistants, nurse practitioners, and CRNAs who want to gain experience before making any career-defining decisions.
How Can AMN Healthcare Ease Your Transition?
Partnering with a locum tenens provider like AMN Healthcare puts options on the table for you explore your career and personal goals. We offer many job choices at exclusive facilities across the country—allowing you the flexibility to choose from different patient populations, settings, and facilities as you chart your path toward sustained career success.
As a locum tenens new grad, you'll have the freedom to select from a variety of short-term and long-term contracts, part time work, or even extra shifts to support yourself financially while you plan for the future.
Unlock Locums New Grad Benefits
Our support doesn't stop with jobs, either. We want to make sure that you can focus on the important aspects of your new career—like navigating a new working environment and providing top-quality care—so, we will help take care of the rest through benefits geared just for you:
Complete state licensing assistance and payment of fees
Complimentary malpractice insurance
Employer provided housing and travel accommodations
The ability to choose the facility types and locations that meet your unique goals
No more insurance stress and steady, no-hassle pay
See? Life after graduation doesn't have to be a scary experience. You have a dedicated team of people who share with you the common goals of career success and a happy, healthy work-life balance in the medical world.
Your time is now! Don't hesitate to reach out to one of our expert recruiters below, so you can kickstart your career with confidence. Still have some questions? We've got answers. You can visit our resources page to learn more about the new grad experience with AMN Healthcare and make a more informed decision on your future.
Earn Your CMEs While You Work
An amazing aspect of our new grad services is the access we can provide to earn Continuing Medical Education (CME) credits. Through our partnership with The Doctor's Company, AMN Healthcare now offers unparalleled access to a wide variety of CME courses to all of our valued healthcare providers.
Eligibility—Free CME access is readily available to doctors and other healthcare professionals who have completed the accreditation process and worked at least one day on an AMN Healthcare assignment.
Easy Access—Online CME courses are accessible on-demand and available 24/7. Courses are regularly updated in key subject areas including clinical advances, online and telemedicine practices, and medical-legal challenges.
Staying Connected—This valuable new benefit bolsters our continued commitment to healthcare providers like you, consistently connecting you with experienced recruiters, a wide variety of assignments across the country, and valuable resources that no other staffing agencies offer. Learn more about CMEs.
For all eligible professionals, getting started is simple—simply visit The Doctor's Company website to begin exploring the vast library of CME courses and continuing to expand your medical skill set!
We are excited for you as you begin to make your mark on medicine. Remember, you are not alone in this process—you have the support available to truly strive for career success, now and into the future.