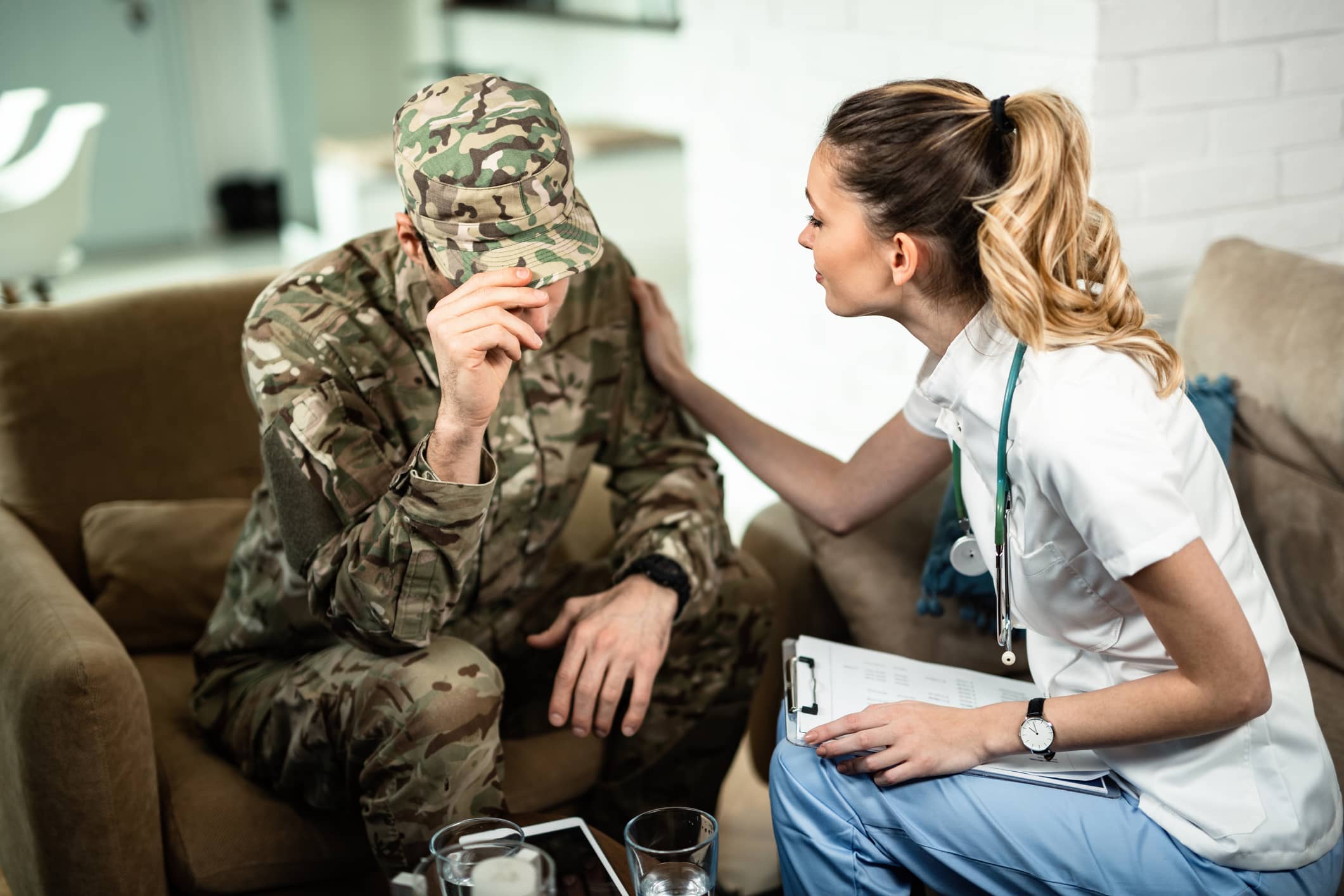 PTSD From The Eyes Of A Military Nurse
Imagine having this recurring nightmare: It's pitch black, but the jungle is alive with sounds. You're stuck in a perpetual state of hypervigilance knowing that any rustle, any crack of branches, could be the enemy just steps away. You don't sleep, because if you sleep, you might die.
Or this nightmare: You're in the middle of a city, the sounds of gunfire ricocheting nonstop off of buildings day in and day out. You look up at apartment buildings and see the faces of women and children, but you can't let your guard down. If you allow yourself to follow your natural instincts to protect women and children, you know you're putting your life at risk. Even women and children are the enemy in this situation.
These were stories related by an AMN Healthcare clinical manager and former military nurse, who worked with patients returning from the front line of war. During her years as an RN, she treated former POWs from Vietnam and soldiers returning from Desert Storm and Somalia. She learned very quickly that many of these patients had to be treated differently. They were, by no means, ordinary patients.
Veterans and civilians who've experienced a traumatic experience can develop Post Traumatic Stress Disorder (PTSD).The slightest sound, flash or imaginary provocation can send their minds reeling back into those dark places of an event in which they felt their life or the lives of family and friends were at risk.
Nancy Johnson, RN, joined the Navy as a new grad. Her father served in WWII, but like many of his generation, he didn't talk about his time in the Navy. In later years, his mementos from his time in WWII were found in his basement workshop in a box. But PTSD, says Nancy, existed back then, too, and the fact that no one talked about it only made the problem more unpredictable and explosive.
"Everyone seemed to have friends and family who returned from WWII who sometimes acted oddly," she said. "It was often referred to as shell shock." While the symptoms of PTSD are more widely recognized and studied today, Nancy explains that healthcare providers need to remain vigilant in evaluating the patient's past experiences. "A healthcare provider could easily be mistaken for the "enemy" and be at risk of injury by a patient with PTSD."
Nancy almost learned this lesson the hard way. She recalls one night when she was a new nurse working the night shift. She was just about to enter a patient's room without turning on the lights when her chief nurse stopped her. He warned her that she needed to turn on the lights and make noise so the patients knew she was there. Otherwise, he explained, the patient might respond to the subtle noise as someone sneaking up on him, putting the healthcare provider in danger.
This lesson was in complete contrast to typical civilian nursing, where caregivers try to provide the patients as much uninterrupted sleep as possible. Nancy quickly realized that her civilian new grad program had skipped a few chapters.
According to the PTSD Toolkit for Nurses, created by the American Nurses Foundation, the first step in determining the manner of care required comes from identifying the patient as a veteran. This starts with a simple question: "Have you ever served?" and completing the Primary Care PTSD Screening Tool (PC-PTSD) and the PTSD Checklist available on their website. These steps are critical in safely providing appropriate patient care for veterans.
Also visit the site: The Center for Deployment Psychology: Preparing Professionals To Support Warriors and Their Families
While serving as a military nurse had its own challenges--like never knowing when or where you were going to be deployed--Nancy said that the experience made her a better, stronger and more compassionate nurse. She said that being a military nurse helps put things in perspective every day and keeps her mindful that every day is a gift that shouldn't be taken for granted.
Today, Nancy works as a clinical manager for AMN Healthcare and spends her free time supporting a Venture Scouting crew, which is sponsored by the Solana Beach VFW (Veterans of Foreign Wars). Like most military nurses, she has deep compassion for veterans and wants to do everything she can to help make their lives better.