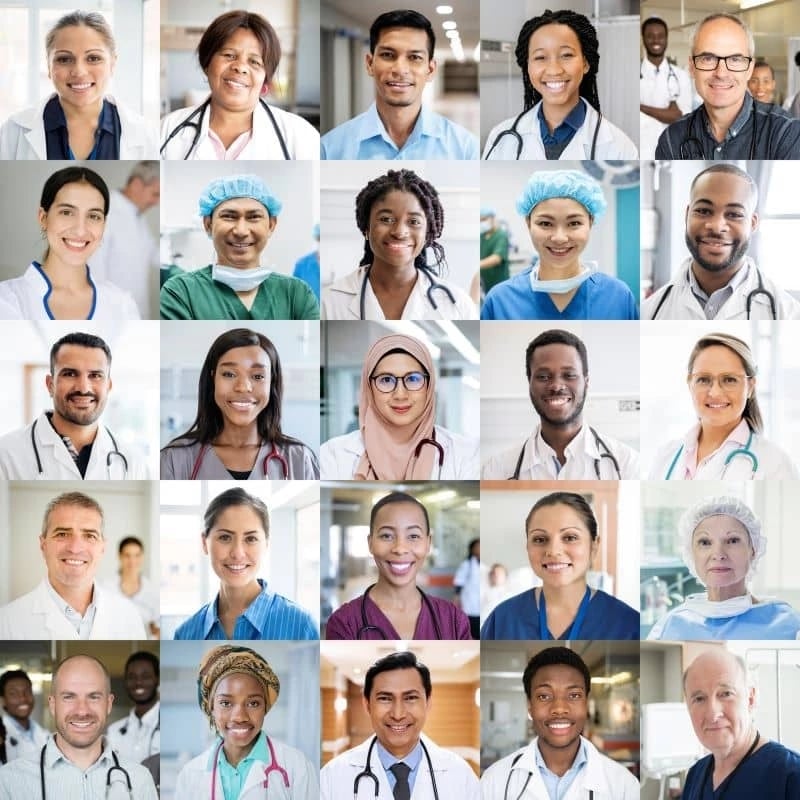 Cultural Diversity In Travel Nursing
Workplace diversity is a modern fact of life. Walk into any hospital or healthcare facility and you'll see staff and patients from all walks of life. While this makes for a vibrant and interesting workplace, it can also cause confusion and stress for some patients if they feel their needs are not being understood or addressed.
For the healthcare industry, becoming culturally competent is critical to supporting the needs and demands of the current population. Diversity awareness is the key to fostering a culture of tolerance in the workplace and more compassionate care for patients.
Workplace Diversity Benefits Healthcare and Patient Care
According to a recent survey by the Institute for Diversity in Health Management, an affiliate of the American Hospital Association (AHA), 81% of hospitals educate clinical staff during orientation about how to address the unique cultural and linguistic factors affecting the care of diverse patients and communities. In the same survey, 61% of the hospitals require all employees to attend diversity training, with the number increasing steadily.
Providing travel nurses with this type of education is essential. Diversity training teaches them how to interact with patients from different backgrounds whose beliefs, values, and expectations may not reflect their own experiences or body of knowledge.
According to Trilby Barnes, RNC, president, and CEO of Medi-Lend Nursing Services, Inc., "Minority nurses have cultural insights that other nurses may not have. They are able to relate better to patients who share the same background, which helps put patients at ease. Minority travel nurses can dispel myths about minorities and help the nursing profession to become more culturally sensitive."
Diversity in nursing directly benefits and improves patient care, patient outcomes, and healthcare. Through diversity awareness, travel nurses and hospital staff maximize patient outcomes while facilitating and increasing a multicultural workplace and collaborative environment.
According to the American Nursing Association, "Diversity Awareness is rooted in a desire to promote quality healthcare as a human right for all. To effectively meet the care needs of diverse patients is imperative to addressing many of the healthcare challenges that face American society."
When there is a more progressive, diverse population, there is an increased urgency to build and retain a diverse RN workforce. When there is a diverse RN workforce, there are travelers with the knowledge, skills, and education to meet the needs of the patients in the hospital setting. It is important and crucial for travel nurses to identify with cultural diversity, as they can communicate with a variety of cultures successfully, and be more flexible in adapting to cultural needs. It enhances their skills and makes them more compassionate RNs.
Nursing Demographics
Travel nurses come in all shapes and sizes and, on the job, it's important that they can communicate with a variety of cultures successfully, and be more flexible in adapting to cultural needs.
According to an infographic on Minoritynurse.com, nurses self identify as:
• Black or African American – 23.6%
• Asian – 3.6%
• Hispanic or Latino – 7.5%
• Two or more races – 3.6%
• American Indian or Alaskan Native – 0.4%
• White – 75.4%
Gender plays a role in the travel nursing profession, as 90% of nurses are female, and 10% are male. But within those numbers, there is a multitude of cultures blending together.
Importance of Understanding Workplace Diversity
Diversity awareness is multi-faceted. It involves a vast scope of elements, including:
• Personal identification
• Language
• Thoughts
• Communications
• Actions
• Customs
• Beliefs
• Values
According to the National Institute of Health, "For the provider of health information or health care, these elements influence beliefs and belief systems surrounding health, healing, wellness, illness, disease, and delivery of health services. The concept of cultural respect has a positive effect on patient care delivery by enabling providers to deliver services that are respectful of and responsive to the health beliefs, practices and cultural and linguistic needs of diverse patients."
Cultural respect and awareness are crucial in the healthcare industry, and it's important to get along with everyone, especially in hospital settings. Remember that patients have different backgrounds, and it's imperative to respect those differences.