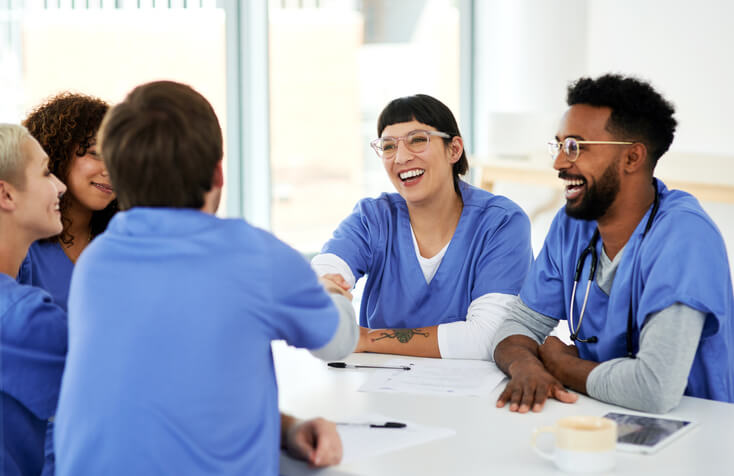 Nurse Orientation: 6 Things Travel Nurses Can Expect
You've accepted a travel nursing assignment, and your agency has taken charge of the credentialing process for you.
You're looking forward to starting your new job, but first, you'll be required to complete some type of travel nurse orientation program.
So, what will that involve?
Most RNs have experienced a new nurse orientation, but the programs for staff nurses and travel nurses can have several differences.
Nurse orientation for travelers may be quite a bit shorter, for one thing, so it's important to be prepared.
Making the Most of New Nurse Orientation Programs
One of the most important things you can do to prepare for a travel nurse orientation is to show up on time with the required paperwork and a good attitude.
After all, nurse orientation is your first big opportunity to impress your new colleagues, including managers, with your attitude and professionalism, said Dwanda Trask, RN, a labor and delivery nurse who travels with AMN Healthcare.
"Make the most of it," said Trask. "Keep positive thoughts."
6 Things To Expect From A Travel Nurse Orientation
1. The Schedule and Logistics Will Vary
Travel nurse orientations will vary from organization to organization.
For example, your nurse orientation program could be two days long, or it could be a week long. You may be told to wear scrubs, or you may be asked to wear business casual attire on your first day.
You may have to travel to a nearby facility to attend part of your orientation, or everything may take place on-site.
Your new nurse orientation may include just travel nurses, or it may include both permanent and temporary staff. It depends on factors such as the size of the hospital or health system and the particular staffing situation at the time you arrive.
"They may have staff and travelers mixed in, or they may have a separate travel nurse orientation where a single person may meet with you," Trask said.
Either way, your recruiter will make sure that you have all the necessary information in advance so you'll know where to be, what to wear and what to bring with you.
"You want to put your best foot forward, at every assignment," said Paige Summer, senior placement manager for AMN Healthcare.
2. You Must Bring Certain Paperwork With You
Your recruiter should supply you with first-day instructions that include a list of everything you'll need to bring to your new nurse orientation at your assignment facility.
These instructions may request that you bring copies of your nursing license, your certifications, your ACLS or BLS, etc.
They may also ask that you bring along your driver's license with a photo ID so you can get your hospital ID badge and parking permit.
While some paperwork can be taken care of ahead of time, make sure to take all first-day instructions to heart; you won't be able to start working without the proper documentation on file.
3. You May Have to Complete Modules in Advance
It's very common for healthcare organizations to require travel nurses to complete certain online educational modules before they start work. The requirements can vary by nursing specialty.
Typically, Summer procures the necessary log-in information for her travel nurses so they can go online and complete any work that is required prior to their orientation.
Depending on the facility contract, you may receive pay for your time completing this work, she noted.
Your new nurse orientation program may include an EKG test, especially if you will be working in telemetry or the PACU. These types of tests may be conducted in advance or at the facility.
If you need study materials, talk to your recruiter. The credentialing department at AMN Healthcare can supply materials to help you prepare.
4. You'll Cover a Lot of Important Policies in a Short Period of Time
Orientation often covers a lot of mundane but important logistical details, like making sure you have a picture ID badge and know where to park your car.
But orientation also encompasses a wide array of hospital policies and procedures that you'll need to know.
For example, your nurse orientation program facilitator may address topics ranging from patient confidentiality laws to hand hygiene to harassment in the workplace.
In addition, you should get a tour of the unit and go over things like where to find supplies and equipment and how to reach nurse managers and physicians.
Don't be afraid to ask the facilitator or your manager for more details afterward.
5. You May be Working with a Preceptor for a While
Before your orientation is over, you will likely be introduced to a staff nurse who will serve as your preceptor or main contact during your assignment.
This person can be a great source to answer your day-to-day questions.
Some travelers may shadow a staff nurse for a couple of days, while others will jump right in to patient care with some supervision.
Many travel nurses will also have the additional support of a clinical liaison with their travel nurse agency; these licensed RNs are available by phone 24 hours a day to help deal with any workplace issues.
6. You'll Need to Learn the EMR System
No matter where you work, you'll have to use some type of electronic medical record (EMR) system.
Your travel nurse orientation often includes some dedicated time for you to learn the system used by your employer. This will help you be ready when it's time to start your regular duties.
In fact, AMN Healthcare offers a number of jobs that involve EMR system implementations, so travel nurses can care for patients while sharing their systems expertise around the country.