COVID-19 Vaccination Administration: Staffing and Guidance
As supplies of COVID-19 vaccines increase—with widening access to larger demographics happening almost daily—how will you make the vaccination administration process as efficient as possible? To make sure you can handle the needs of your community, a nimble plan of action is necessary to ensure that both your facility and staff are ready to serve at a moment's notice.
To be successful, healthcare providers must answer a variety of questions to create a cohesive plan that satisfies the needs of a large influx of patients and supports your existing staff and leaders.
Vaccination Administration: Key Questions for Formulating a Plan of Action
How quickly do you need to begin services?
Where will the vaccines be administered? (offsite, onsite, in a local parking lot)
In how many locations and in what geographies?
How many vaccinations will be administered each day?
Who will coordinate the administration of vaccinations for your internal staff?
How will appointments be handled as new demographics become eligible for vaccines?
Are your onsite nurses and ancillary staff busy with day-to-day duties, creating the need for contingent labor? If so, how many?
How will you staff for fluctuations when supplies aren't consistent?
How will you address patient questions about the vaccinations being administered?
Can your staff address the needs of non- or limited-English speaking patients?
These are just some of the considerations you'll need to address before opening your doors to an eager public who is ready to have the COVID-19 vaccine administered when it's their turn.
How AMN Healthcare Can Help in Your Vaccination Administration Strategy
AMN Healthcare has proudly helped organizations just like yours fill vital staffing needs for vaccination sites across the country.
Since early February, we've supported personnel staffing and guidance on how to quickly ramp up and staff both onsite and offsite vaccination hubs in airports, sports stadiums, and other venues. Our large clinician database of vaccination personnel includes nurses (RNs, LPN/LVNs), Medical Assistants, Pharmacists, Dentists, Phlebotomists, fully qualified Allied health professionals, and Nurse Practitioners.
Preparation is the Key to Success
AMN Healthcare has an experienced team that is ready and able to help your facility quickly staff vaccination positions and meet these vital needs in your community. After the last unprecedented year, we are honored to place clinicians on the front lines of this life-saving effort.
To learn more, simply complete the form on this page. One of our experienced team members will contact you to discuss your facility's most immediate needs.
Client Case Studies and Resources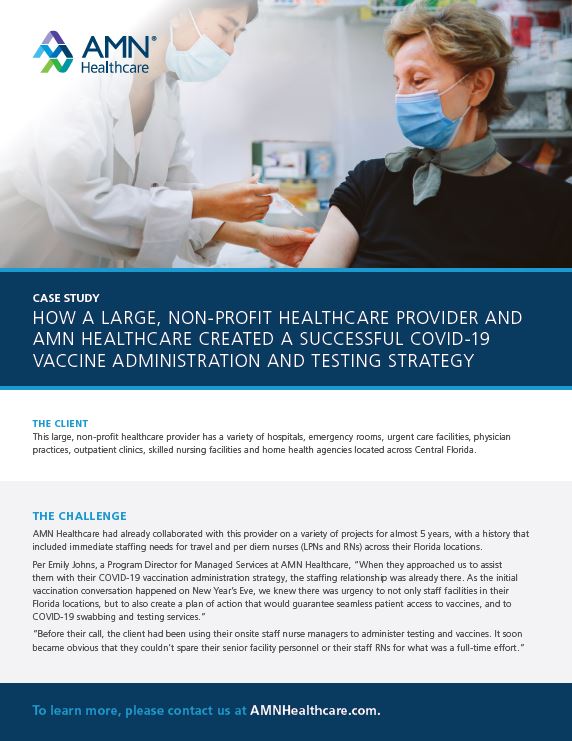 AMN Client Case Study
How a Large, Non-Profit Healthcare Provider and AMN Healthcare Created a Successful COVID-19 Vaccine Administration and Testing Strategy. Read more.
AMN Case Study
A Comprehensive Roadmap to Crisis Management & Planning in Healthcare. Read more.
Infographic: A 360° COVID-19 Vaccination Strategy
AMN Healthcare and the Nation's Largest Healthcare Providers Partner to Accelerate Inoculations: Read more.