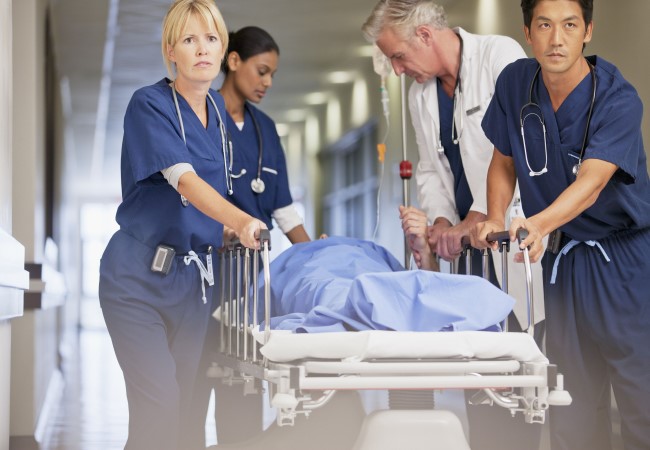 Emergency Medicine Jobs Post-residency
After years of emergency medicine residency, you are ready to care for the sickest of patients. You've been trained, mentored, and baptized by fire. Now, your knowledge and skills will be pushed even further as you transition to the role of a new attending physician.
What else do you need to know before embarking on a rewarding emergency medicine career?
"You can be successful wherever you are," said Steven M. Bird, president of the Society for Academic Emergency Medicine and a professor at the University of Massachusetts Medical School in Worchester. "If you have come from an accredited residency, you will have the competency to do the job."
ER Physician Jobs That Are Rewarding
Approximately 145 emergency medicine residency programs exist in the United States.
"It has become one of the top five most competitive residencies in the country," said Rade Vukmir, MD, JD, an emergency and critical care physician and professor of emergency medicine in Pittsburgh and member of the American College of Emergency Physicians (ACEP). "There are a lot of options to make it desirable."
Emergency medicine jobs are plentiful, but deciding on where to practice and how to negotiate a contract can cause uncertainty for graduating residents.
"There were things I wish I had known or someone had given me a heads up about as I got into my own job search a few years ago," said Jose Torradas, MD, an ACEP member and an emergency physician in California.
Choosing an Emergency Physician Career Path
One question that new emergency physicians face is whether to practice in a larger hospital with other emergency departments (ED) physicians and specialists or a smaller hospital, where they might be the only emergency physician, typically in departments with volumes of 17,500 patients or less, Vukmir said.
Before signing on at a smaller hospital, new physicians should be comfortable with intubation, central lines, and orthopedic reductions and splinting, Torradas advised. Also, an emergency room (ER) physician must be able to handle minor ailments. In smaller facilities, patients may stay in the department for hours or days waiting for a transfer and require a different type of care.
"It's important to have a broad scope," Torradas said. "Emergency departments are, by federal mandate, the safety net of the country."
Emergency medicine jobs offer geographic versatility, Vukmir said. Emergency physicians can more easily pick up and move as compared to a physician with private practice.
Location plays a big role in job decisions. Bird suggested thinking through where you will be happy practicing and living.
"A lot of it comes down to family and personal preferences," he said.
In a small community, resources may be lacking to help a new ER physician navigate the board certification process, Bird noted, adding, "It's nice having colleagues and friends preparing together."
Read and understand what you are signing on for, Torradas recommended, and seek legal advice if you are not completely comfortable with the contract.
Confirm expectations during the hiring process, like whether the ED physician is responsible for managing code blues or other duties throughout the hospital. Also inquire about locum tenens benefits like medical school loan forgiveness, acquiring credentials in multiple states, malpractice insurance, andreferral bonuses; then be sure those items are spelled out in the contract.
"In the past, many residents focused on pay and hours, but they soon discovered there are other aspects and requirements of their job that don't show up in those metrics, for instance how the schedule is made and how long it takes to be a member of the group," Bird said.
Bird indicated that most residents under-appreciate due process and noncompete clauses in their contracts when looking for post-residency jobs. A physician contract is also very important when leaving a position, so be sure you can live with the terms if and when you are ready to move on.
Emergency physicians may choose locum tenens to work in their post-residency stage, or later in their careers. Many new ER physicians opt for full-time assignments, but part-time physician jobs are also available; one option might include working in a critical access hospital a couple of times a month while living somewhere else.
"The benefit is they get to choose where they work and when they work," Bird said. "But the downside is you are not part of a group."
Torradas worked locum tenens for a while, primarily because of the higher compensation, but it also gave him an opportunity to try out different emergency departments.
Vukmir reported that the average emergency physician is interrupted every four minutes during a shift vs. serial patients in primary care. ED physicians must do multiple things at once and learn to master chaos.
"They need to be expert parallel-process thinkers," Vukmir said. "They must start and stop quickly, change direction and handle numerous things at once."
Taking time before settling in.
Students and ER residents often lead a somewhat nomadic life and are eager to settle down, Bird said. However, that first job may not be the best fit. He recommends holding off buying a house until you are sure about your current job.
He also advises living for two to three years "behind your means," like a resident, before "enjoying the fruits of your paycheck."
Vukmir said that it takes a new ER doctor five years to truly feel comfortable in the role.
"There's a maturation that takes place," he said.
Advancement and longevity in your emergency medicine career.
Physicians interested in leadership roles should voice that desire, volunteer to serve on committees, and take advantage of leadership educational opportunities offered by the practice or hospital, Torradas said.
Find a mentor who has excited you about medicine for guidance, Vukmir advised.
"You should love your career," Vukmir said. "On any day, accomplish one good thing, help somebody, make someone feel better, and most importantly, take care of yourself. The better you care for yourself, the longer longevity you will have in the career, deliver better patient care over time and help more people."
AMN Healthcare specializes in matching new and experienced physicians with locum tenens positions around the country. CONTACT an AMN Healthcare Recruiter to learn more.
Search Locum ER Physician Jobs Now