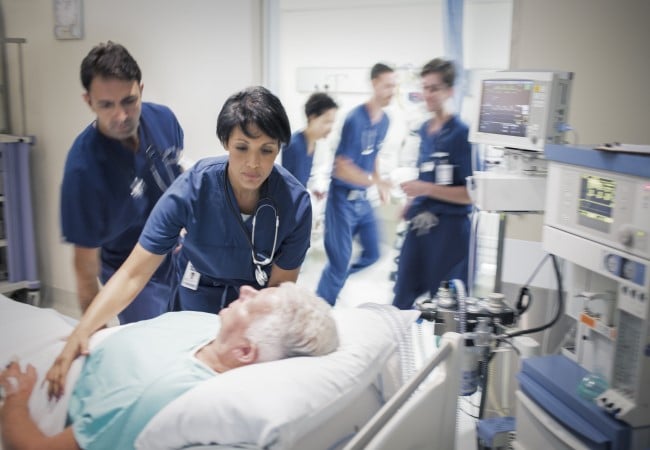 Life as a Locum Tenens Emergency Physician
Emergency medicine physician Alvin Murn, MD, went full-time as a locum tenens physician in January 2017 and hasn't looked back.

"I went from being stuck on someone else's schedule to making my own schedule," he said.

Flexibility is a hallmark of locum tenens jobs, and for many emergency medicine physicians, it's a major draw. Recruiters can help doctors land locum assignments that give them the opportunity to control their work schedule while earning a very comfortable salary.

"That's the luxury of doctors working locums. They can work when and where they want," noted Tim Mueth, a senior recruiter with AMN Healthcare.

Take Murn: he has set up a schedule that allows him to minimize his travel time and maximize his off time. He aims for about 120 hours of work per month. Typically he works five or six shifts in a row at a locum tenens emergency job before returning to his North Carolina home for a week. Then he drives or flies back out again to work another series of five or six shifts before returning home.

"If I want to take a month off, I take a month off. So by scheduling three months ahead of time, which is what I try to do, I know where I'm going to be and I can plan for things like special events," he said.

For example, his daughter plays volleyball at a university in South Carolina, and Murn loves to cheer her on from the stands. He can plan his shifts around her games, as well as other major events on the calendar.

"I don't have to beg anyone for days or hope someone will switch with me," he said.
Options abound
Of course, not every emergency physician who works locum tenens jobs chooses full-time. Many work locums as a side gig, or moonlighting situation, in addition to their full-time job at home. It's fairly common for an ER physician to agree to take on six to eight locums shifts per month, explained Zach Gorla, a recruitment manager with AMN Healthcare.

"That's the sweet spot," he noted, adding that some part-time locum doctors choose to only take on four to six shifts, especially for their first month in a new place.

Whether part-time or full-time locum assignments suit your lifestyle, a recruiter can help you narrow down your options to find the right fit. Gorla said he usually starts by asking physicians about their goals.

"Do they have families in other states, and do they want to get a license to work there? That could be a goal," he said. "Or they may have a son or daughter in high school who's going to college soon, so they want to make as much money as they can so they can save for the additional expenses that will be coming."

Gorla recently placed an emergency medicine physician in a locums job in Alaska. In addition to a great work opportunity, the doctor relished the idea of exploring and photographing the beautiful surroundings during his free time.

"It was a bucket list kind of thing," Gorla explained.

Every physician can have a different idea about what kind of location and facility is most appealing. Fortunately, Locums Leaders offers a variety of locum tenens job locations to emergency medicine physicians:
Acute care hospitals
Critical access hospitals
Free-standing emergency department facilities
Academic facilities
Children's hospitals
Correctional facilities
Physician group
Similar Articles You May Also Like:
Some physicians find a hospital or healthcare facility that appeals to them and keep returning there for shifts. Others might spend a few months taking shifts in one location, then choose to move on to a different locale.

"Everybody's got their own preference," said Mueth.

Recruiters typically advise emergency medicine physicians to plan their locum assignments about three months in advance. First, they should decide how many shifts they want to work in a month. Then, they can tell a hiring manager how many shifts they're willing to take over a certain period of time.

"Most providers are looking three to six months out when they're looking at their pipeline," Gorla said.

Travel (flight and rental car) and lodging for those locums assignments are paid by the agency, along with medical malpractice insurance. Plus, AMN Healthcare's in-house licensing team will guide physicians through the process of getting new state medical licenses, when necessary.
To find out what's out there for your physician career, search our locum tenens and permanent jobs from the link below.