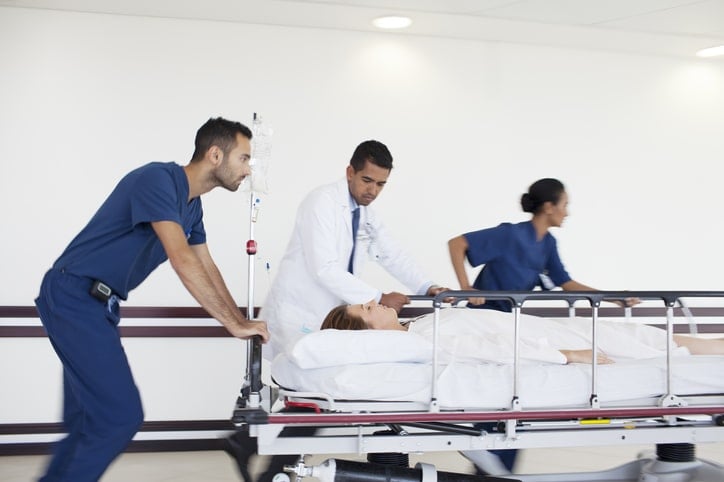 The 10 Latest Trends in Emergency Medicine
The last couple of years working through a pandemic have had a profound effect on healthcare delivery in the United States, including for emergency medicine. Emergency physicians and staff have had to become even more adept at dealing with change, which has affected both their workplace and the job market in their profession.
Leaders point to the following trends impacting emergency medicine:
10 Impactful Emergency Medicine Trends
1. Volume declines
During the COVID-19 pandemic, fewer people visited emergency departments, the American College of Emergency Physicians (ACEP) reported. Researchers from the Centers for Disease Control and Prevention reported in 2020 that early in the pandemic visits declined by 42 percent, and in 2021 visits were down 25 percent.
2. Fewer opportunities for emergency physicians
An ACEP 2021 survey of the job market for emergency physicians found some experienced cutbacks in their hours and reduced salaries. Job opportunities were 50 percent less than 2019 levels. Additionally, some 2021 graduates did not find jobs after their residency. The survey also found some employers filled physician positions with PAs and nurse practitioners in an attempt to reduce costs.
Most employers still hiring plan to retain compensation levels from before COVID-19, according to the ACEP survey. About 21 percent of employers will offer positions at 20 percent less compensation than pre-COVID.
Some facilities are filling positions with locum tenens emergency physicians as leaders watch what happens with patient volumes. As of mid-2022, AMN Healthcare had dozens of locum tenens emergency medicine positions available from coast to coast.
3. Consolidation in health care
Another trend in emergency medicine is consolidation and corporate investment in medicine, which is rapidly changing the health care landscape, according to ACEP. These changes are expected to impact physician lives and livelihoods for years to come.
"The pandemic has only sharpened our focus as it exacerbates the pressures that strain emergency physicians every day," said Laura Wooster, senior vice president for advocacy and external affairs at ACEP. "As merger and acquisition activity increases across health care, ACEP is prioritizing efforts to protect and empower emergency physicians at work."
4. Emergency physician burnout
Emergency physicians have historically had higher rates of career burnout and post-traumatic stress disorder than other medical specialties, ACEP reported. The professional society applauded the passage of the Dr. Lorna Breen Health Care Provider Protection Act, which takes significant steps to prevent physician suicide, reduce burnout, and address major concerns about the mental health of emergency physicians and care teams.
"ACEP is grateful that Congress recognizes the weight of the challenges shouldered by medical professionals on the frontlines throughout the pandemic," said Gillian Schmitz, MD, FACEP, president of ACEP. "This important legislation honors Dr. Breen's legacy and charts a path forward that helps limit the barriers currently preventing many emergency physicians from seeking the mental health care they need."
5. Underserved rural communities
The ACEP survey pointed out that rural locations will continue to experience an emergency physician shortage.
Most residency programs operate in urban areas, even as residency programs grew from 160 to 265 between 2013 and 2020. Programs increased in Florida, Michigan, New York, Ohio, Pennsylvania and California. A study reported in Annals of Emergency Medicine found rural United States lacks residents and residency training programs.
"Predictions of an oversupply of emergency physicians in the next decade may not apply to every part of the country," said Christopher L. Bennett, MD, MA, assistant professor of emergency medicine at Stanford University School of Medicine in California and lead study author. "Regional differences over time need to be considered in any discussions of workforce challenges—these findings underscore the likelihood that rural emergency physician shortages will persist."
6. Dependence on advanced practitioners
Another trend in emergency medicine is the increased use of advanced practice providers—physician assistants or nurse practitioners—to care for patients. ACEP has called this a dangerous and short-sighted practice which puts patients in the care of people with a fraction of the training of emergency physicians.
A recent study in Academic Emergency Medicine found advanced practice providers treated patients with less complex conditions as compared to physicians, leaving time for physicians to treat patients with greater acuity.
Even so, an ACEP and Morning Consult poll found 79 percent of adults prefer having a physician lead their emergency care. That falls in line with ACEP guidelines that physicians lead care teams in the emergency department.
"In an emergency, patients want their care supervised by an emergency physician," Schmitz said. "While everyone involved with patient care is a professional, emergency physicians have the most training and education, and they should be the ones leading every emergency care team in the country."
7. Nursing shortages
Emergency physicians also are concerned about the nursing shortage, made worse by the recent pandemic. Not enough nurses in emergency departments has led to other members of the team working extra hours, caring for more patients and taking on additional duties.
"Everyone available is filling gaps as best they can, but the current path for many frontline workers is not sustainable," said Schmitz, in a statement.
8. Opioid prescribing
The Mainstreaming Addiction Treatment Act (H.R. 1384/S. 445) would expand access to treatment for opioid-related emergencies, by allowing emergency physicians to prescribe buprenorphine, according to ACEP. Starting treatment in the emergency department would reduce the risk of overdose deaths, illicit opioid use and infections.
"An emergency physician is often a patient's first and best chance for care in an opioid-related emergency," Schmitz said. "These are chances to help people that we cannot afford to miss. The sooner treatment for overdose or substance use disorder is started, the easier it is to put patients on the path to successful recovery."
A recent study in Annals of Emergency Medicine found significant decreases in opioid prescribing by emergency physicians and other providers after implementation of a personalized feedback program. Prescriptions of opioids for symptoms of illness dropped 25 percent, for respiratory disease 40 percent, and for infection or parasite 54 percent.
9. Gun violence
The number of firearm violence incidents in U.S. communities directly impacts emergency medicine.
"As emergency physicians, we shoulder the honor of being on the front lines and the responsibility of treating the victims of these tragedies," said Chris Kang, MD, FACEP, ACEP president-elect. "Schools as well as clinics and hospitals, our workplaces, are no longer sacrosanct and increasingly becoming less safe."
10. Workplace violence
This summer, a man stabbed emergency department nurses and a doctor in Southern California. It's one of many workplace violence incidents plaguing emergency departments.
According to a 2018 poll of emergency physicians, nearly half reported having been physically assaulted while at work, with 51 percent saying that patients also have been physically harmed. The vast majority, 80 percent, of emergency physicians say violence in the emergency department negatively affects patient care.
Jennifer Casaletto, MD, FACEP, president of the North Carolina chapter of ACEP said: "Hospital culture and law enforcement too often see ED violence as just part of the job. We need to make sure hospitals provide a safe workplace and perpetrators of violence are appropriately addressed so that emergency physicians can focus on our mission to provide lifesaving care to our patients."
AMN Healthcare has opportunities for locum tenens emergency physicians across the U.S.