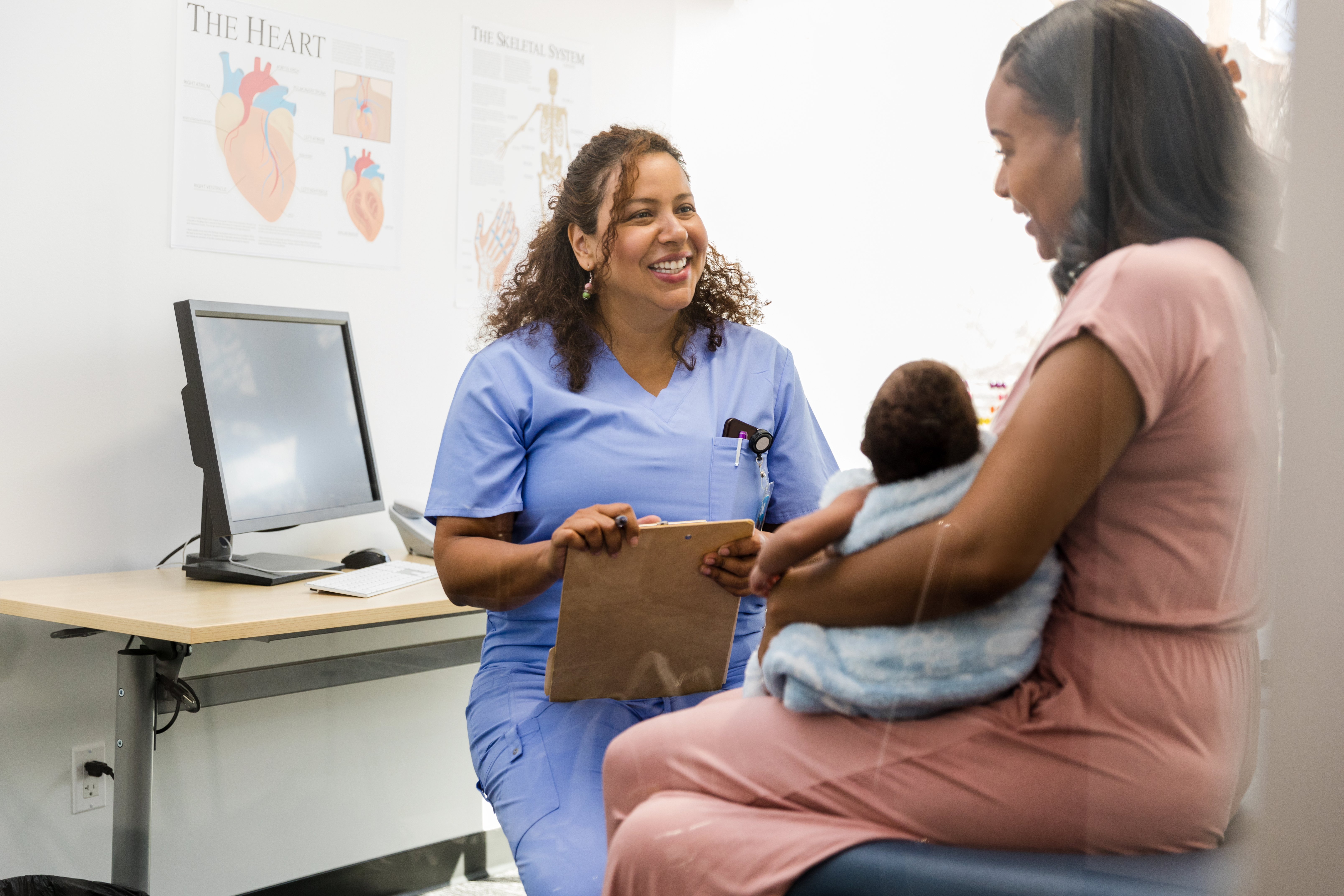 A Day in the Life of a Travel Nurse
Travel nurses fill vacancies at healthcare facilities around the country on a temporary basis. These work assignments offer them the rewards of caring for patients and the excitement of exploring different areas of the United States.
"You have to be super adaptable and flexible and ready and confident in your skills," said Kristina B., BSN, RN, clinical manager/consultant with AMN Healthcare, a leading travel nurse staffing agency.
Travel nurses collaborate with the healthcare team at their new work setting.
"Our nurses should be able to critically think and navigate high-stake conversations and situations," Kristina added. "Being a people person" is important.
What do travel nurses do in a typical day?
The majority of travel nurse jobs are found in acute care settings, and travelers can work a variety of different shifts on a hospital assignment -- day, evening, night, midday to midevening or 3 p.m. until 3 a.m. -- depending on the contract. Most shifts are 12 hours, day or evening. Ambulatory care centers, operating rooms, and post-anesthesia care units (PACUs) may have 8-, 10-, or 12-hour shifts. 
Travel nursing covers a variety of specialties, including medical-surgical and specialty units, such as the emergency department, operating room, labor and delivery, or intensive care unit. Sometimes, a travel nurse might be asked to float to support the staffing needs of the client facility. Flex pool nurses may float to various units within a health system. Nurses should discuss this with their recruiter.
Each workplace and unit have its own routines, but there are some uniform aspects travelers can expect, such as an orientation when they first arrive. That might involve a couple of days to review compliance issues and get acquainted with hospital layout, staff, and procedures. When working with a staffing agency like AMN Healthcare, the nurse will receive onboarding assistance, including any necessary training in how to use the facility's electronic medical records system.
Preparing for each shift
All nurses, including those who travel, should get a good night's or day's sleep and eat a nutritious meal before their assigned shift. Those things are important aspects of self-care.
"Adequate rest is essential for physical and mental health," Kristina said. "Travel nurses may have irregular schedules, but they should aim for a consistent sleep routine when possible. Use blackout curtains, earplugs and white noise machines to create a conducive sleep environment."
Travel nurses are usually expected to bring their stethoscopes and wear scrubs in the color requested by the facility. The facility will supply anything else needed. On PACU and women's health units, the hospital, typically, provides the scrubs.
The travel nurse will commute to the assigned healthcare facility, either by car or public transportation. Many travelers prefer to find their own housing and receive a stipend from their agency, but will want to factor in commute times when making their selections. Otherwise, housing accommodations provided by AMN Healthcare are typically within a short distance to the assigned facility.
A travel nurse's workday begins 
After their initial orientation, travel nurses are expected to arrive ready to work and take care of their patients. A typical day will begin with shift turnovers and obtaining a report from the nurse who cared for the patients during the prior shift.
Like all nurses, travelers will assess patients, administer medications, change dressings, assist with procedures, provide patient education, support and advocate for their patients, and document the care provided. They also might assist with discharge planning.
Taking breaks
Even in the midst of busy shifts, travel nurses should always take their breaks, especially a meal break.
"Maintain a balanced diet even while on the move," Kristina said. "Plan meals in advance, choose healthy options, and avoid excessive caffeine and sugary snacks. Consider meal prepping during your days off to ensure you have nutritious meals readily available."
Nurses also should drink plenty of water and take regular bathroom breaks.
"Dehydration can affect your concentration and overall well-being," Kristina said. "Carry a reusable water bottle and aim to drink enough water throughout your shift."
Breaks are essential. Just step away from the work area, eat a healthy snack, and engage in a short, enjoyable activity to refresh the mind, she added.
"There's a stigma about nurses, that they can handle things, and we can, and not need a break," Kristina said. "But we encourage self-care and to take time off."
Depending on hospital expectations, a travel nurse might be able to go outside to get some fresh air or go for a short walk while on a break. However, hospitals often require nurses to stay available in case of an emergency, necessitating a return to duty.
Dealing with challenges
Adaptability remains key in handling unforeseen situations while on a travel assignment.
Anytime a travel nurse has a question or concern, AMN Healthcare's clinical support team members are available to listen, offer guidance, and refer to the company's employee assistance program (EAP) or a mental-health crisis line.
"For every traveler that lands an assignment, there is an RN to support them with clinical issues," Kristina said. Such issues might include unfamiliarity with a unit to which the nurse is floated; staffing challenges, with few nursing assistants and high nurse-patient ratios; an especially difficult day; or the hospital limiting the amount of time the nurse can take off when sick, putting patients and staff at risk.
"We are there for them if the nurse cannot find resolution with the leadership on site," Kristina added. "We are here 100 percent."
Kristina encourages nurses who are feeling stressed to do something they like to do, be it reading, crafting, playing with a pet or some other activity that brings them joy. They can also try some guided meditation or simply listen to soothing nature sounds with the Calm app, which is made available to all AMN travel nurses.
"There is so much support here at AMN," Kristina added. "We really care about our travelers."
Ending the shift
A typical day for a travel nurse includes transferring care to the incoming nurse at the end of shift. Organizations try not to ask travel nurses to work overtime, Kristina noted, but there are days when they may ask.
"It's okay to decline additional shifts or responsibilities if you feel it will compromise your well-being," she said. "Overloading yourself can lead to burnout."
Patients often write about the excellent care they received from an AMN travel nurse.
"I like to think that most nurses got into the profession because they like to care for people. And it makes them feel fulfilled," Kristina said. "More times than not, it is good. You are helping someone."
Off the clock: The fun begins!
After shift, travel nurses can use their time off to explore their new city, try local cuisine, visit museums, attend the theater, or go to the beach or on a hike in a local park. They might connect with other travel nurses or local friends.
Travelers also need to balance relaxation and self-care to recharge and prepare for the next workday. 
On their days off, they can plan longer explorations or short getaways to take full advantage of their location. Or if close to home, they might return to visit friends or family.
"Their free time is their free time," Kristina declared. "Embrace the adventure, that's what we say. There are so many different cultures out there."
Reflections on a travel nurse's day
Travel nursing offers an abundance of opportunities to learn new things, visit amazing places, make new friends and become a more seasoned nurse. Caring for an ill or injured patient and knowing you gave that person the best care possible is rewarding for all nurses. That does not change if someone travels across town or across the country.
During a typical day for a travel nurse, he or she will draw on clinical acumen and softer skills, such as adaptability, teamwork, and dedication to the profession of caring for others.
"Travel nursing is exciting and challenging," Kristina concluded. "It gives you an opportunity to grow personally and professionally. And you are growing your network."
Considering a career in travel nursing? Explore the possibilities with AMN Healthcare.