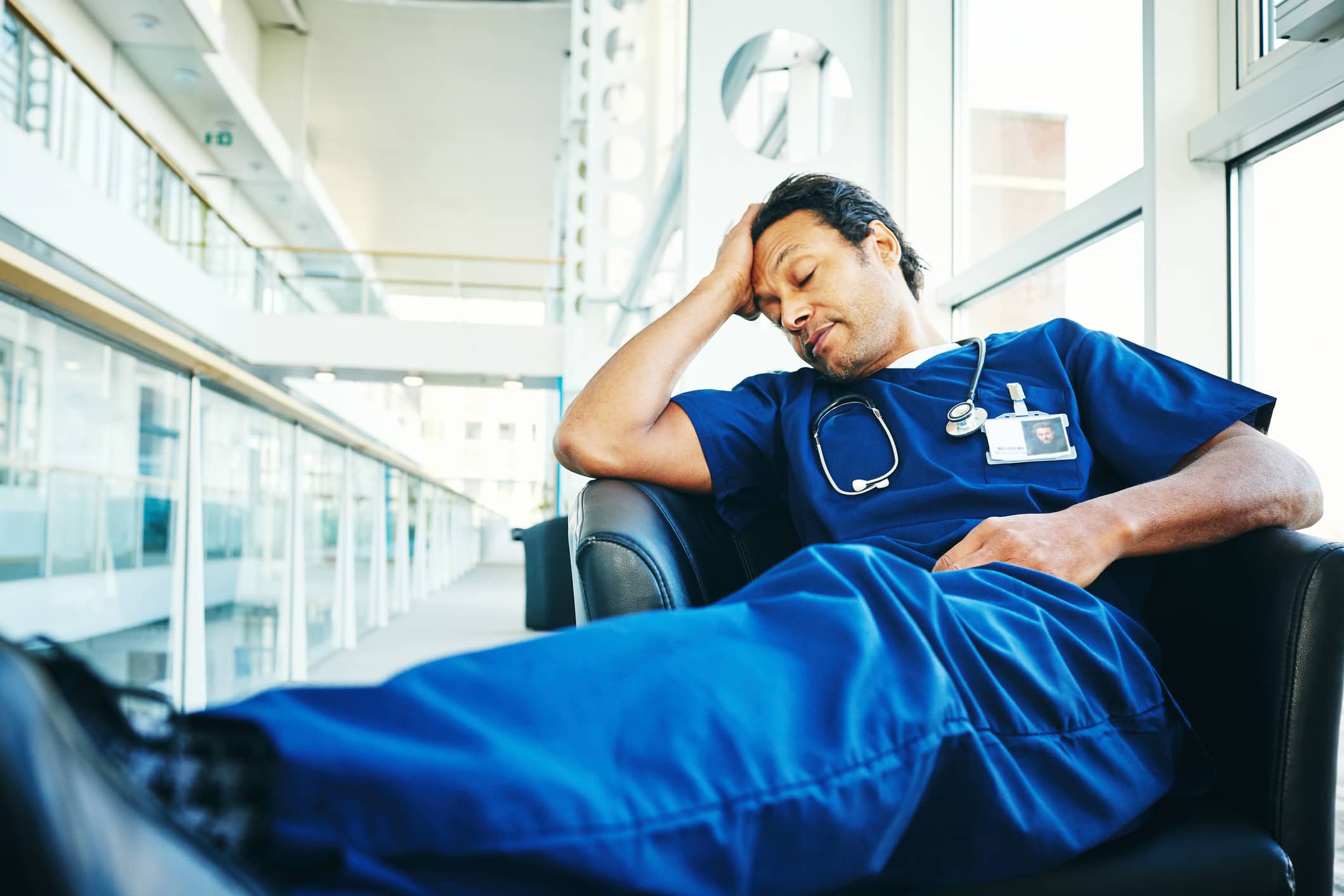 5 Tips For Soothing Aching Muscles After A Busy Shift
Aching muscles are extremely common after busy nursing shifts, especially long 12-hour shifts that keep you on your feet. Anthony Kouri, MD and orthopedic surgeon at the University of Toledo Medical Center, spends all day on his feet and treats people for various muscle aches several times a day. He believes one of the best ways to soothe aching muscles is to prevent them from happening in the first place.
5 Post-Shift Tips to Prevent and Soothe Aching Muscles
"Muscle aches, or myalgias, are very common," explains Dr. Kouri. "The cause of this pain is often stress, tension or physical activity...a very common problem for anyone that's working for long periods of time. The best remedy is to prevent them from occurring in the first place. We should try to stay hydrated while working. This is especially important when we're busy and less likely to stop and eat or drink. Throughout the day, it's a good idea to stretch regularly. Ideally, a person should stretch a small amount every 60 minutes. However, when we find ourselves with aches and pain at the end of the day, there are several remedies you may find useful."
1. Stay Hydrated
Carolyn Dean, MD, ND, is a health, diet and nutrition expert and bestselling author of Atrial Fibrillation: Remineralize Your Heart, The Magnesium Miracle and The Complete Natural Medicine Guide to Women's Health, among others. She stresses the importance of proper hydration to combat aching muscles.
"Proper hydration is crucial," emphasizes Dr. Dean. "I recommend taking your weight in pounds, dividing it in half and drinking that number of ounces of mineralized water but avoid distilled water. To each liter of water add 1/4 teaspoon of good colorful sea salt. Himalayan sea salt is good. White sea salt has been processed and has likely lost many of its 72 trace minerals."
2. Go For The Heat
"Some people feel that ice is best for sore muscles," says Dr. Kouri. "Others feel that heat is better. I personally prefer to use a heated pad...Heat brings greater blood flow to the muscle and helps it relax. Heat is reassuring, and we associate warmth with contact and intimacy. The brain interprets a safe source of warmth as good, which makes us feel good and can help our pain. I find heat to be very effective on all joints and muscles at the end of a long day."
Explore the country and learn new techniques that enhance your career when you find travel nursing jobs at AMN Healthcare.
3. Combine Ice and Massage
Leon Turetsky, NASM-CPT, NASM-CES, is a certified personal trainer, corrective exercise specialist and the founder of Back Intelligence. He recommends the best way to soothe aching muscles after a busy shift is "to first ice the area for about 20 minutes, and then do some self-massage to the muscles using a massage ball, TheraCane, or foam roller. This combo is great for reducing inflammation and releasing muscle tension."
4. Take Care of Your Feet
Nick Leyden, BS, MS Kinesiology, CSCS, is a strength and conditioning coach and founder of Athlete Academy, an online fitness coaching program. Leyden believes that "most of the time we begin to experience aches and tired muscles when standing for long periods of time because our muscles are not strong and resilient enough to handle the stress of 12-hour shifts. This is particularly true for the feet."
"One way to increase your overall stamina and prevent sore, achy feet and lower limbs is to strengthen the arches of your feet," explains Leyden. "Actively trying to grip the floor with your feet and contract the muscles in the bottom of your feet to create an arch. Compression socks also help circulate blood and limit inflammation from building up in the lower legs from standing all day. Using a golf ball or lacrosse ball on the bottom of your feet, rolling it back and forth and rubbing out the tight spots, will release some of the tension and help relax your sore tired feet as well."
Matt Huey, PT, Dip MDT, at Premise Health agrees on the benefits of compression socks. He says "compression socks work wonders to keep my feet and calves feeling great after a long day on my feet. I also like to do a drain at night. I lay on the floor with my legs up the wall. It helps the blood flow back out and feels refreshing after about 20 minutes."
5. Get RADical
"As a healthcare provider on my feet all day, I recommend taking a few minutes during the day and even 10 minutes daily after work to do some self-myofascial release," says Monisha Bhanote, MD, FASCP, FCAP, triple board-certified physician at Baptist MD Anderson Cancer Center and Yoga Medicine teacher.
"During the day I like to keep RAD recovery rounds (massage balls) in my office to help the tight spots in my back or in my arms," Bhanote says. "At home, I use the RAD recovery rounds and roller for about 10 to 15 minutes to cover the back, legs and feet. Using myofascial release techniques can help relieve sore muscles, enhance circulation, improve range of motion, release trigger points and improve neuromuscular efficiency.
"Staying healthy is vital for traveling nurses, night shift nurses or anyone who works long nursing shifts. Good health is also an important factor in preventing aching muscles, which helps you provide the best patient care and keep yourself in shape mentally and physically.