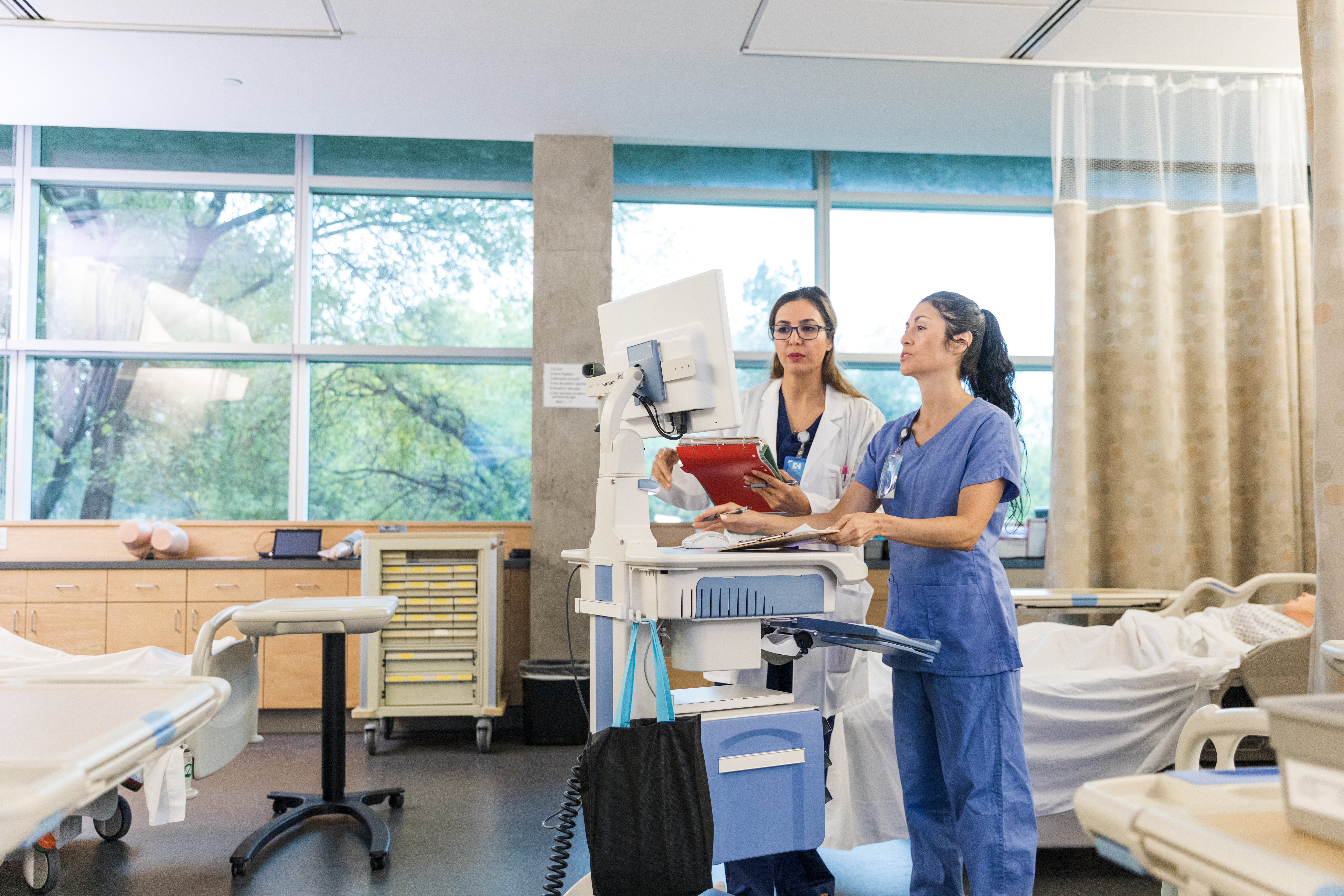 Why Choose Contract Nursing?
The Benefits of Contract Nursing – Part 2
Many choose a career in nursing because they want to make a difference in patients' lives and because it offers job security. Yet, your nursing career should be constantly changing and growing, opening up new pathways for you to follow.
So, what if that's not the case? If you are currently feeling restless, dissatisfied, or in need of a fresh perspective, it may be time to consider contract nursing.
Contract nurses, or travel nurses, work temporary assignments to address staffing shortages. Each assignment offers exciting and new opportunities—traveling to new places, experiencing new workplaces, and learning fresh skills to build your career.
Consider the following factors to discover whether contract nursing could be your next step, providing the boost that your career needs.
Contract nursing vs. traditional nursing
Practicing as a staff nurse or a travel nurse under contract may look very much the same on a day-to-day basis. After all, providing excellent patient care is always your guiding principle. But there are some distinct differences in the overall lifestyle aid benefits.
"Contract nurses can certainly enjoy the benefit of excellent compensation, as well as many other benefits. But the main benefit is the flexibility," said Melissa P., senior placement manager for nurse staffing with AMN Healthcare.
"If you want to spend Christmas in New York or the summer in LA by the beach, you can. Most assignments are 8 to 13 weeks, and you can always opt to go somewhere else when you're done. If you love it, you can also choose to stay. Many travel nurses take time off to spend with kids between assignments, while others choose to travel with their family. And travelers enjoy the unique ability to map out their own schedules."
Staff nurses are direct employees of a facility, while contract nurses are usually employed by a staffing agency like AMN Healthcare that works with healthcare facilities across the country.
Contract nurses are not expected to serve on committees, and can often avoid getting pulled in to extraneous projects. Compared to staff nurses, they tend to spend more time in direct patient care.
Exposure to different healthcare settings
The vast majority of contract nursing jobs are in hospitals, especially for crisis nursing jobs or rapid response assignments, Melissa noted. But these assignments can range from teaching facilities or specialty hospitals to smaller community hospitals. Traveling nurses can find work in all types of bedside positions, as well as some outpatient clinics.
Every workplace is different, and recruiters work closely with their contract nurses to ensure they are connected to the ideal opportunity to broaden their skillset.
"Travelers have an incredible opportunity to learn different techniques and work with different people," Melissa said. "For instance, you could get an assignment at Emory Healthcare in Atlanta where you have resources you wouldn't have somewhere else. Nurses can get exposure to new, innovative technology, and learn things they simply couldn't have back home."
"Travel assignments can also help with opportunities down the road, and can even help nurses discover their own work preferences," Melissa noted. "Some might discover they like working in a 48-bed unit vs. a 5-bed unit, for instance. Traveling from one hospital to another broadens your perspective, while traveling in general helps you learn more about yourself and from the people in these locations."
Continuous learning
Nursing is a profession that requires continuous learning and skill enhancement. And travel assignments, by their nature, will keep adding to your knowledge base.
The exposure to new workplaces can help contract nurses "learn to overcome new challenges, understand different patient populations, work with all types of colleagues, and learn new best practices," Melissa noted. "Nurses who work with AMN Healthcare are also able to access a number of free continuing education courses through HealthStream while on assignment."
Pay and benefits for contract nurses
Travel nurses have long been known to earn healthy paychecks, especially during times of crisis like the COVID-19 pandemic. Although the pay rates have come down from that all-time high, they are still very attractive, Melissa reported.
In fact, the compensation for a contract nurse has several components, she explained. "It is a combination of an hourly rate, and—if the nurse is working more than 50 miles from home—it will also include their subsidy for meals and incidentals, including housing."
Because travel nurses are being brought in to solve a critical staffing need, they can often earn higher pay rates than their colleagues who work on staff.
"Travel nurse assignments are still paying higher than most staff jobs, so you can enjoy making good money while you travel. But of course pay isn't everything," Melissa added. "Many nurses do it for adventure. It's about the journey."
Housing and other benefits
Most travel nurses prefer to take the housing stipend and find their own accommodations during an assignment, Melissa said. "But if they can't find housing, we can provide." Company-provided housing will typically include a private, furnished apartment that is near the assignment facility.
"Our team can also provide guidance and tips for finding your own housing through apps like Furnished Finder, or make recommendations for local complexes that other travelers have enjoyed."
Most established travel nursing agencies, like AMN Healthcare, also provide a range of employment benefits including health insurance (including medical, dental and vision), 401K plans, professional liability insurance, travel and entertainment discounts, and employee assistance programs (EAPs).
Nurses can also earn referral bonuses up to $2,000 at AMN Healthcare, depending on the nursing specialty.
Geographic mobility
Does working in another state sound exciting, but overly complicated? The experts at your contract nursing agency have extensive experience helping nurses work across state lines.
"We can help reimburse for licensing fees when needed, and we have an entire division that helps nurses with state licensing," Melissa said. "They know how long it takes to get licenses—ranging from simple 'walk-through states' to states that can take several weeks. If you want a quick start date, our team can guide you to the right locations. Our team will also monitor your application status, and can reach out to your nursing school, etc., to help move things along."
"We know nurses are busy. We are here to help them stay on track so they can start on time and be successful, no matter what," Melissa said.
Finding new favorite places
Contract nursing jobs can help nurses experience a number of great locations. Some people use their assignments to visit historical sites and landmarks, explore national parks, try out new sports, and experience the local culture. Others have discovered new places they want to call home.
Melissa reported that one of her travel nurses from Massachusetts wanted to escape the cold winters. "She had been wanting to travel to California for a while. We got her out there, and she has since worked in different locations for the last year and a half. She now says she's never going back. She is looking to buy a house in the state, and feels that California is where she belongs."
"It has been wonderful to see her find her place, to find out what she wants from life, and to thrive in her new location."
Addressing common concerns about contract nursing
"People who are new to travel worry about assignment cancellations most, it seems," said Melissa. "While those can happen, it is rare. If it does happen, we will support you and find another job ASAP. We let account management know immediately, and can get nurses back on assignment in the same area, or another location within the hospital system. We make sure they are prioritized."
Other nurses worry that they won't have job security, or are afraid that they will be too homesick. "Travel nursing does provide job security, as nurses are very much in demand. Your recruiter's job is to keep you working, and we will reach out during each assignment to start planning where you want to work next," Melissa explained.
"If a nurse is missing family or will be away from home on the holidays, they can change things up and have family come visit them and show them around. It can be a new, fun adventure for everyone." Of course, nurses can also schedule extended family time between assignments.
Melissa also noted that nurses have the opportunity to meet a lot of interesting people throughout their travels, and some will make connections that turn into lifelong friendships.
How to get started in contract nursing
As long as you have the qualifications, experience and the desire to try contract nursing, the team at AMN Healthcare can get you started. You'll need a valid nursing license in good standing, and most facilities are asking for two years of recent experience in the specialty requested. You'll also need to complete an application. A recruiter will then review your profile and skills checklist, and talk to you about your priorities and preferences.
"We don't want to submit a nurse to an assignment that won't work for them. So we find out what is most important, like location, money, learning opportunities, or start date. Then we can submit their profile to several jobs and see what comes back," Melissa said. Once you've agreed to an assignment, the AMN Healthcare team will begin the onboarding process and be there to guide you through each step.
Wherever you decide to go, your contract nursing assignment is sure to open up a world of possibilities—for both your nursing career and your personal life.
"What other nursing job allows you to get paid to visit a place that you've always wanted to go? You can choose a city on your bucket list, or find a location near family that you don't get to see often. The choice is yours," Melissa concluded.
Related: The Benefits of Contract Nursing
Discover how you can take your nursing career to the next level with AMN Healthcare.