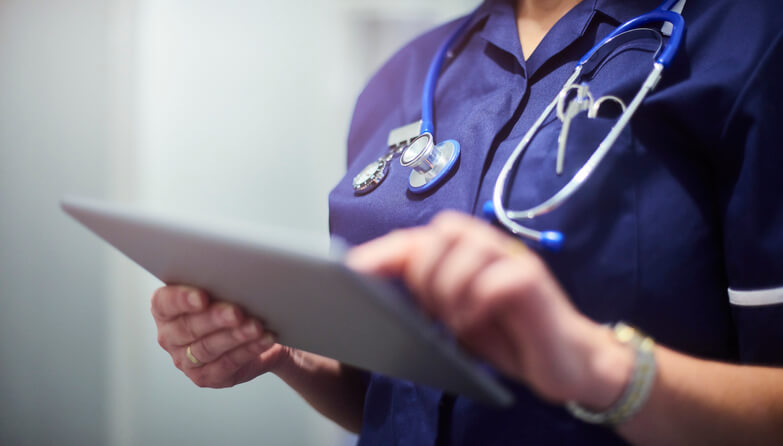 The Demand for EMR Nurses
Nurse EMR Jobs Are in Demand, as Facilities Are Experiencing a Shortage
Electronic medical records, or EMRs, have become integrated throughout the U.S. healthcare system, helping providers and patients reap a variety of benefits. From improving diagnostics and increasing communication among teams to providing safer care, EMRs have assisted with streamlining and enhancing healthcare delivery.
But working with EMRs requires specialized training and certifications, and many healthcare facilities are experiencing a shortage of workers with the proper expertise.
Nurses and other clinicians who have strong experience working with electronic medical records will find there are countless EMR jobs where they can put their skills to use, in a variety of healthcare settings.
What is an EMR?
The Office of the National Coordinator for Health Information Technology (HealthIT.gov) defines EMRs as a digital version of the paper charts in the clinician's office, containing the medical and treatment history of the patients in one practice.
The Health IT office also notes that EMRs have advantages over paper records, as they allow clinicians to:
Track data over time
Easily identify which patients are due for preventive screenings or checkups
Check how patients are doing on certain parameters—such as blood pressure readings or vaccinations
Monitor and improve overall quality of care within the practice
The term EMRs is sometimes used interchangeably with the term EHRs, for electronic health records. Yet many working in health IT note that EHRs extend beyond one facility or organization to encompass total health information and provide the big picture of a patient's health history.
The Demand For EMR Nurses
A December 2020 report, published in the open-access journal Life, found that electronic record implementation helped increase accessibility, improve data quality and integrity, enhance quality of care and improve patient safety.
"Improved access to patient information and records was reported as a benefit following EHR/PHR (personal health record) implementation. Nurses perceived that increased accessibility enhanced their job performance. Timely access to information, including laboratory results, radiology images and medication history were mentioned as supporting and speeding up care processes."
Increased accessibility can only be achieved if there are enough clinicians to successfully navigate EMRs and EHRs. This can be achieved by specialized training targeting EMR usage. Researchers in the study noted some challenges for end users, stating, "Clinicians and staff considered the lack of knowledge on EHR functions to be one of the challenges faced when using EHRs."
Nurses and other clinicians who have experience with EMR implementations and conversions can bring their knowledge and experience to other facilities that are making the shift from paper to digital, or undergoing a change or upgrade to their current system.
AMN Healthcare has a division that specializes in EMR conversion projects, and can connect nurses with a travel nursing assignment where they can make a real difference by helping a hospital or medical practice through their system transition.
The Benefits of Working EMR Jobs
In addition to helping improve healthcare delivery and providing support to staff undergoing a system transition, EMR jobs offer nurses a host of benefits. Great pay, flexible shifts, enhanced training and paid travel are just a few of the personal perks you will experience as an EMR travel nurse.
Some EMR nurses may focus on helping train staff on the new system, while others may care primarily for patients as the staff participates in training. Talk to a recruiter about the type of EMR assignments you might prefer.
Are you an RN who is eager to put your clinical and technical skills to use across the country? If so, AMN Healthcare invites you to consider an EMR assignment