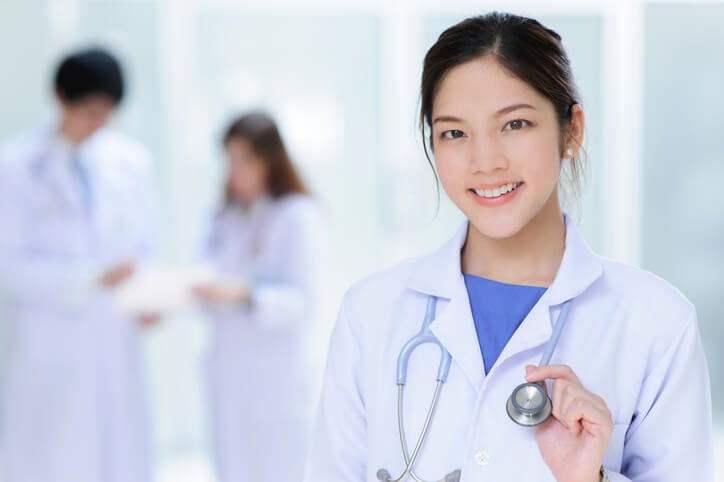 10 Things New Grad Nurses Should Know About Travel Nursing
Becoming a travel nurse comes with endless opportunities for professional and personal growth. New cities, work settings and mentors can help new nurses build their skills and find the place where they want to practice. And it's now easier than ever to get started on a travel nursing career shortly after graduating from nursing school.
Facilities still require nurses to have some clinical experience to get started on a travel assignment, but you might not have to wait as long as you think. New options are available, and new grad nurses can start working on their dream careers after just a few months.
The nurse staffing experts at AMN Healthcare offer the following information and tips for new grad nurses who want to know more about this exciting, lucrative and rewarding career option.
Want to Be a Travel Nurse? 10 Things New Grad Nurses Need to Know
1. Experience Requirements are Changing
One of our insider tips for new grad nurses is quite exciting...some hospitals are now allowing RNs to apply as travel nurses with less than one year of experience! These employers are also willing to provide extra support for newer nurses including mentoring programs and continuing education.
Some specialties and facilities still require more experience (up to two years), and it will vary by the type of healthcare facility, but the fact that new grad nursing jobs are now available in the travel nursing industry opens a lot of possibilities.
Once you get your first job and have a few months of professional nursing experience in an acute care setting, it is time to apply with a travel nursing agency and get connected with a recruiter who can talk to you about your options and prepare you for a travel career.
2. Travel Nursing Jobs are a Great Resume Builder
Gaining a deep nursing practice skill set should be a top focus for new grad nurses entering the workforce, and travel nursing is a great way to gain a broad base of clinical experience.
Travel nursing offers exposure to a variety of workplaces and settings, including top ranked facilities, cutting-edge equipment and technology, and experienced nursing staff around the country who can share their insights, experience and best practices.
3. New Graduate Nurses Can Design Their Career Path
Although some experience is required to get into travel nursing, once you get your foot in the door as a new grad nurse, you'll have an unending dose of new experiences to help you grow professionally. You'll work with a recruiter who can help you find travel nursing jobs in the facilities and specialties you want to pursue.
You may concentrate on one area or ask to gain exposure to different units while on a travel nursing assignment. Many hospitals and facilities offer travel nurses the ability to "float" to different units. Your recruiter can help guide you in the types of assignments that will provide just the right experience and support for your nursing career goals.
The ability to choose the type of contract you want is another perk to being a new grad travel nurse. Interested in shorter-term contracts with maximum flexibility? Looking for project-based assignments such as EMR conversions, new unit openings or seasonal vaccine clinics? All of these options, plus more traditional 13-week travel assignments, are available through AMN Healthcare.
4. Job Placement and Relocation Services are FREE
Contract nursing agencies like AMN Healthcare work on your behalf to find short-term assignments and project work across the country. Your recruiter will help you through the entire process — at no cost to you. For nurses who want to take matters into their own hands (literally), they can use AMN Passport to search and apply to jobs, and more.
Recruiters connect you with appropriate travel jobs, arrange interviews, help you review contracts, and walk you through every step. They also advocate on your behalf and provide support during your assignment.
Travel nurse recruiters also work with a team of specialists who help with everything from licensing issues and documentation requirements to arranging housing and processing your paychecks. All agencies are not the same, however, so it's important to work with a reputable, well-connected company that has strong relationships with healthcare facilities across the nation.
5. New Grad Travel Nurses Earn Top Pay and Benefits
As a new grad nurse, we understand that you have school loans and bills to pay. That is why finding new grad nursing jobs with good pay and benefits is so important.
Travel nursing offers extremely competitive pay, and most travel nursing agencies offer company-paid benefits including medical, dental, 401k, continuing education and more.
Due to the short-term, quick-response nature of our assignments, AMN Healthcare offers some of the highest travel nurse salaries in the industry, plus a full array of travel nursing benefits.
6. Travel Jobs Include Free Housing and Paid Travel Expenses
Say goodbye to your parents' basement or that hefty rent bill—the majority of travel nursing companies offer FREE housing for their travel nurses!
This can take the form of free, company-arranged housing or a housing stipend that you can use to find your own accommodations.
Most agencies will also cover many of your travel and relocation costs, and pay for any new state nursing licenses you need to obtain. There are also other perks like bonuses and 24x7 clinical support if you ever have an issue while working.
7. You'll Make New Friends and Professional Contacts
Another one of our top tips for new grad nurses involves networking and making the most of your connections — which you will make plenty of as a travel nurse. You might even find a fellow traveler to accompany you on one or more assignments.
Making new friendships and professional connections is one of the top benefits of travel nursing. After a few assignments, you could have a network of friends and colleagues across the United States. Staying in touch can pay big benefits for your future job searches.
8. You'll Enjoy Adventure, Fun and Exploration
Travel nursing is one of the few careers that pays you to travel while doing what you love.
Each travel nursing assignment brings fresh experiences and new excitement as you explore a new city and discover new restaurants, museums, parks and things to do. Even the road trips to each new job are an adventure!
Cross dream destinations off your bucket list, and stretch yourself by trying new sports, new foods, and unique regional activities that you can't find at home.
9. You Can Choose When and Where You Work
When you partner with a recruiter at a travel nursing agency like AMN Healthcare, you can pick from assignments available all over the country.
Choose from contract nursing jobs in certain cities and certain types of facilities, such as teaching facilities, specialty hospitals, Magnet-designated hospitals, outpatient clinics, and more.
Do you prefer to take back-to-back assignments all year and then take an extended vacation, or plan short getaways between every assignment? The choice is yours! Also, if an assignment works out well for both parties, you may have the option to extend your assignment and stay longer.
10. You'll Never Get Bored
While some people find contentment working in the same hospital and same town year after year, others crave fresh scenery and exposure to new techniques, people and places. The latter will find travel nursing could be a great fit.
As a new grad nurse embarking on a travel nursing career, you'll enjoy starting fresh every few weeks. Assignments are generally 4-13 weeks, allowing you to grow your career, enjoy variety and stay at the top of your nursing game!
Additional Nursing Resources: