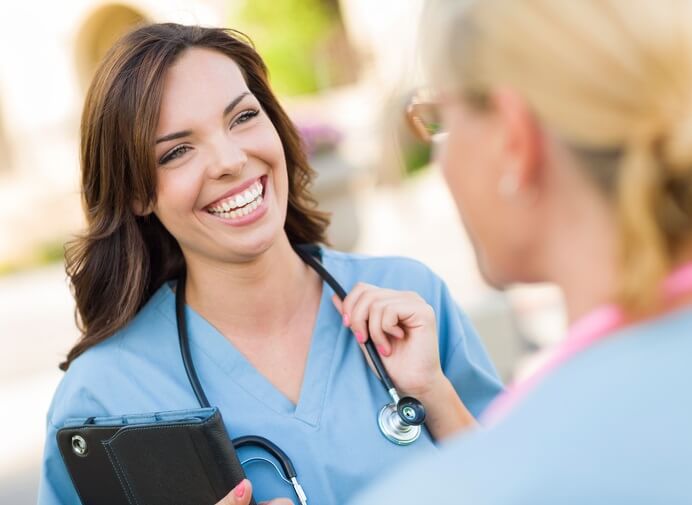 5 Ways to Achieve Nurse Job Satisfaction
Are you happy at work? Does your practice give you the inner satisfaction of helping others that prompted you to become a nurse, to begin with? If not, it may be time to change it up. You see, nurse job satisfaction affects not just nurses but also patient outcomes and gratification.
And nursing job satisfaction surveys show that a lot depends on working conditions.
For example, if a nurse's work culture "is unhealthy and toxic, the negative distractions and emotional exhaustion interfere with our ability to do this work of caring and compassion," said Regie Thompson, RN, CNRN, at Craig Hospital, a Magnet-designated hospital in Englewood, Colo.
How Satisfaction Levels And Outcomes Are Linked
Matthew D. McHugh, at the University of Pennsylvania in Philadelphia, and colleagues reported that patient satisfaction is significantly lower in organizations where many nurses feel dissatisfied with their work conditions as compared to those in other facilities.
In another study, patients experienced fewer infections, fewer hospital-acquired pressure ulcers, and improved quality of care when nurses were satisfied with their jobs. The data was recently presented by Nancy Dunton, Ph.D., FAAN, at the University of Kansas in Kansas City, and Diane K. Boyle, Ph.D., RN, at the University of Wyoming in Laramie, at the American Nurses Association's Nursing Quality Conference in Atlanta.
"When there is a high level of nurse engagement, the nurse-driven patient outcomes are significantly better than in organizations with low nurse engagement," said Jeff Doucette, DNP, RN, FACHE, NEA-BC, CENP, LNHA, vice president of the Magnet Recognition Program and Pathway to Excellence at the American Nurses Credentialing Center (ANCC).
Most nursing job satisfaction surveys show that respondents are happy with their careers overall, but their individual jobs can be a different story.
The Medscape Nurse Career Satisfaction Report 2016 found that 95 percent of nurses are glad they became a nurse, and nearly 80 percent would make the same career choice again. The AMN Healthcare 2015 Survey of Registered Nurses also found that most nurses are proud of their profession and satisfied with their nursing career choice, but not as satisfied with their current jobs.
5 Ways to Achieve Nurse Job Satisfaction
If you want to love your job and your profession, try these five methods to help you achieve improved job satisfaction:
1. Switch Things Up
Who says you can't work in a new environment? One of nursing's biggest benefits is the opportunity to work in different settings, doing different things. Nurses can easily move from one medical-surgical unit to another, or one ICU unit to another, or even to a different type of unit or healthcare facility. Another way to give yourself a change of pace and location is by signing up as a contract nurse.
2. Find A Nurse-Friendly Hospital
Examples include an American Nurses Credentialing Center-designated Magnet or Pathway hospital.
"There is a ton of work that links positive patient outcomes and higher nurse satisfaction to positive work cultures," Doucette said. "When nurses are fully engaged in their practice and have some control over their practice, there is a much higher level of satisfaction and engagement. That leads to improved patient outcomes."
Researcher Linda Aiken, Ph.D., RN, FAAN, FRCN, at the University of Pennsylvania, has reported that Magnet hospitals have better work environments and higher nurse job satisfaction than non-magnet facilities. Nurses have access to publicly available information about hospitals and should consider that before working in one, Doucette advised.
3. Seek Out Autonomy
Some nurses want to have more freedom directing their day-to-day tasks. Brooke Broadbent, RN, a nurse for 25 years in Kansas City, Mo., says she has never been happier nor had more control over her own work-life than since she started working in infusion services, operating a clinic.
"I like the teamwork," Broadbent said. "You feel like you are a part of the decision-making process, and your opinion really counts."
4. Find The Right Work-Life Balance
Deb Griffin, RN, MSN, CCM, COS-C, staff development coordinator at NVNA and Hospice in Norwell, Mass., found her work-life balance and nurse job satisfaction in home health nursing.
"Flexibility of hours, one-on-one opportunities with patients and families and a more predictable scheduling allow for better work-life balance, which promotes job satisfaction," said Griffin, who also recommends continuing to grow in the profession by pursuing an advanced degree or certification.
5. Care For Yourself
Thompson spearheaded the creation of self-care initiatives called Healthy Healers at Craig Hospital, which has a dedicated quiet room for nurses to meditate and do yoga. She offers nurses hand and chair massages and brings cookies at off-hours. A case manager and occupational therapist offer mediation classes. When it comes to nursing job satisfaction, Thompson emphasizes the importance of rest, nutrition, exercise, family and friends, fun, mindfulness, reflection, and meditation.
"Essentially all nurses and caregivers put themselves last when it comes to prioritizing needs," Thompson said. "They put the needs of their patients, their families, their employers, and even their communities before their own. It's in a nurse's DNA."
Yet, you can't take care of others well if you are not taking care of yourself.
The American Nurses Association has championed nurses' self-care for years and has designated 2017 The Year of the Healthy Nurse. This year-long campaign encourages nurses to balance their life, improve their health and achieve nurse job satisfaction.
SEEKING greater job satisfaction? AMN Healthcare can help you find it, with an exciting contract nursing job in your choice of locations.