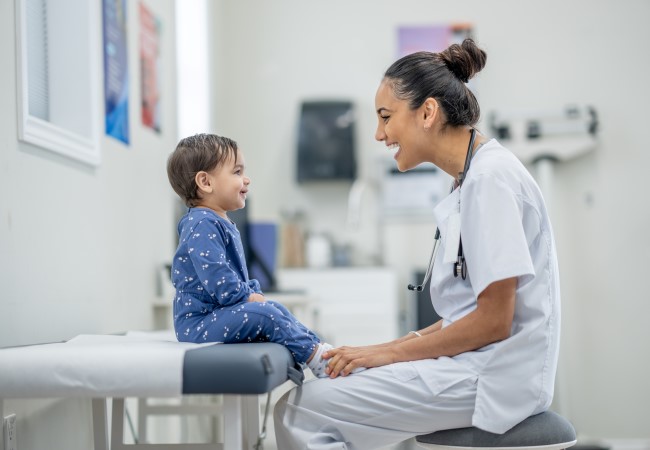 Are Advanced Practice Nurses Happy with Their Jobs?
Advanced practice nurses play a significant role in keeping the country healthy, and they have some of the best jobs in the nation, according to recent reports.
By definition, advanced practice registered nurses (APRNs) are master's- or doctorate-prepared nurses who have specialized and earned licenses as:
Nurse practitioners (NPs),
Certified registered nurse anesthetists (CRNAs),
Certified nurse-midwives (CNMs), or
Clinical nurse specialists (CNSs).
US News & World Report ranked nurse practitioner jobs the second-best profession in the country in 2017, and CRNA jobs were ranked sixth.
But how do these and other APRNs feel about their career choices?
"Building on nursing as the most trusted profession, nurse practitioners enjoy working with patients to improve the patient's health by managing acute and chronic illness," said Joyce M. Knestrick, Ph.D., CRNP, FAANP, president of the American Association of Nurse Practitioners.
"In addition to being expert clinicians and diagnosticians, NPs also focus on health promotion, disease prevention, health education, and counseling," she explained. "I love that I can guide patients to name smarter health and lifestyle choices."
Professional autonomy, making a difference in her patient's lives and the respect she receives from physicians, patients and other members of the healthcare team helps make practicing as an NP rewarding for Margaret (Peg) O'Donnell, DNP, FNP, ANP-BC, FAANP, a senior nurse practitioner at South Nassau Communities Hospital in Oceanside, New York, and an adjunct professor at Stony Brook University: The State University of New York.
"There's tremendous value in my work," O'Donnell said. "I know I am helping people effect change in their lives."
Results of the Latest Nurse Satisfaction Survey
The Medscape Nurse Career Satisfaction Report 2017 took a look at how nurses, including advanced practice nurses, feel about their careers. The report analyzed data from 2,036 nurse practitioners (NPs), 501 certified registered nurse anesthetists (CRNA), 567 clinical nurse specialists (CNS), and 313 certified nurse-midwives (CNMs) in the United States.
An overwhelming number of advanced practice nurses told Medscape they are glad they became a nurse.
Ninety-six percent of NPs and 97 percent of CRNAs said they are pleased with their chosen profession. Eighty-two percent of NPs would choose nursing again, as would 80 percent of CRNAs.
It's fortunate that APRNs feel good about their careers because the demand for these advanced practitioners continues to be strong. With a looming physician shortage, more NPs are expected to provide primary care in the coming months and years. The American Association of Nurse Practitioners reports that patients already make 1.02 billion visits to NPs annually.
The U.S. Bureau of Labor Statistics predicts a 31 percent increase in CRNA jobs, nurse practitioner jobs, and CNM jobs from 2016 to 2026, which is much faster than other professions.
"We are definitely within the tapestry and mainstream of the healthcare providers," O'Donnell said.
Most satisfying aspects of APRN jobs
Nearly half of nurse practitioners, 46 percent, told Medscape that helping people and making a difference in people's lives is the most rewarding aspect of their jobs. Nurse-midwives and clinical nurse specialists felt the same way.
Yet only 23 percent of CRNAs reported that helping people was the top factor in their nurse satisfaction. For CRNAs, working in a job they liked was the most rewarding factor, cited by 29 percent.
Early-career APRNs were more likely than late-career APRNs to rate gratitude and relationships with patients as the most rewarding aspect of their jobs: 18 percent compared to 10 percent.
But every advanced practice nurse is unique. O'Donnell has been an NP for more than 21 years and still finds her patent relationships extremely rewarding.
"You become a trusted person for that family to come to," O'Donnell said. "We come from a nursing model and have an ability to relate to patients on a different level. You add the medical acumen and you come up with a good combination of skill sets."
Least satisfying aspects of APRN jobs
When it comes to the opposite end of the nurse satisfaction scale, the Medscape survey reported that NPs cited the amount of documentation required as the least satisfying aspect of their jobs, reported by 27 percent. O'Donnell agreed that the paperwork can be a frustration.
For CRNAs, administration and workplace politics was the least satisfying part of their jobs, cited by 33 percent, followed by a lack of respect by physicians and colleagues at 18 percent.
Working temporary locum tenens jobs, NPs and CRNAs can avoid hospital politics and focus on what they find most rewarding—helping patients, making a difference in people's lives, and using their clinical skills in a setting and location of their choice.
While other options are available, the Medscape survey found among those dissatisfied with their careers, only 19 percent of NPs planned to pursue a new path in nursing, and 13 percent planned to retire early. Comparatively, just 6 percent of CRNAs planned to pursue a new path in nursing, and 14 percent planned to retire earlier.
Nearly half did not plan to do anything differently. Overall, nurse satisfaction remains high, and these advanced practice nurses plan to continue reaping the benefits of their chosen careers.
"It's exciting," O'Donnell said. "I have watched the profession grow, and that piece of it has increased my satisfaction by being involved."
CONTACT OUR RECRUITER to learn more.