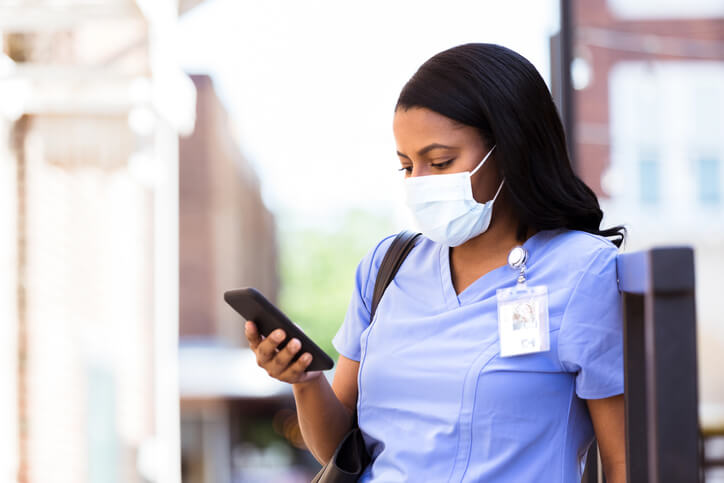 21 Top Nursing Apps for 2021
How many nursing apps do you use on a daily basis? Despite the glut of options available, you may only use a few for your particular specialty or workplace. But it is important to know what's out there—especially if they could make you more efficient or make your life easier.
We're also highlighting a few of our favorite mobile apps for nurses who travel. Use these to explore your new destination and make the most of each travel assignment.
Mobile apps for nurses: Our top picks for work & wellness
1. Moodfit – Because your mental health is so important, and COVID-19 has been making it harder to stay mentally healthy, the American Nurses Foundation is partnering with Moodfit to provide all nurses with the premium version of this app for free. Features include self-care tips, a mood journal, gratitude journal, breathing exercises, mindfulness meditation and more. Start here to download Moodfit from the App Store or Google Play.
2. Headspace – Live better by stressing less, sleeping more and improving your general outlook on life. Learn the ins and outs of meditation, with guided practices based on different themes, and tools designed to improve your sleep quality. (App Store or Google Play)
3. Lippincott Nursing Advisor – Thousands of evidence-based, clinical entries that can be quickly searched by keyword or category with this top nursing app. (App Store or Google Play)
4. Medscape – Loaded with medical content, plus you can stay up to date with news for your nursing specialty. (App Store or Google Play)
5. Pill Identifier by Drugs.com – Ever have a patient hand you a bowl of loose pills? An indispensable app for nurses to quickly search over 14,000 meds based on imprint, drug name, color or shape. (App Store or Google Play)
6. Lab Values Medical Reference – All you need to decipher lab results for commonly ordered panels. (App Store or Google Play)
7. MDCalc – Complex calculations are a breeze with this medical calculator: risk scores, algorithms, equations, formulas, classifications, dosing calculators, and more. (App Store or Google Play)
8. ECG Guide – Clear descriptions of both common and complex arrhythmias and ECG findings. (App Store or Google Play)
9. Classic Anatomy – Flex your knowledge of anatomy with this beautifully illustrated quiz app. Challenge your friends and coworkers. (App Store)
10. Med Mnemonics – 1,900+ acronyms, rhymes and memory tricks to help you learn and recall crucial information. This particular aid made our list of the best medical apps for nurses because of its ease of use, and the fact that you can delete, edit and add your own personalized mnemonics. (App Store)
11. MediBabble Translator – Communicate with your non-English speaking patients with this translation tool of medical phrases organized in a standardized history-taking format. (App Store)
12. Nursing Dictionary – Medical terms, medications and acronyms and more: this is a reference app for nurses you'll always want handy. (App Store or Google Play)
13. Nursing Drug Handbook – Detailed and convenient drug information: a great app for nurses because it emphasizes the safety aspects of drug administration. (App Store or Google Play)
14. Pedi Stat – Access critical information for your pediatric patients including weight-based and age-specific medication dosages and equipment sizes. (App Store or Google Play)
15. Resuscitation! – Warning…this app may be addictive! You are in control of treatment and diagnosis in this award-winning virtual patient simulator. (Google Play)
16. Nursing Central – The premier, all-in-one clinical resource for nurses. Includes disease, drug and test information, a leading dictionary, literature searching and more. Many nurses swear it is worth the premium price. (App Store or Google Play)
Travel nursing apps: Our top picks for nurses on the go
17. AMN Passport – This travel nursing app puts you in control, allowing you to easily find, book, and manage your travel assignments with AMN Healthcare. Provides quick access to your credentials, time and payment details, self-serve checklists, electronic signatures, helpful resources, and more. Start here to download.
18. Foursquare City Guide – New city? No problem. You'll feel right at home because this app predicts the places you'll like based on your home city favorites. (App Store or Google Play)
19. Gas Guru – Take the guesswork out of finding the cheapest gas for your road trip or once you get to your new destination. (App Store or Google Play)
20. Bark Happy – If your pup is also your faithful traveling companion, this app can keep you both happy. Use it to find places to crash, play and eat together. Plus, connecting with other dogs and their owners means you can both make some new friends. (App Store or Google Play).
21. Awesome Note – Want to keep a simple travel journal with photos to capture your travel nursing life? This is the app. It can also organize your work schedule, birthdays, passwords and more in a colorful, easy format. (App Store or Google Play)
Additional Nursing Resources: