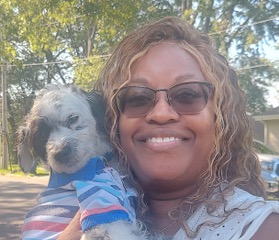 CT Tech Traveler Sees Potential for Healing in Every Scan
Meet Tina G., Allied Health Traveler of the Month
The success of computed tomography technologist Katina "Tina" G., RT(R)(CT), the latest Allied Health Traveler of the Month award winner for AMN Healthcare, is driven by her profound belief that a high standard of care should mark every patient's path to recovery.
"I've always seen the potential for healing in every scan I do," she said.
Tina's journey from being a student to becoming a recognized CT technologist is a feat propelled by her unbridled enthusiasm for exploring new destinations. CT tech jobs are crucial in providing medical practitioners with detailed insights through computed tomography scans. A CT tech traveler refining her skills for over seven years, Tina has brought her expertise to numerous healthcare facilities. Her story is a testament to dedication, adaptability, and an unwavering positive attitude.
A Passion Born From Personal Experience
Tina's foray into computed tomography was a response to a deeply personal challenge. Her introduction to medical imaging came during her numerous visits to a children's hospital where her son received many X-rays after being born three and a half months prematurely. It was there that Tina witnessed the transformative power of medical professionals working in this field.
"Along with me accompanying my son constantly going to the hospital, my mom was a registered nurse who always told me to get a job in the medical field because, "You'll always have a job,'" Tina said.
Tina graduated from Southwestern Illinois College in 2013 after completing a two-year radiology program. She then transferred to a four-year college, Southern Illinois University, Carbondale, and planned on studying magnetic resonance imaging (MRI) and horticulture. But after a while, Tina lost interest in MRI and started learning about computed tomography. She liked it because the discipline was fun and fast-paced. So, she graduated in 2017 with a bachelor's in horticulture and a certificate for CT.
After school, Tina worked part-time in a hospital and part-time at a garden center. But then her student loan payments started. Horticulture jobs were difficult to find, so she decided to focus on computed tomography full-time.
Embracing the CT Tech Traveler Lifestyle
Tina's transition from a traditional staff CT technologist to working travel CT tech jobs was a strategic decision sparked by the recognition of mounting burnout caused by working in hospitals and the challenges posed by the COVID-19 pandemic.
"A lot of people quit," she said. "A lot of people retired. A lot of people just left the field entirely, and then we were stuck short-staffed and overworked."
A desire for adventure and exploration, combined with the perfect timing of her son's high school graduation, prompted Tina to venture into the world of CT tech travel.
She contacted numerous companies, and Med Travelers, an AMN Healthcare company, was the first to respond. That's how she met her recruiter, Sierra A.
"I've been with Sierra since the beginning, and I hope I never have to change recruiters," Tina said. "She is awesome. She is very proactive. I'm very picky about where I want to go. So, she considers where I want to go, not just submitting me wherever she wants me to go. And if I have a problem, she solves it very quickly."
Tina initially sought financial stability from her assignments, but soon discovered the joy of a CT tech traveler's lifestyle. The freedom to choose her workplace, enjoy meaningful breaks between assignments, and explore new destinations during her free time has given her profound satisfaction. She eagerly anticipates her next assignment in North Carolina and has plans for mountain hikes, nature exploration, and enjoying the local cuisine.
Allied Traveler of the Month Award
Tina's Allied Health Traveler of the Month acknowledgment from AMN Healthcare surprised her. Her humility shines through as she recalls her reaction to the news.
Tina's dedication to her patients, her strong work ethic, her seamless adaptability to different work settings, and her professionalism set her apart as an allied health traveler. Her ability to face challenges head-on and remain flexible while consistently prioritizing patient care has made her a valuable asset to the facilities she has served.
Three Keys to Allied Travel Success
In sharing her experiences and wisdom, Tina highlights several key traits that have played a pivotal role in her success as a CT technologist and traveler.
Her keys to traveling success include:
Positivity — Tina's unyielding positive outlook endears her to colleagues and makes her a welcome presence in the work environment. "I've always been a glass-half-full person," she said. "I find that positivity can change the mood of the entire workplace. When I see someone having a rough day, I'll go out of my way to make them smile. And it's a wonderful feeling when you can make someone's day a little better."
Reliability — Tina's dedication to showing up for every shift and her willingness to take on additional shifts when necessary have earned her the trust and respect of her fellow healthcare professionals.
Flexibility — Tina's willingness to adapt to new environments, procedures, and colleagues has been central to her success as a traveler. She attributes this ability to her background in various areas of radiology and her general adaptability.
A Life Enriched by Exploration
Tina has purposely stayed close to home as she traveled over the years, primarily for family reasons. But now she's excited to branch out.
"I want to go to Washington and do the Space Needle in Seattle," she said. "I might go to Oregon. It's just so beautiful over there, especially during the fall season. I want to go to Minnesota so I can go to the Mall of America. And I want to go back to Kentucky because there's so much more that I want to do."
Colorado and the Rocky Mountains are also on her list, where she hopes to immerse herself in nature and try new places to eat.
Tina has found a work rhythm with her CT tech travel jobs that has removed the burnout she felt working full-time in hospitals. After every assignment, she takes time off to recover and reenergize before starting the next assignment.
"When you travel, you don't get burned out," she said. "I just finished an assignment, and I'm starting a three-week break now. You get to recuperate, get your stuff done at home, relax, and start anew. So, I hope to retire as a traveler. I really enjoy it."
READY to start making lifelong memories as an allied health traveler like Tina has? Just apply online, and our AMN Healthcare recruitment team will help get you on your way!