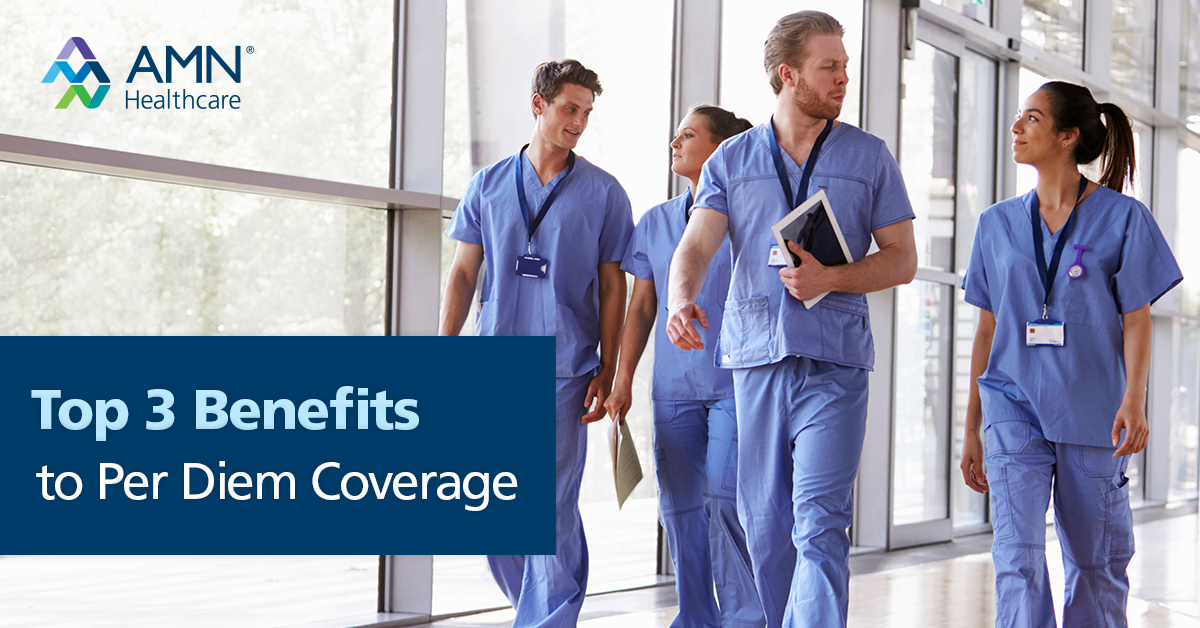 Top 3 Benefits to Per Diem Coverage
With the COVID-19 pandemic sweeping across the U.S., healthcare facilities are struggling to engage enough healthcare providers to deliver care to their growing patient populations. In many cases, they need look no further than their local per diem clinician community. Nursefinders, an AMN Healthcare company, has mobilized its extensive per diem clinician network to provide same-day shift coverage and flexible workload relief during these unprecedented times.
Here are the top reasons why healthcare facilities are increasingly relying on Nursefinders' per diem clinicians amid the COVID-19 crisis:
1. Access to Thousands of Available Per Diem Clinicians
AMN Healthcare is one of the nation's largest per diem staffing firms. Our per diem database houses thousands of active clinicians that are pre-credentialed and ready to support COVID-19 efforts in most large metropolitan areas.
"When Nursefinders asked our per diem clinicians if they would take local COVID-related shifts, 6,400 clinicians across the U.S. replied with a resounding 'yes'," says Kerry Sirkka, AMN's Senior Vice President and General Manager of Local Staffing.
Through our 24/7 centralized support model, Nursefinders can easily pivot the recruitment efforts of our 80 dedicated per diem recruiters and more than 200 per diem staffing supplier partners based on each client's unique hiring needs. We continuously maintain our per diem database of RNs, LPNs, LVNs, CNAs, MAs, respiratory therapists, and other specialized clinicians who are available to work 8-48 hours per week.
2. Reduced Labor Costs
Although patient care is always top of mind for healthcare facilities, the mounting costs to deliver quality care to the ever-growing COVID-19 patient population is ever present. Simultaneously, as the risk of exposure and workload demands rise, clinicians are seeking increased compensation before they accept COVID-19 assignments.
Healthcare facilities that engage per diem clinicians realize hard cost savings by strategically utilizing this flexible workforce to fill short term needs with customizable assignment lengths. Additionally, healthcare facilities do not incur the housing and travel expenses required for travel clinicians. As AMN balances the needs of our clients and clinicians, we've conducted extensive market research before applying crisis rates to COVID-19 per diem orders.
3. Fill Open Shifts Quickly Using AMN hub Mobile App
Nursefinders can immediately fill open shifts using AMN hub, its per diem booking mobile application. With AMN hub, clinicians can easily search hundreds of jobs by location and specialty, book multiple shifts that match their qualifications and availability, and receive instantaneous shift confirmation.
"Most recently, we placed 12 per diem nurses within two days to support a COVID swab testing project in California, six CNAs within 12 hours to a children's hospital in Northern California, and eight clinicians within three hours to a nursing home in Upstate New York," says Sirkka.
The fastest time to place a clinician using AMN hub thus far is 22 seconds, with many healthcare facilities seeing as much as 43% of shifts filled within one hour of posting the position on the platform. Watch this brief video to learn more about AMN hub.