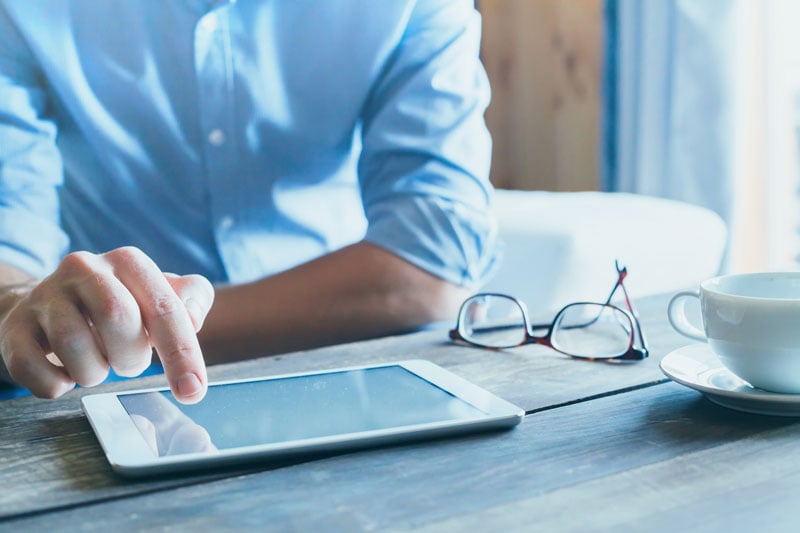 10 LinkedIn Tips for Physicians
Clinicians who want to use social media have a huge array of options from which to choose. Some love the freewheeling, almost-anything-goes style of Twitter, while others would rather stick with other healthcare professionals on a more targeted platform like Doximity.
Yet LinkedIn, which launched more than 15 years ago, remains a great option for physicians and other healthcare professionals who want to connect with clinicians and employers in their industry. The platform allows you to build a professional profile that highlights your background and experience, putting you in position to network, search for physician jobs or enhance the online reputation for your practice. Practice owners can also use it to hire staff.
"I feel LinkedIn is the place that people best connect to talk about work-related information," said Spencer Smith, founder of social media marketing company AmpliPhi. "Unlike Facebook, Twitter, Instagram and others, which are more of a grab bag, LinkedIn provides a clear context."
"LinkedIn's focus on connecting professionals makes it unique compared to other social media platforms," agreed Megan E. Brunson, MSN, RN, CNL, CCRN-CSC, president-elect of the American Association of Critical-Care Nurses (AACN).
Sarah Merritt, MD, first logged into LinkedIn in 2010, but she started using it on a frequent basis about six months ago. Her practice had a temporary vacancy in the position of marketing representative.
"It seemed like a good time to try to use a LinkedIn campaign to create new contacts," said Merritt, an anesthesiologist and pain management specialist in Bowie, Maryland.
Merritt is optimistic that LinkedIn will help with the growth in her practice. Her strategy is to connect through LinkedIn with any provider whom she interviews.
"Even if it doesn't work out to work together at this time, they have a way to get to me and I have a way to potentially contact them if they've made a good impression," she said.
10 LinkedIn Tips for Physicians and Advanced Practitioners Seeking Employment
To make the most of your LinkedIn experience and ultimately benefit your medical career, try these useful strategies:
1. Give it a try. This first step may sound like a no-brainer, but if you're not even using LinkedIn—or if you've only created a bare-bones profile and then more or less abandoned it—you're not going to get anything out of the experience. Think of it like a tool that should come out of the toolbox.
2. Make your profile complete. An incomplete profile can't be completely effective, so make sure to fill out all of the fields. You don't need to repeat your full resume here, but you should include your areas of medical expertise, your education, training, continuing education, skills, areas of interest and contact information. Include keywords that relate to your specialty or practice. The benefit: your profile will rank higher in searches, and people are more likely to engage with you.
3. Personalize your profile. Instead of letting the headline on your LinkedIn profile default to your current job title, personalize your headline to describe yourself and your experience. You can also customize your profile's URL (such as www.linkedin.com/name) and use it as part of your email signature and on business cards, resumes, etc.
4. Add a professional photo. Your purpose for using LinkedIn is to build your professional resume, reputation and network. Social media experts note that profiles that include photos get many more views, messages and connection requests—in fact, LinkedIn reports that profiles with photos are 21 times more likely to be viewed. So, upload a recent photograph of yourself to your profile and make sure it's both clear and professional, showing the image you want to portray.
5. Keep it current. Keep checking in at regular intervals to make sure your LinkedIn profile is up to date, adding any new, relevant information. These updates could include new work experience, certifications, additional state licenses or other professional activities. Stay as active as possible by sharing articles or commenting on other people's posts. Join groups that interest you.
6. Reach out. LinkedIn offers great avenues for connecting with physicians and other healthcare professionals, as well as physician recruiters and potential employers. "LinkedIn gives you direct access, if the people you want to talk to are on there and either moderately active or receiving emails of their direct messages," noted Merritt. You can start by searching for colleagues already on the site and invite them to connect.
7. Try the Career Advice tool. Sometimes you just want to ask another professional for some advice, or perhaps provide a few words of wisdom to others. LinkedIn launched a program in November 2017 called the Career Advice tool to help professionals connect for just these types of mentorship opportunities.
8. Connect at conferences. The next time you attend a conference or meeting for a professional association, connect with others in attendance. And if you're a speaker, connect with the people in the audience, suggested Smith. "My best tip is to close out the presentation with a call-to-action that asks people to connect with the doc on LinkedIn," he said.
9. Follow your professional association. Your specialty organizations will almost certainly have a LinkedIn presence, so be sure to follow them and get updates—and much more. "From an organizational perspective, LinkedIn offers an opportunity to provide educational resources, recognize achievements, share new information and engage with our community," said Brunson.