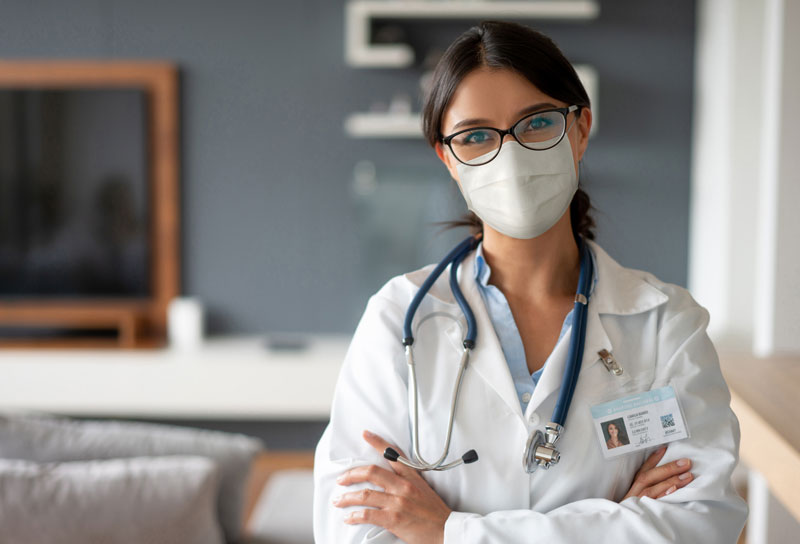 10 Tips for Writing an Exceptional Physician CV
Years of education and hard work have gone into your physician career. You have endured countless hours of study, lost sleep, and stretched yourself beyond normal limits—all to acquire the necessary medical training and devote yourself to the health and well-being of your patients.
So how can you adequately present all of that in a few pages of a physician curriculum vitae, or CV?
It takes time. It takes finesse. And it takes guidance from professionals who are well-versed in creating the most effective physician CVs.
Three recruiting professionals from AMN Healthcare, the nation's leading physician placement firm, recently shared their expertise on what it takes to create a standout physician CV that can help you reach your professional goals.
What makes a good physician CV?
"All our clients, especially our academic clients, are very particular with CVs," said Jay Torio, regional vice president for the department of academic recruitment at AMN Healthcare.
"We're working with some of the top medical centers, universities and medical schools in the country, and they are expecting CVs that are well-organized and regularly updated," he said. "There needs to be a logical flow to the CV so that it's easy to get a feel for the candidate's career trajectory – where they trained, what institutions they have been a part of and what positions they have held."
"Keep it clear, concise and to the point. And make sure it is accurate," added Gabriel Bishop, director of recruiting in the diversified specialties group for AMN Healthcare.
10 keys for creating an effective physician CV
1. Start with the basics
The AMN Healthcare team has found that most recruiters, department directors, and physicians expect a CV to contain the following elements:
Your full name, current and/or permanent address, phone number and email address
The name of your medical school, its location, your degree and year of completion
Any internships, residencies and fellowships (include areas of specialization, facilities, locations and years of completion)
Information regarding undergraduate degrees, including only dates, major areas of study, and grade point averages
The states in which you currently hold a license to practice medicine
Your professional experience, listed in chronological order, starting with most recent and going back to training
Activities, committee memberships, honors, awards and professional affiliations
Research and published papers (some may be optional depending on the position)
Professional references are common for residents and fellows to include at the end, while other physicians may mention they are available
2. Give your CV the time and attention it deserves
"Don't undervalue the CV," advised Torio. "Put some time into making it good and ensuring it represents you." It is also important to keep your CV updated regularly, including any new certifications, committee work or key publications, he noted.
A physician resume or CV is an essential component of every physician job search, according to Bishop. "That's especially true for physicians who are just sending out resumes on their own; their CV really has to speak for them. When candidates are working with our recruitment firm, however, we always supply a personalized cover letter to accompany their CV, and we can also speak on their behalf," she said.
3. Explain any gaps
"The employers I work with want to see very clear, defined work experience, including dates of employment, and the organization is very important," said Maxine Griggs, senior search consultant with AMN Healthcare' diversified specialties team.
"If there are gaps, indicate why there are gaps. Perhaps the person was traveling to do medical volunteer work, or there were some family circumstances, such as maternity leave. If it is listed and simply explained, that is better than leaving an empty gap," she said.
4. Pay attention to detail
"A lot of physicians don't want to include dates, but it is important to include the month and year—especially with training," said Griggs. "It's also important to look for typos and grammar usage, avoid misspellings, and understand what needs to capitalized and what doesn't."
Bishop agreed that it's important to list board certifications and when passed, and if recertified, what year.
Even the software used to create the document can make a difference. Bishop and Griggs recommend using Microsoft Word, which can help avoid issues with Mac file formats and Google Docs that may not open correctly for every employer. Once complete, the CV can also be saved in a PDF format, which is sometimes preferred with online applications.
5. Use the optimal length of CV for the audience
"The standard length we normally recommend for a CV is three to four pages, depending on how long the physician has been in practice and how many places they have worked. But those in academia will often list all of their publishing, and it can reach 30 to 40 pages. If that is the case, we normally recommend condensing it or having two versions," said Bishop.
"Otherwise, some nonacademic clients may look at a CV of that length and feel that the candidate may be overqualified. But it can depend on what the position requires," she added.
Torio agreed that the optimal length of a CV depends on the candidate and type of position they are seeking. "Academic CVs tend to be much longer since they will include publication history, speaking engagements, etc. Hospital C-suite leadership CVs tend to be more concise and business-oriented."
"If physicians are coming out of training, we don't recommend a CV of more than three pages unless they are looking for academic positions," Griggs added. "For private practice or other positions, the shorter the better, including primarily work experience, training and education."
6. Be clear and concise
"Don't make your CV read like a cover letter," advised Torio. "Sometimes too much detail regarding job responsibilities are lost when a high-level executive is asked to review a CV. Be concise."
"You'll obviously want to highlight your expertise but provide just enough detail in each position; you can include a brief description, but don't use finite details," said Griggs.
Bishop explained, "It is better to provide that '10,000-foot view' of your experience, by providing a few bullets under each job heading," adding that the recruiter or hiring manager will ask for more details during the interview.
So, what about the cover letter?
"The cover letter can allow an applicant to go into more detail, especially about their current job," said Griggs. "For instance, a candidate might note their average patient load per day, what kind of procedures they are doing, unique things they have trained on, etc. Incorporating those details into a cover letter that accompanies the CV, highlighting particular expertise in their specialty, can go a long way."
7. Know what to emphasize
Some highlights of your education and expertise are universal, while others may be more important to certain employers.
"If candidates speak additional languages, that can be very important, so I would put something like that up near the top of your CV," Griggs noted.
"Always note what your specific title was within a role," added Bishop. "If 100 percent clinical, put clinical; if administrative, like if you served as a director or CMO, list that out; if it was both administrative and clinical, list both and within each put bullet points in those roles." Specific experience can also be included, she said. "If you are a psychiatrist, for example, and involved in interventional therapies, those can be good to list."
"Some candidates we've worked with will create two or more versions of their own CV, depending on the type of organization they are applying to," said Torio. "I think this is a great idea, especially for someone with a diverse background who can highlight particular aspects of their experience tailored to that specific institution."
Torio also recommends including a keywords section that pertains to your specific skillset or type of job you want to land. "Having this section increases your chances of popping up in a candidate search when recruiters are sourcing for candidates in places like LinkedIn or other online sources," he said.
8. Know what to leave out
"Avoid including 'fluff' content in your CV – these are things that are completely irrelevant to your candidacy for a physician job," said Torio.
For instance, candidates should not include their date of birth or Social Security numbers on their CVs. Hobbies and personal information should also be left out.
"We also don't recommend including a photo," said Bishop.
Though objectives and mission statements are infrequently used, Bishop mentioned it can depend on the style of the person. "If they are passionate about working with the underserved, for instance, they may speak to that in a mission statement, or they may want to tailor their experience for a particular role."
Griggs added that physicians should remove any work experience that is not relatable to the job for which they are applying. "Those years waiting tables in high school just don't pertain to your current job search."
9. Keep it visually simple
"I recommend keeping CVs black and white—no crazy colors or funky designs," said Griggs. "There are a lot of templates out there that are okay, but the more clear and basic, the better. Avoid any design that makes it too complicated for someone to read and find the information."
Information that is too crowded is also harder to read, so be aware of the visual flow and allow enough white space to make the type readable. The size of the font should also be considered. Griggs recommends keeping everything very defined in each section, with clear headings for your education, work experience, etc.
10. Proofread and ask others to review
Before finalizing your CV, print it out and take the time to read it over a few times, checking for typos, formatting issues, errors and omissions. Then ask someone you trust to review it and provide some honest feedback. If you are working with a physician recruiter, he or she can be an invaluable resource.
"Some physician candidates ask us to look over their CV to comment on the layout, etc. I'm always happy to do it. We can help if it needs reformatted, and give suggestions to keep the content clear and concise," said Bishop.
"Physicians who have worked with the same employer for many years may need a refresh of their CV. We can review it and provide some valuable feedback," added Griggs.