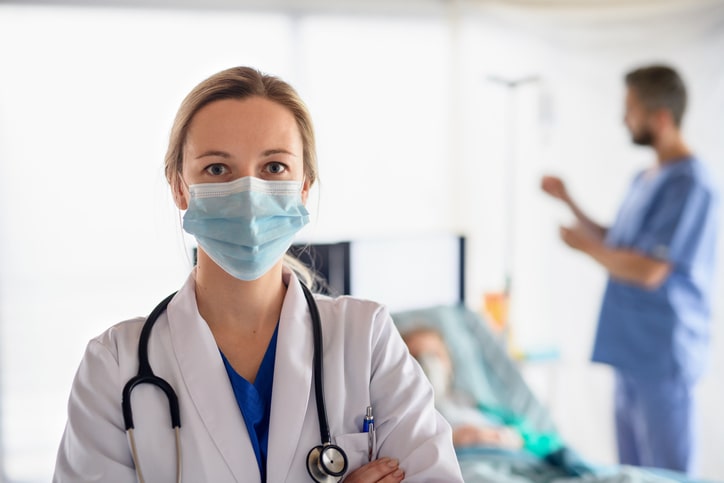 The 5 Best Internal Medicine Apps
Smartphones and tablets are pretty much ubiquitous in healthcare settings today, and doctors of all specialties have an overwhelming variety of medical apps from which to choose. Some apps are popular across the board, while some target select specialties and subspecialties.

So what are the best internal medicine apps?

The list can vary based on personal preferences and specific needs, but AMN Healthcare found that some applications consistently rank at the top of internists' best apps lists.

Whether you are a general internist, gastroenterologist, oncologist, infectious disease specialist, or other internal medicine specialists, the following list contains some of the most helpful apps for improving patient care and streamlining your professional practice.

FIND locum tenens internal medicine jobs across the U.S. with AMN Healthcare.

What every internal medicine app needs

If an application will access or contain patient information, HIPAA compliance is a "must-have item," according to Pathik Jayani, CEO of the development firm Blue Whale Apps. The app should protect patient information with various levels of encryption and follow security measures that would help in the incidence of attempted identity theft.

Another must-have in a mobile health application, according to Jayani, is the ease of migration. "In case of migrating from one platform to another, it helps tremendously if the platform follows the industry-standard workflow of the software development and system integration. That will save a lot of headaches."

If a physician is searching for the best internal medicine apps for reference, clinical-decision support, or organizational purposes, however, ease of use, accessibility, and reputable medical information are more likely to top the list of priorities.
5 Of The Best Internal Medicine Apps
The following resources are among the favorite apps for internal medicine providers:

1. Medscape

Medscape is a go-to comprehensive medical resource for many internal medicine professionals. The app provides an easy way to research medical conditions, procedures, and drugs. Available for iPhone and Android, the Medscape app provides evidence-based reviews of clinical presentations and treatments for more than 4,000 conditions and diseases.

Users can also choose from companion apps, such as Medscape CME and the Medscape MedPulse News app.

2. Epocrates

Chances are, you're already familiar with Epocrates, which bills itself as the "No. 1 Trusted Medical App." With its nearly 20-year history, Epocrates boasts more than 1 million physician users in the United States.

A user can review evidence-based clinical practice guidelines, check for potential drug interactions, and receive medical news alerts. Extra features, such as the ability to look up ICD-10 codes and information about alternative medicine, are available through Epocrates Plus for an additional yearly fee. Epocrates is available through the App Store or Google Play.

3. Read by QxMD

No one has enough time to read all of the medical journals in their field, but an app like Read by QxMD can make it easier to stay abreast of the latest articles. In fact, practitioners can access the full text of millions of articles from PubMed.

The app will also let you track your continuing medical education (CME) credits. It's available through the App Store and Google Play. (QxMD also offers other popular apps like Calculate, which offers 300+ unique medical calculators and decision support tools.)

4. UpToDate

Another of the best-known apps for internal medicine practitioners at the point of care, UpToDate features clinical content on more than 10,000 topics, as well as drug information and medical calculators.

Developers of the app boast 1.3 million users and the backing of 80 research studies that show improved outcomes and efficiencies from its use. Practitioners can find UpToDate for both iOS and Android platforms.

5. Doximity
If you're looking for a platform where you can interact with other physicians, nurse practitioners, and PAs, the Doximity mobile app could be useful for you. You can search for other providers through the universal clinician directory, get personalized news and updates in your subspecialty, or read articles for CME credit.
You can also request and set up a free e-fax number that's HIPAA-secure and will allow you to send signed faxes from your mobile device. The app will also help you keep current on your own CV, with real-time alerts about new citations, publications, or mentions in the media. Doximity is available in the App Store and Google Play.

Of course, new apps for internal medicine specialists are released all the time, so it's worth staying abreast of the latest news about medical apps that could be useful for you.
To learn more about opportunities for locum tenens internal medicine physicians, please complete the form on the right of this page and one of our experienced recruiters will contact you to answer any, and all, of your most urgent questions.