9 Essential Apps for Nurse Practitioners
Looking for quick information and decision-making tools at the point of care? Mobile apps on your smartphone or tablet can help you create your own digital medicine nirvana. The hardest part of today's mobile technology may be choosing which NP apps to download in the first place. The sheer number of choices can be overwhelming! So, we've pulled together the nine essential apps for nurse practitioners—including the tried and true, and some that may be new to you—to save you time and keep you focused on caring. Check out the following list for ready access to essential NP references and tools.
Top Essential Apps For Nurse Practitioners
One of the best-loved apps for nurse practitioners and physicians, UpToDate features clinical content on more than 10,000 topics, as well as drug information and medical calculators. NPs appreciate the practice guidelines, a drug interaction checker, quick access to research articles, and the patient education tool, including 1,500 printable handouts.
The app's developers boast 1.3 million users and the backing of 80 research studies that show UpToDate improves outcomes and efficiencies.
2. MediBabble Translator (iOS)
Patients come in all shapes, sizes, and languages, making MediBabble a top pick among NP apps. Nurse practitioners can download this free app with Spanish already included, with French, Mandarin, Russian, German and other languages available for free download, as well. This translation tool of medical phrases is particularly useful in settings where interpreters are not always accessible.
3. Medscape Mobile (iOS & Android)
This all-inclusive resource offers drug look-up, including a drug-interaction checker, a disease and condition reference as well as image collectors, formulary info, procedural articles, and a medical calculator. The Medscape app includes evidence-based reviews of clinical presentations and treatments for more than 4,000 conditions and diseases. Users can also choose from companion apps such as Medscape CME and the Medscape MedPulse News app.
This classic resource is a complete medication reference with the latest pharmacology information, disease information, and more. Many nurse practitioners swear by Epcrotes' interaction checker and a pill identifier. Clinical practice guidelines for using medication in different patient populations help make this a popular NP app. It also covers allopathic and homeopathic medications and helps you select the best ICD-10 code for a given patient.
VisualDx is a decision support and clinical reference tool that is searchable by symptoms, signs, and patient factors at the point of care. It offers the ability to search for visual clues, offering the fastest path to a customized differential diagnosis. This is especially helpful when assessing dermatological conditions, medication reactions, or other visual symptoms.
Artificial intelligence technology allows the app to analyze photos taken by the clinician and classify them immediately. NPs can view and confirm the classification, enter additional patient information, and immediately review diagnostic possibilities and treatment options.
Recognized for helping to facilitate practitioner-patient communication, this NP app allows you to share images and disease information with patients on your phone or tablet.
6. CDC Vaccine Schedules (iOS & Android)
Whether working with infants, children, or adults, nurse practitioners can scan the CDC Vaccine app, including the immunization schedules recommended by the Centers for Disease Control and Prevention. Features such as color-coding coordinates, automatic updates, and hyperlinked vaccine information can help NPs quickly share resources and information with even the wariest of patients.
When time is of the essence, the Pedi STAT app can be a real lifesaver for critically ill children.
This decision support tool allows access to critical information for your pediatric patients including weight-based and age-specific medication dosages and equipment sizes. Ideal for emergency NPs, pediatric NPs, and those working in pediatric critical care.
8. Geriatrics at Your Fingertips (iOS & Android)
On the other end of the patient-age spectrum, Geriatrics at Your Fingertips from the American Geriatrics Society provides up-to-date content relating to the care of older adults.
Gerontology NPs and others who care for senior adults in a variety of healthcare settings can access fall prevention guidelines, Beers criteria, management of atrial fibrillation, common immunizations in the elderly, over 100 medication tables, treatment algorithms, and commonly used medical calculators.
9. Doximity Medical Network (iOS & Android)
If you're looking for a platform where you can interact with other nurse practitioners, physicians, and PAs, the Doximity app for Android can help. It allows you to quickly find other providers, get personalized news and updates in your subspecialty, or read articles for CME credit.
You can even set up a free e-fax number that's HIPAA-secure and will allow you to send signed faxes from your mobile device.
Are you a nurse practitioner looking to explore exciting locum tenens opportunities?
Learn More About Locum Tenens Nurse Practitioner Jobs
To learn more about NP locum tenens travel jobs, simply complete the form on the right of this page. An AMN Healthcare recruiter will be in contact to learn more about your career and lifestyle goals.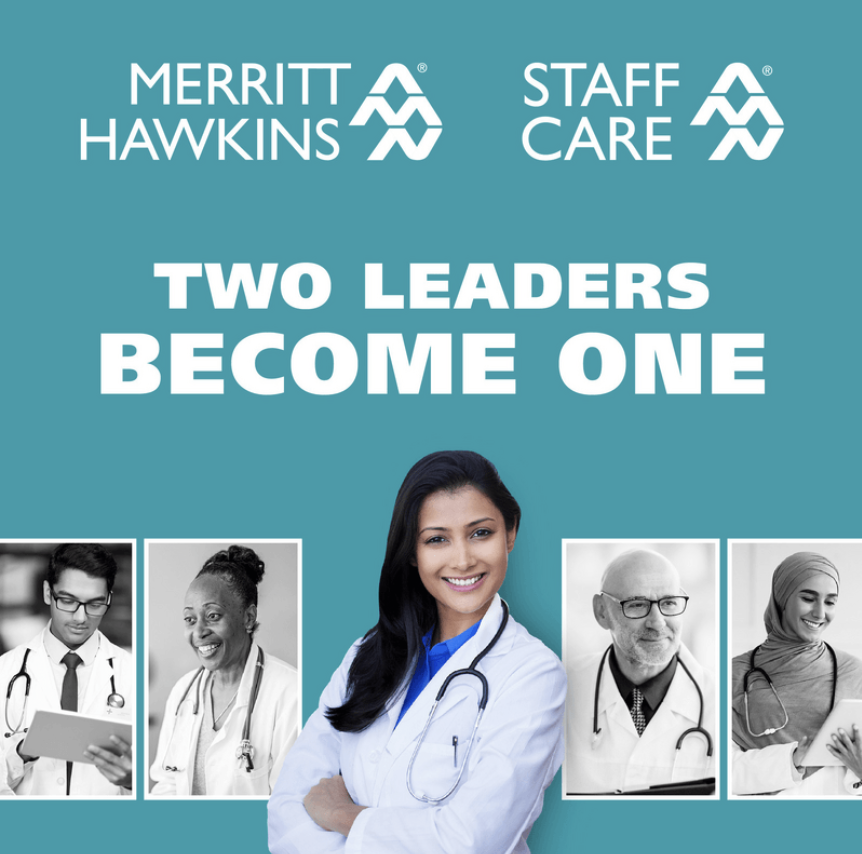 Welcome to AMN Healthcare
Bringing two Physician staffing leaders, Merritt Hawkins and Staff Care, together as AMN Healthcare.