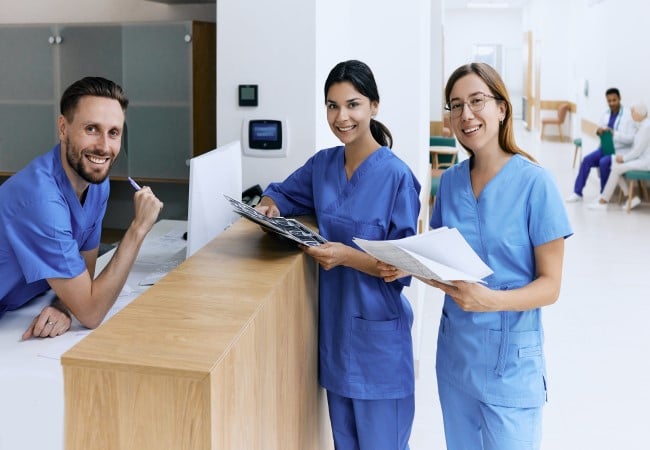 How the Enhanced Nurse Licensure Compact Affects Advanced Practice Nurses
Originally enacted in 2000, the Nurse Licensure Compact (NLC) is a standing agreement between states allowing nurses to have one compact state nursing license that provides flexibility to practice in other states that are part of the agreement.
On January 19, 2018, the original Nurse Licensure Compact (NLC) expanded its reach and benefits, evolving into the enhanced NLC (eNLC), which allows RNs and LPNs/LVNs to practice in other compact states without needing to obtain additional licenses.
What is the Enhanced Nurse Licensure Compact (eNLC)?
Although the compact does not relate specifically to advanced practice licenses, it still affects advanced practice registered nurses (APRNs) and any other practitioners who hold an RN license with multi-state privileges, including:
Nurse practitioners (NPs)
Certified registered nurse anesthetists (CRNA)
Certified nurse-midwives (CNMs)
Clinical nurse specialists (CNSs)
An additional standard implemented in the eNLC includes requiring applicants to undergo state and federal fingerprint-based criminal background checks as a measure to bolster security and validity amongst the member states.
As of 2023, forty (40) United States jurisdictions are members or have enacted legislation for the enhanced NLC (eNLC) in some capacity.
Which states are part of the eNLC?
The current list of eNLC states includes Arizona, Arkansas, Colorado, Delaware, Florida, Georgia, Idaho, Indiana, Iowa, Kansas, Kentucky, Louisiana, Maine, Maryland, Mississippi, Missouri, Montana, Nebraska, New Hampshire, New Jersey, North Carolina, North Dakota, Ohio, Oklahoma, South Carolina, South Dakota, Tennessee, Texas, Utah, Virginia, West Virginia, and Wyoming.
Additionally, Washington and Pennsylvania have enacted eNLC and are awaiting implementation. Other states with pending eNLC legislation include Oregon, Alaska, Minnesota, Illinois, New York, Rhode Island, and Massachusetts.
What does the eNLC implementation mean for APRNs?
With the 2018 enhancements, advanced practice registered nurses (APRNs) with an RN compact license issued before July 20, 2017, from one of the eNLC states still have multistate privileges in the other eNLC states.
Nurses who currently practice in states with pending legislation do not have to do anything until the bill(s) are passed. Once their state becomes a part of the eNLC, the state board will reach out to all nurses registered with the state. Nurses then will be required to ensure their permanent address is up to date with the state board in order to determine compact license eligibility.
APRNs with an RN compact license from the remaining NLC states (that have not yet joined the eNLC) can only exercise their multi-state privileges within those states.
APRNs and physician assistants (PAs) who wish to enjoy their full scope of practice will still need to get their advanced practitioner licenses in other compact and non-compact states where they wish to work.
For more information:
Contact your state board(s) of nursing
Contact your recruiter at AMN Healthcare
Register for Nursys e-Notify system for all current and future eNLC updates
We can also help with all licensing questions and needs, to ensure our locum tenens providers have the correct licenses to work their assignments.
Find more details about the eNLC on the NCSBN's Nurse Licensure Compact site.
Get Started!
If you are ready to take full advantage of the eNLC, AMN Healthcare is prepared to help our advanced practice nurses make the transition from the current compact to the eNLC. To learn more, connect with one of our expert recruiters by filling out the form on this page (right side) or start searching for your next APRN assignment!
Search Advanced PractitionerJobs Now