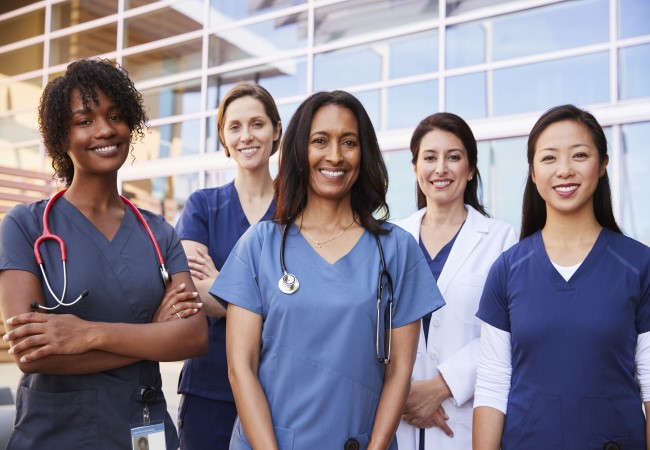 Celebrating Change Makers in Medicine for Women's History Month
Recognizing Influential Women in History and Medicine
Women's History Month in March has been formally recognized by Congress since the late 1980s. It was created to acknowledge the contributions that women have made to history -- many of whom have been overlooked or undermined throughout the years.
During this year's Women's History Month, AMN Healthcare is proud to recognize and celebrate some of the outstanding women who have impacted the medical field over the years. From Elizabeth Blackwell to Anna Freud and many others, these pioneering women broke new ground and can serve as an inspiration for other women in medicine.
Today and every day, we are eager to put a spotlight on the female doctors, scientists, and other healthcare professionals who have made a difference in medical practice and patient care.
Historic Firsts for Female Physicians
In 1849, Elizabeth Blackwell, MD, became the first woman in the United States to be granted an MD degree, according to the Association of American Medical Colleges (AAMC),
Although she was initially turned away by 10 medical schools, Blackwell didn't take no for an answer; she eventually graduated from Geneva Medical College in western New York. Our nation's first female physician is also known for co-founding the New York Infirmary for Indigent Women and Children to serve the poor in 1857 and then the Woman Medical College of the New York Infirmary in 1867.
Less than 20 years after Blackwell made history, Rebecca Lee Crumpler, MD, became the first African American woman in the United States to earn her medical degree, in 1864. In more recent history, Joselyn Elders, MD, is another noted female physician who became the first African American surgeon general of the United States in 1993, and the second woman to ever hold that position (Antonia Novello, MD, was the first female surgeon general, appointed in 1990).
Another name on our list of influential women in history is Virginia Apgar, MD, whose eponymous score is used as the universal benchmark of rating newborn infants' health in the United States. In fact, former U.S. Surgeon General Julius Richmond once said that "Apgar had done more to improve the health of mothers, babies, and unborn infants than anyone else in the 20th century."
Similar Content You May Also Like:
Unsung Heroines of the Medical Field
Although her father's name is among the most noteworthy in medicine as the founder of psychoanalysis, Anna Freud was also a leader in the field.
A former elementary school teacher, Anna Freud made great strides in the area of child and adolescent psychoanalysis and revolutionized the way that children are treated in many healthcare fields and beyond. Her best-known work is the book, The Ego and the Mechanism of Defense (1936), and she is credited for her extensive work delving into the ego. Many sources acknowledge Freud for establishing the field of child psychoanalysis.
In Freud's biography for SimplyPsychology.org, Iqra Noor explained, She developed different techniques to treat children, and noticed that children's symptoms were different from those of adults and were often related to developmental stages."
Fast-forward to the 1970s, and here we find another woman making a name for herself in medicine. Rosalyn Yalow, Ph.D., was a nuclear physicist who dedicated her life to studying hormones and it paid off in spades as she was awarded the Nobel Prize in Physiology or Medicine in 1977.
In her Nobel Prize biography, she said, In studying the reaction of insulin with antibodies, we appreciated that we had developed a tool with the potential for measuring circulating insulin. It took several more years of work to transform the concept into the reality of its practical application to the measurement of plasma insulin in man. Thus the era of radioimmunoassay (RIA) can be said to have begun in 1959. RIA is now used to measure hundreds of substances of biological interest in thousands of laboratories in our country and abroad, even in scientifically less advanced lands."
Yalow's work made an impact in a way that has touched countless medical professionals and patients. She died in 2011, but her legacy lives on through a body of work that established her as an influential woman in medicine.
Eleven years after Yalow's award, Gertrude Elion secured the 1988 Nobel Prize in Physiology or Medicine for her work developing drugs to treat leukemia and AIDs, alongside George Hitchings.
Feeling inspired? AMN Healthcare can help you take your career in medicine to the next level with locum tenens jobs across the U.S. There's plenty of room for your name in tomorrow's history books.
Start your journey by contacting a AMN Healthcare locum tenens recruiter today.