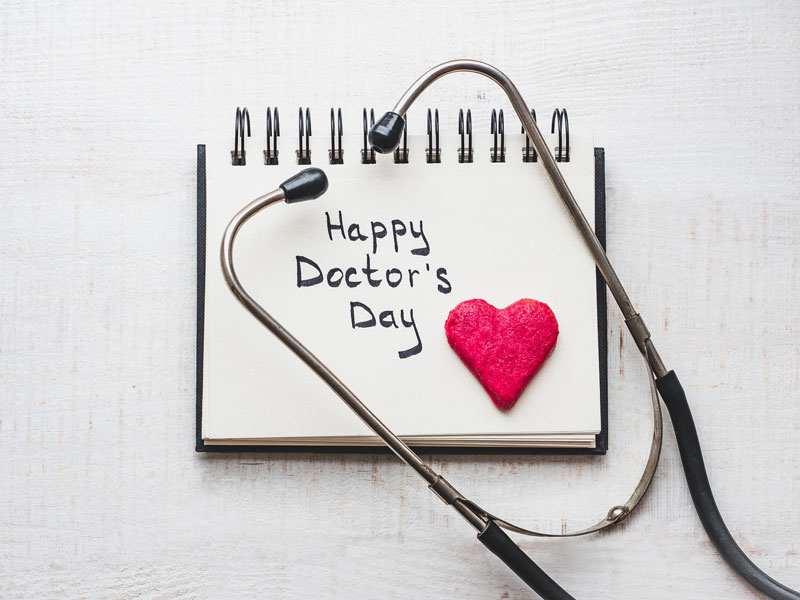 The Top Ways Doctors Impact Communities
As America celebrates National Doctors Day on March 30, 2019, the impact of physicians on people's health and their contributions to the underserved stand out, along with how their work impacts a community's economic health.
"It is our duty as a doctor to provide care to anyone who needs it," said Armando Sardi, MD, FACS, a surgical oncologist and medical director of The Institute for Cancer Care at Mercy in Baltimore. Sardi travels to Colombia to provide free care to those in need and teach physicians in that country updated techniques in cancer detection and care.
History of Doctors Day
Eudora Brown Almond, a physician's wife, first introduced Doctors' Day on March 30, 1933, in Winder, Georgia. Almond picked the date because it was the anniversary of the first use of anesthetic in surgery, when in 1842, Dr. Crawford Williamson Long used ether during a surgery to remove a lump from a patient's neck. People celebrated by placing flowers on dead doctors' graves, sending greeting cards and a formal dinner at the home of Dr. and Mrs. William Randolph.
The Southern Medical Association Auxiliary picked up the idea and ran with it, selecting a red carnation as the official flower. In 1952, the auxiliary held the first Doctors' Day luncheon, which continued annually for decades. The auxiliary published a book "The History and Handbook of Doctors' Day" and continues to promote doctors' day through grants and awards.
The U.S. House of Representatives first commemorated the day with a resolution of appreciation in 1958. More than three decades later, in 1990, Sen. Thad Cochran (R-MS) introduced legislation in Congress to designate March 30, 1991, "National Doctors Day." President George H.W. Bush signed it into law, and in the following years, the country celebrated its physicians on March 30.
Financial impact of physicians on communities
The Centers for Disease Control and Prevention reported 990.8 million visits were made to physician offices in 2015, the latest data available. Fifty-one percent of those visits were made to primary care physicians. An additional 125.7 million visits were made to outpatient hospital centers.
The 2018 American Medical Association Economic Impact Study found doctors contribute $2.3 trillion to the U.S. economic activity. Each of the 736,873 physicians providing care contribute on average $3.2 million.
The AMA study also found physicians support 12.6 million jobs, with each doctor supporting on average 17.1 jobs. Those 12.6 million jobs pay $1 trillion in wages and benefits. Each physician supports an average of 1.4 million in wages and benefits.
Altogether, physicians generated $92.9 billion in state and local tax revenue, with each physician generating $126,129 in taxes.
Impact of physicians in revenue generated for hospitals
AMN Healthcare 2019 Physician Inpatient/Outpatient Revenue Survey analyzed revenue derived from hospital admissions, tests, treatments, prescriptions and procedures performed or ordered by physicians and found the average annual net revenue generated by primary care physicians for their affiliated hospitals in the year prior to the survey was $2.1 million, and for specialists it was $2.4 million. Both were up in 2019 as compared to the previous six surveys, dating back to 2002.
Cardiovascular surgery generated the most revenue for hospitals at $3.7 million, followed by invasive cardiology at $3.48 million, neurosurgery at $3.44 million and orthopedic surgery at $3.29 million.
Positively influencing patient lives
While it might seem a job requirement that physicians positively influence patients' lives, many go the extra mile, providing free care in their communities or on mission trips and working with patients other people would rather not treat.
Sardi, at Mercy, said he feels fortunate and is committed to make a difference in the lives of Colombians, providing medical care to underserved communities. He has formed the nonprofit Partners for Cancer Care and Prevention to help women navigate the healthcare system and gave them breast prostheses. Sardi and physicians who accompany him teach primary care physicians in his country of origin to identify cancer early, when treatment is more successful.
"We help a lot of people," Sardi said. "It's rewarding."
Other physicians help the less fortunate closer to home. Kevin Sherin, MD, MPH, MBA, health officer/director of the Florida Department of Health in Orange County, serves on the Shepherd's Hope board of directors and volunteers often at the downtown Orlando clinic, providing free care to low-income people without health insurance.
Safety-net clinics, such as El Centro Family Health, serving seven counties in rural New Mexico, treat patients who would otherwise be left out of the healthcare system. El Centro Medical Director Matt Probst, PA, family physician Leslie Hayes, MD, and other providers at the center develop relationships with marginalized patients, which can transform those patients' lives. Their efforts have been chronicled in a new PBS documentary "The Providers."
"The reward is helping people and living to serve," Probst said.