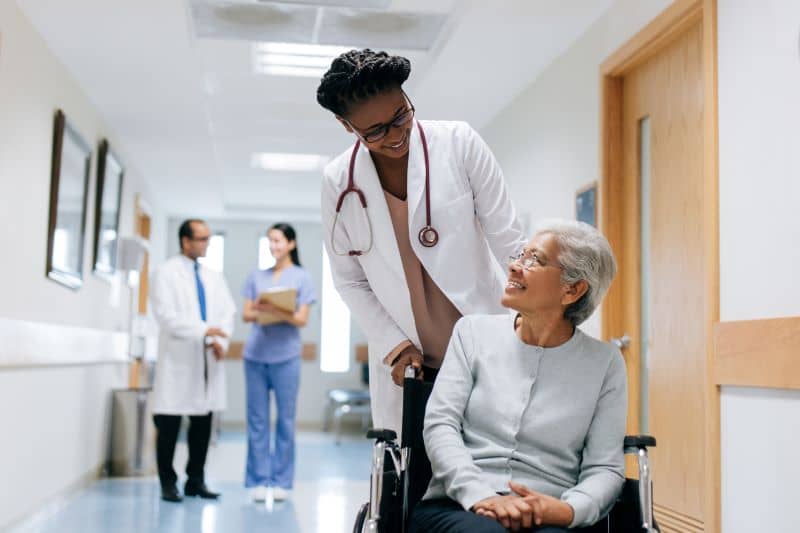 Patient Advocacy: 5 Ways To Advocate for Your Patients
Nurses may be asked by those unfamiliar with the term, "what is patient advocacy, and how does a nurse perform this service?" Do you know the answers?
As defined by Merriam-Webster, an advocate is "one who supports or promotes the interests of a cause or group". Therefore, your role as a nurse is to support or promote the interest of your patients, whether they be single individuals or a population group.
Nursing Code of Ethics Promotes Patient Advocacy
The nine provisions found in the American Nurses Association Code of Ethics mention several precepts that relate directly to patient advocacy:
Respect human dignity
Commit primarily to the patient
Protect the rights of the patient
Treat all patients equal
You'll encounter many opportunities to speak up for patients during your nursing career. It's important to exercise both tact and assertiveness to get your point across.
Consider taking a continuing education class or attending a work-sponsored seminar on patient advocacy training. Good relationships with co-workers and a supportive team atmosphere can also help ensure a successful resolution.
5 Actions That Promote Patient Advocacy
Here are five other tips for promoting patient advocacy.
1. Keep the Entire Team Informed
As the employee with the most direct patient interaction, you're often best qualified to relay the patient's wishes to the rest of the healthcare team.
Cultural and religious beliefs may require certain procedural implementations with regards to meal planning, dress, and family visitations. Your patient may make medical decisions that need to be passed along to other members of the team, and you must make sure these wishes are carried out.
2. Prevent Unwelcome Family Intervention
Families sometimes act in ways that aren't in line with the patient's best interests or wishes. This may be due to misguided thinking or, unfortunately, sometimes neglect. Your advocacy helps protect your patient from uncomfortable situations.
3. Provide Assistance with Social and Financial Issues
Don't let your patient be discharged with a fistful of prescriptions they can't afford, orders for home supplies that are impossible to find, and instructions they're unable to follow.
Contact a social worker within your organization if you feel your patient is unable to handle their discharge assignments because of financial needs or homelessness. Many name-brand medications have assistance programs, and there are sometimes less expensive alternatives to the original prescription.
Offering to help your patient now can lead to a successful home care transition, and you can even encourage the patient to take on some of this responsibility for themselves when appropriate. Michelle Katz Lpn, MSN advises patients to look up the "standard prices of their procedure". This prevents unexpected billing statements from ruining the recovery period.
4. Exhibit Correct Nursing Care
All day long, you provide examples of patient advocacy through compassionate, skilled nursing care. When you treat patients with dignity and respect, you're reaffirming their individual rights. Think of them as a person with triumphs and sorrows just like yourself, and avoid falling into the dehumanization trap.
Make sure your patient understands what is happening within the healthcare system. Explain that they have the right to refuse tests and procedures until they fully understand them. Other members of your team may use complicated medical jargon that confuses your patient. Take time to interpret information into everyday language.
5. Teach them to advocate for themselves
You may do everything in your power to support and protect your patient's rights but you cannot be around day and night.
Teri Dreher, RN, NShore Patient Advocates, emphasizes the importance of patient advocacy and provides a list of things nurses can encourage patients to do to protect themselves:
1. Create a medical summary. Explain to the patient how important and helpful a current medical summary is during the hospital admission process. You can provide sample documents or detail the important information to include such as health conditions, allergies, physicians, and medication listings with dosages.
2. Acquire personal health knowledge. Legitimate medical sources provide patients with a wealth of knowledge concerning diagnoses, medications, and procedures. Teri suggests the National Institutes of Health website for reliable health information and Drugs.com to answer pharmaceutical questions. Many disease states or conditions have reliable organization websites as well.
3. Use trusted sources to help choose a new doctor. Patients should rely on trusted health professionals rather than friends and online reviews when choosing a physician. Pharmacists often know local doctors and can point patients in the right direction. Suggest scheduling a face-to-face interview and stress the importance of feeling comfortable with their choice.
4. Avoid unnecessary hospitalizations. Certain infections are very common in hospitals, and those with weak immune systems are particularly vulnerable — including the elderly. Many treatments are available via home care, and patients should be shown there are alternatives to inpatient care.
5. Request good communication. Emphasize repeatedly to your patient that they have a right to understand their health care. Tell them to ask for an interpreter if there are language barriers. Teri reminds patients to not "pepper doctors with questions a nurse could answer" and to "be respectful of nurses' time; it's the key to building good relationships"
The above discussion mentions just a few examples of patient advocacy. As a nurse, you have the best opportunity to secure rights, equal treatment, and freedom from suffering for your patients.
The healthcare system can become a huge automated machine with patients existing as small cogs in the system. Take patient advocacy to heart and give your patients personalized care that protects their rights.
AMN Healthcare is seeking caring and skilled patient advocates for thousands of travel nursing jobs across the U.S.