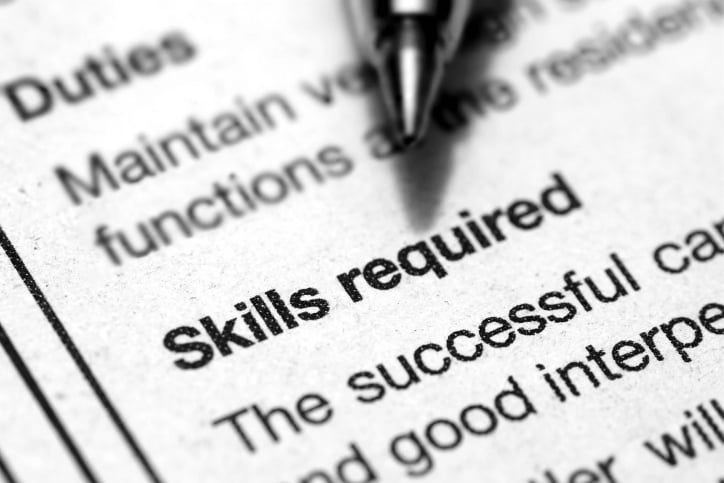 5 Must-Have Nursing Skills To Put On Your Resume
What skills in nursing you include on your resume can make or break your application. You can't always include everything about your nursing career in this short space, though.
Check out the list of nursing skills for your resume below. Put your revised nursing resume to work to land a career in an exciting new state or city.
5 Skills in Nursing to Include on Your Resume
1. The skills relevant to the specific job posting
Melissa Wayne Rudy of RNInterview Tools says nurses should read the job posting critically and understand the mission and values of the prospective employer. Then, restate what the job posting wants within your resume and cover leader.
"This means one must target their resume, cover letter and job application to the job they are applying for," says Rudy. "This is how you get past HR's online Applicant Tracking System software and get a manager to call you for an interview."
Career activator Madelyn Mackie agrees with this advice, adding, "Take a highlighter and go through the job description and highlight all the skills you possess. Then, go to your resume and make sure you have incorporated those skills."
"A surgical nurse may need to list surgical protocols, charting, post-surgical patient observation, physician communication and instrument sterilization and cleaning. An administrative nurse may need to list patient intake protocols, insurance processing, medical billing, training, patient care plans and patient assessment," she says.
2. Leadership nursing skills
Rebecca Park, RN and founder of the national health resource, Remedies For Me, says leadership is an important nursing skill for your resume, and that's true whether you're applying for a supervisor role or not.
Leadership skills says Park, "show you know how to manage yourself well and will not need that much guidance and hand-holding if hired. It also shows that you will not be a problem-causing nurse."
And if you're applying for nurse management or supervisory role, you can't afford to leave leadership skills off your nursing resume. When possible, include specific information about how you've developed and used leadership skills in past nursing work.
3. Problem-solving skills
Park says problem-solving skills are also must-haves for a nursing resume. They show that "you can use good clinical judgment during problems that may arise during your shift."
She points out that when your nursing resume demonstrates good problem-solving skills, it indicates to hiring organizations that you need minimal leadership guidance to navigate a shift and that you can face a crisis with the ability to make logical decisions and solve problems on your own. These are valuable traits for any healthcare organization.
4. Clinical nursing skills
Clinical nursing skills are an obvious requirement for any RN's resume, particularly if you intend on working with patient populations. As previously mentioned, you should always highlight the skills you have that are required for the specific job.
But Park also says to consider what the employer takes from your list of clinical skills. Nursing shortages are expected to continue through 2019, with aging populations creating a growing burden on hospitals and other organizations.
With this in mind, hiring organizations are looking for nurses who can hit the ground running. Park says the right clinical skills on your nursing resume "shows how much orientation time you will need," so employers can plan and staff appropriately.
5. Bilingual skills
If you're proficient in a language other than English, Park advises including this on your resume. It shows "you can help with patients who do not speak English, especially during times when translators are not readily available, such as with family members or patients who need to ask a simple question and desire a quick answer."
While the importance of a secondary language — and each specific language — varies by location, some languages are spoken by more people. Spanish is the second-most spoken language in America behind English, with around 37 million speakers.
Chinese is third, with close to 3 million people speaking Cantonese, Mandarin or another Chinese language. These are followed by French, Tagalog, Vietnamese, Korean, German, Arabic and Russian to round out the top 10 languages spoken by people in the United States.
Other Must-Haves for Your Nursing Resume
Park provides a list of other items that are appropriate for your nursing resume, including skills and associations. Before you apply for your next nursing position, take a look at your resume to see if you can add any of the following.
Nursing organizations you belong to. Park says this demonstrates that you're active in your own career and willing to participate in the unit's educational needs, task forces or projects.
Hospital Magnet participation. Park says Magnet status is a goal of many hospitals, which means organizations like to see nurses familiar with the process of becoming certified.
Community outreach or volunteer work, which Park says is good for a hospital's reputation in the community.
While you're dusting off your documents and adding nursing skills to your resume, don't forget to give it a critical eye with regard to other elements before applying for your next job.
Common mistakes on nursing resumes can include typos and a feeling that the document is rushed, letting red flags in employment go without explanation, a lack of goals or language that isn't active.
From your objective or goal statement to your references and skills lists, your nursing resume should be polished, perfect and customized to the job at hand before you send it to a hiring organization or recruiter.