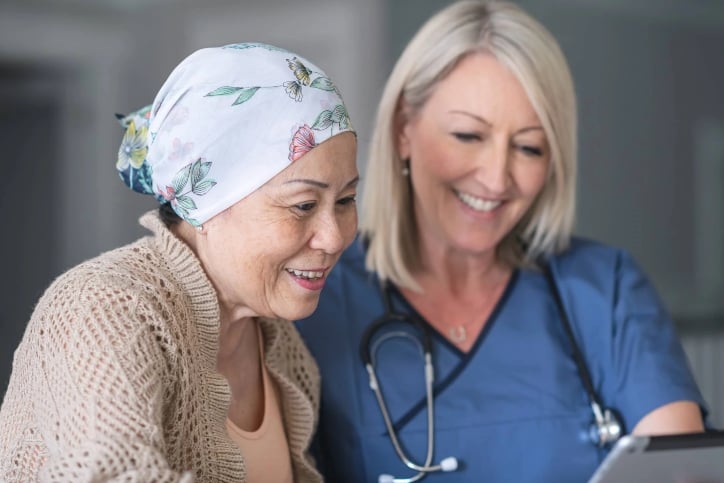 5 Benefits Of Getting Your Oncology Nurse Certification
Specialists in nursing tend to earn more money and are more likely to be able to work with the patient populations they most want to serve. Read why you should pursue an oncology nurse certification and reap the benefits of this extra credential.
5 Reasons to Consider Earning an Oncology Nurse Certification
From higher potential pay rates to internal confidence, here are some benefits that make the hard work worthwhile.
1. Increased Salary Through Specialization
According to the Bureau of Labor Statistics, RNs across the nation make an average annual salary of $70,000 per year. That's a good pay rate, but your experience, education and specialty can increase your compensation.
For example, Salary.com data indicates that general staff nurses in Dallas, TX, make $61,602 on average, but oncology nurses in the same city make an average of $73,527. It's a trend across the nation that specialization increases RN wages, and with more than 1.7 million new cases of cancer annually, oncology nurses can find work across the nation.
2. Oncology Nurse Certifications Help You Beat Applicant Tracking Systems
A certification helps differentiate your resume from the dozens or hundreds of others that may be coming through the application process. Including certifications and the right skillsets can help ensure your resume includes the keywords necessary to pass applicant tracking systems. These are automated systems programmed to look for key phrases in resumes and only pass through the applicants that match those criteria.
3. Certifications Boost Your Marketability as a Nurse
A study originally published in Nursing Management notes that 95 percent of certified nurses and 86 percent of noncertified nurses agreed that holding a certification increases an RNs ability to market himself or herself. The majority of nursing professionals seem to agree that certification demonstrates more than specific knowledge: it also indicates competency, accountability and ambition. All these traits make you a more attractive employee for many organizations.
4. Patient Confidence in Your Work
More than half of the nurses in the same study (both those who held certification and those who did not) agreed that certifications can help boost patient confidence in an RN's work. For cancer patients, who may be facing some of the scariest decisions or situations of their entire lives, knowing the nurse working with them has an oncology certification can be comforting. It tells the patient that you are so passionate about caring for individuals with cancer that you took time to seek additional education and skills. It also provides patients and their family members peace of mind that you are qualified in the niche because you proved it via the certification exam process.
5. Self-Satisfaction and Increased Confidence
In the Nursing Management study, 95 percent of nurses with certifications reported that going through the process to obtain the extra credentials provided intrinsic rewards. Those included feelings of personal accomplishment and self-satisfaction, validation of nursing knowledge and increased confidence on the job. These types of internal benefits can help you enjoy your work more, reduce burnout and approach challenges with increased confidence — all of which can result in external rewards such as promotions, increased access to desirable assignments, or more pay.
If helping cancer patients is one reason you got into nursing, consider making the effort to earn your oncology nurse certification. The extra credentials help ensure you can always find work doing what you're passionate about, and the other potential benefits aren't bad either.