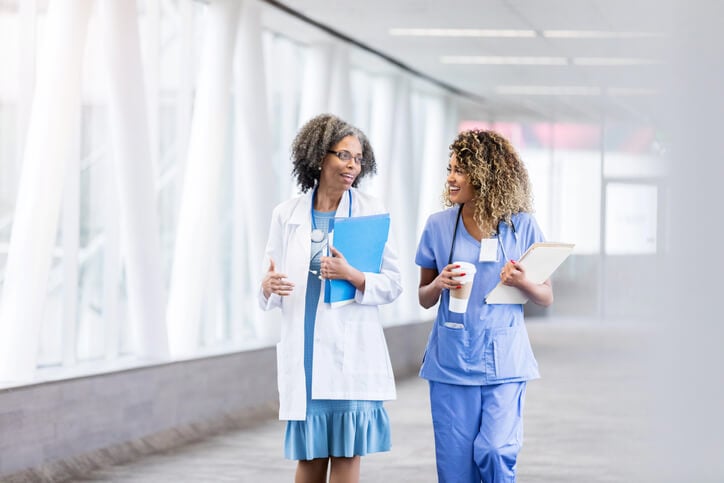 7 Ways to Reignite Your Passion for Nursing
Have you lost your passion for nursing? Nurses fill a demanding role that often puts them in the path of scared patients, frustrated families, and overworked doctors.
With long night shifts, little sleep, and constantly evolving standards, it's no surprise that a loss of passion for nursing is a common issue the nursing industry faces today.
The effects of nursing fatigue are also felt by patients and can reduce the quality of the care they receive. Fortunately, there are steps nurses can take to keep their fires lit and prevent burnout.
If you're concerned that you, or a nurse you know, maybe suffering from nursing fatigue, here are seven ways to bring back your passion for nursing.
7 Ways To Bring Back Your Passion For Nursing
1. Explore Other Interests
Nursing can easily consume a person's life, so it's important to explore unrelated things to keep your passion for nursing alive.
"Do something outside of nursing that gives you a sense of fulfillment," suggests Tina Baxter, APRN, GNP-BC of Baxter Professional Services.
"For example, if you like animals, volunteer for an animal shelter. Read a good book or take in a good movie." Immersing yourself fully in your nursing career with no other outlets is a quick path to nursing fatigue.
2. Assess Your Professional Environment
Determine whether there are any work environment-related links that could be contributing to your loss of passion for nursing.
An unhealthy workplace can create unnecessary burdens on nurses, making it more difficult for them to do their jobs effectively.
This can negatively impact a nurse's optimism and self-confidence, eventually leading to nursing burnout.
"Take stock of your environment," says Baxter. "Are you working in a toxic environment? Recognize that sometimes a season is over in your life. Your season as a nurse for this employer may be over."
3. Lean on Coworkers, Friends, and Family
The people in your life are there to lift you up when you're in need of some help. Don't hesitate to take advantage of the benefits of socializing or commiserating with other professionals who share your perspective.
Margaret Bonilla, a Senior Strategist at Hebrew SeniorLife, suggests, "Share the joy. Take the time to have fun, smile, and laugh. Others will join you."
This sentiment is echoed by Baxter, who says, "Make friends and keep them. Take time to connect with others outside of the work setting. We can so easily start to see people through a lens of sickness and pathology that we forget there are good, interesting people out there who just want to be our friend."
4. Find a Deeper Connection with Your Patients
Those who lose their passion for nursing are often in danger of depersonalizing their patients. Sometimes making the effort to reconnect can help you remember why you chose to be a nurse in the first place.
"Practice mindfulness," encourages Bonilla. "Take three deep breaths before giving care; your ability to be present will create [a connection] to the person you are caring for."
Baxter reminds us that patients are in a vulnerable place when interacting with their nurses. "Oftentimes, patients lash out at us because we are a convenient target," she points out. "Don't take it personally. Instead of becoming defensive, offer a way to help. Most of the time, the patient or family just wants to be heard."
5. Consider a Career Shift
If you've been in your position for some time and find yourself tiring of the same duties and professional frustrations, perhaps it's time to make some career changes.
"If you are bored at what you are currently doing," says Baxter, "try moving to a new field in nursing or explore a new way to use your nursing talents. Take a new class, get a certification or go back to school for a higher degree."
It's possible that advancing your skills or finding new applications for them can reignite your lost passion for nursing or provide new inspiration.
6. Reflect and Embrace your Spirituality
Sue Niemeier, MHA, BSN, RN, Chief Nursing Officer at Ivenix, stresses the importance of reflection. "Every day, take time for reflection, allowing yourself to find personal balance and restore important elements like creativity," she suggests.
"Unfortunately, reflection is often the last thing nurses do with their time. Therefore, imagination and inspiration suffer." Make sure you're giving yourself the time and space you need to go over the day's events when your shift is over.
Make sure you don't shy away from reliving moments when you could have made better decisions or from problems that frustrated you.
Take time to consider your options and improve future decisions, or think outside the box about any issues now that you're away from the pressure of the job.
"Reflection leads to new ideas and solutions, and it seeds innovation," Niemeier says. "With reflection and personal balance, you are able to find a greater purpose in your work."
7. Take Care of Yourself
Perhaps the most important action you can take to bring back your passion for nursing is to take care of yourself. Nurses spend so much time caring for others that it's common for them to allow self-care to take a back seat.
"Take time to recharge your batteries and have a regular downtime schedule," advises Baxter. "Make it a habit to get rest, eat nutritious food, and yes, I know, the dreaded exercise."
Caring for yourself is beneficial in many ways, but the impact on your professional performance is significant.
Nurses who give themselves permission to fill their own needs have more patience and energy to offer their patients, leading to better care.
Better care translates into better outcomes, which can have a direct impact on their passion for nursing.
Additional Nursing Resources: