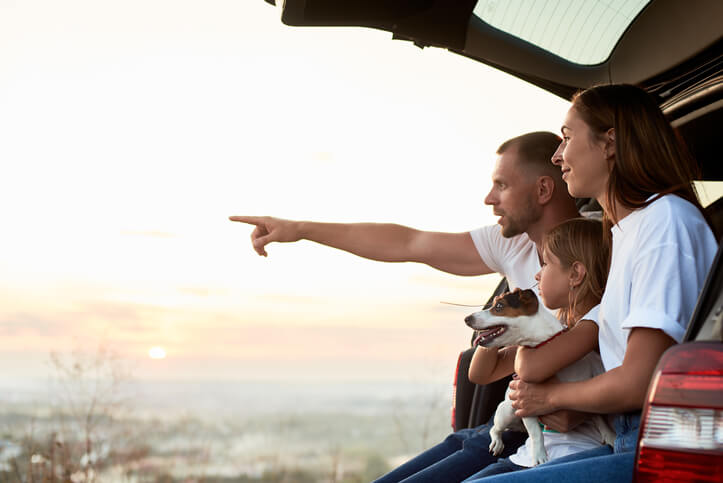 7 Travel Nurse Tips: Travel Nursing With Family Successfully
Travel nursing offers flexibility and the opportunity to explore the country while earning excellent salary and benefits. But some nurses have the impression that travel nursing with family isn't possible. Untrue!
In fact, with the help of a few travel nurse tips from those who have done it, you, too, will discover there's no better way to spend quality time with your loved ones than travel nursing with family.
Many see travel nursing with family as an extended family vacation (with housing and other expenses covered): exploring new places, meeting new people, touring historical sites, and creating shared memories.
If this kind of experience sounds intriguing, you'll want to try these proven nurse tips for travel nursing with family — including spouses/partners, kids, and pets!
Apply for Travel Nursing Jobs Now
Travel Nurse Tips for Bringing Your Relatives Along
1. Determine Your Housing Needs
Even before accepting a travel nursing job in a new location, talk to your recruiter about your family's housing needs.
Travel nurse agencies such as AMN Healthcare typically provide a free, furnished, 1-bedroom apartment while on assignment.
If your family needs more space, you may opt to pay extra for additional bedrooms or use the housing stipend instead to find your own accommodations.
If you also need pet-friendly housing, you'll want to mention that early in the planning process.
2. Make a Travel Plan
Once you know where you're going, the next nurse tip for travel nursing with family is to plan your move from City A to City B.
Make sure every family member is on board and prepared for the changes ahead. Then create a schedule, communicate with current landlords and service providers, and make your travel plans—including time for an awesome road trip, if possible.
Your recruiter can also provide helpful checklists to ensure you know what is already provided with your housing and what you'll need to bring or purchase once you arrive.
3. Downsize & Organize
Families can make packing timeless overwhelming by starting with a purge. This travel nurse tip offers a variation of one often touted by professional organizers.
Have each family member make four piles:
One pile of items that can be thrown away;
One pile of items to give away or donate to a charitable organization;
One pile for any items you'll store while on assignment (if applicable); and
One pile for what you'll take with you.
Use packing lists for each person to be sure you don't miss anything important, then box or pack up belongings in your "keep piles" by category, type, and label clearly.
Experienced packers have found that clear, vacuum-sealed, space-saving bags can be a lifesaver, allowing you to fit more clothing or linens — or your kids' favorite stuffed animals — into your vehicle.
4. Allow for Personal Space
Whether you live in company-provided housing, you've selected your own accommodations, or you're staying in an RV, you'll likely find space at a premium.
Yet one AMN Healthcare traveler, Mark Barnett, RN, BSN, discovered an important travel nurse tip that helped their family:
"It has been key to ensure that each child has space, however small, that is theirs."
Families that do homeschooling on the road may also want to pick out a particular spot for lessons and homework that helps keep kids focused.
5. Maximize Days Off
Perhaps the most important travel nurse tips for hitting the road with family center around the days you are not working. After all, it's important to make the most of your days off.
Nurses traveling with family are fortunate to have loved ones join them in their outdoor adventures and appreciate sharing everything from local dining spots and sporting events to theme parks and cultural performances.
Many also find that travel nursing with kids is great for expanding kids' frame of reference and developing life skills.
"We use traveling as a way to enrich our children's lives and education," said Barnett. "While traveling between assignments, we were able to visit Laura Ingalls Wilder's home, as well as the house from the Wizard of Oz."
"Our 14-year-old helps map our routes as part of her geography lessons. And when I had an assignment in D.C., we would go to the Smithsonian museums on my days off," he continued.
Most of all, families should have fun together! Assignments can go by quickly, so take the time to explore the city and sights around you.
6. Teamwork Makes the Dream Work
Working as a team is an important nurse tip for your work shifts, but it's also important when traveling with family.
Whether your family consists of you and a loved one or a whole host of children and pets, acting as one unit can make the whole experience so much better.
Great teamwork is most easily achieved through communication, trust, and sharing responsibilities, so be sure to make those things a priority when laying the foundation for your travel nursing family.
And to make sure each family member feels included, take turns doing things that each individual enjoys on your days off.
7. Take the Plunge
Our last tip for nurses considering travel nursing with family … do it! You'll never know what's possible unless you are willing to try something new.
"So often we run into people who say, 'We wish we could do what you are doing,' but they always have some reason why they can't," said Barnett.
"If you want to travel, quit making excuses and find a way to do it."
READY to discover the benefits of travel nursing?
Search All Travel Nursing Jobs
Additional Nursing Resources: