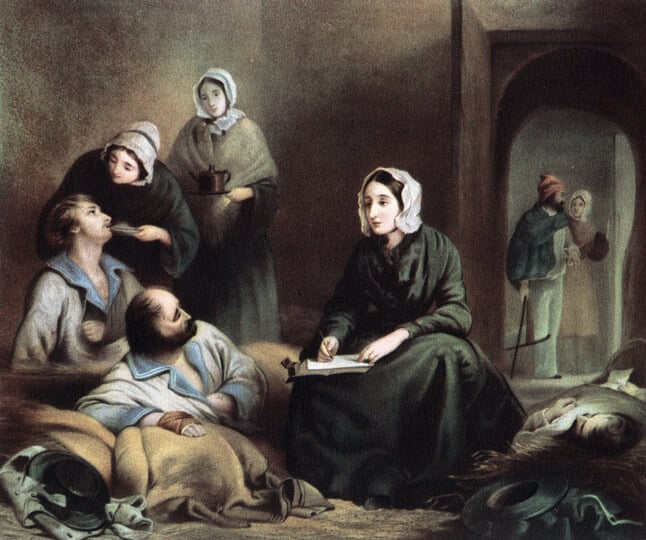 Nursing: Where and How Did It All Start?
An estimated 20.7 million nurses and midwives play a critical role improving and saving lives around the globe. Yet a few hundred years ago, nursing wasn't the same nursing we know in modern times. As the world celebrates 2020 Year of the Nurse, here's a brief look at the history of nursing and how this important occupation has evolved over the centuries.
Early Forms Of Patient Care
The word "nurse" was first used in the 14th century to refer to someone who cared for children or breastfed them, as in a "wet-nurse." The term wasn't used to refer to someone who cares for a sick patient until the 16th century.
Deaconesses are the earliest example of nurses as we know them today, according to the International Journal of Caring Sciences. During the Roman civilization, deaconesses helped relieve the suffering of the elderly, impoverished and prisoners.
Most sick people were cared for in their homes by their own families. The first hospitals were established in populated areas during the Renaissance as the world became more urban and industrialized. This created a demand for nurses, but the quality of care varied. Hospitals organized by religious orders often provided excellent care from nuns and monks. Other hospitals had untrained staff who were typically poor and illiterate women with no formal instruction. Caring for strangers was not considered an honorable occupation at the time.
For this reason, Florence Nightingale's parents resisted when she expressed her desire to become a nurse in the 1840s. Despite her parents' initial objections, Nightingale was eventually allowed to study in Germany at a school for Lutheran deaconesses. She later became the manager of a small hospital in London in 1853.
The Crimean War And Modern Nursing
Florence Nightingale's legendary mission during the Crimean War was a turning point in the history of nursing, leading to the creation of standards for the profession.
Nightingale's team of almost 40 nurses arrived at a military camp in Constantinople to discover shocking, unsanitary conditions. More soldiers died from infectious diseases than injuries on the battlefield. Nightingale introduced basic principles of cleanliness, hygiene, disease prevention, nutrition and comfort that are the foundation of modern nursing and outlined in her book: Notes on Nursing.
She also introduced scientific principles and showed the impact educated women could have in healthcare. Nightingale tracked statistics and demonstrated a reduction of the mortality rate in the camp from 60% to 2% in the six months her team began its work. She later advocated that all hospitals should collect standard statistics to compare outcomes by region, leading to an early movement to evidence-based practice.
There were many other nurses on the front lines of war at this time. Mary Seacole traveled from Jamaica to Crimea on her own to tend to soldiers on both sides of the battlefield. In the United States, the Civil War demonstrated an equally important need for skilled nurses as 20,000 men and women cared for patients in the North and South.
Formalizing Nurse Education
Florence Nightingale founded a training program for nurses after returning to London, setting a standard that was followed by many other countries. The first formal nursing programs in the United States were established in 1873 at Bellevue Hospital in New York, Massachusetts General in Boston and New Haven Hospital in Connecticut, using Nightingale's principles.
As nursing moved into the 20th century, education was formalized. Training programs taught nurses how to deliver quality care in orderly environments and improve public health. The responsibility of nursing education later moved from hospitals to colleges, and the popularity of these programs showed a desire for women to take up a meaningful occupation. As more nurses were trained, organizations such as the American Nurses Association began guiding the profession with standards for licensure and ethics.
Nursing Today
Throughout the history of nursing, these healthcare professionals have played an important role in reducing maternal and child mortality rates, providing guidance on family planning and nutrition, delivering vaccinations and fighting infectious diseases such as tuberculosis, malaria and COVID-19. Many nurses are acquiring additional training to deliver even better healthcare in a variety of specialties such as oncology, cardiovascular health, intensive care and pediatrics.
Put your valuable skills to work as a travel RN and take on short-term and critical staffing assignments with AMN Healthcare. Enjoy rewarding work, a competitive salary and a flexible lifestyle.
Additional Nursing Resources:
Sources:
Online Etymology Dictionary: Nurse
Nursing and Caring: An Historical Overview from Ancient Greek
Tradition to Modern Times
National Women's History Museum: Florence Nightingale
Florence Nightingale: The Mother of Nursing
Notes on Nursing-What it is, and what it is not
Florence Nightingale and the early origins of evidence-based nursing
American Nursing: An Introduction to the Past