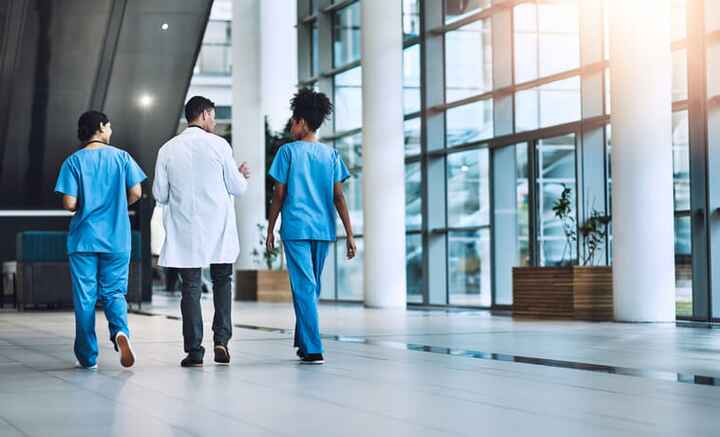 7 Ways to Get on the Nursing Career Path to Success
The nursing career path is one of diversity. Some specialty nursing areas, such as Intensive Care or Emergency Medicine, may require certifications or other educational requirements. The clinical skills needed for success can be specific.
Real success in nursing comes from acquiring certain skills that are not always clinical in nature. A successful nursing career path will require the necessary skills to provide care, work independently, and more.
Below are seven ways you can get on the successful nursing career path.
Looking for a new nursing career path? Discover the world of contract nursing with AMN Healthcare.
7 Ways To Get On The Nursing Career Path To Success
1. Effective Communication: To be on a successful nursing career path, you will need effective communication skills. Communication skills include verbal communication, non-verbal communication, and active listening skills.
Every nurse needs to learn these skills for a successful nursing career path. Communication is much more than just speaking.
The ability to communicate with patients, physicians, and other members of the multi-disciplinary healthcare team will set you apart from other nurses.
Understanding barriers for effective communication and properly reacting to barriers will further elevate your likelihood for a successful nursing career path.
2. Set Goals: If a successful nursing career path is what you want, be S.M.A.R.T.
Everyone needs goals, but using S.M.A.R.T goals will set you apart. S.M.A.R.T's goals are Specific, Measurable, Attainable, Realistic, and Timely. Using this acronym will help you to not only set the goal but achieve it.
3. Compassion: All successful nurses are compassionate. You will need to learn the art of empathy or the ability to understand and share another person's feelings.
Being empathetic allows the nurse to put the patient ahead of themselves. This is a key characteristic of successful nurses. Compassion is the first step on the journey of empathy.
4. Critical Thinking: All nurses need good clinical skills, but critical thinking skills are at the core of a successful nursing career path. Critical thinking skills help you prioritize tasks and make decisions that can save lives.
Nurses provide critical care 24/7, so your critical thinking skills will be in good use. Most successful nurses have excellent critical thinking skills that allow them to be complete, logical, and accurate in their assessment skills.
5. Stay Current: As a nurse, you will need to stay current. Healthcare makes advancements daily. You will have a certain number of continuing nursing education units required by the state board of nursing, but a nurse on a successful nursing career path may need more.
Continuing your nursing education is a wise move. Your patients rely on your ability to be current and remain a life-long learner, which also makes you more valuable to your employer. There are several options to go from LPN to RN, RN to BSN, or RN to MSN. Certification in a specialty area may be another nursing career option.
6. Ethics: Ethics are at the core of all nursing practices. The American Nurses Association developed a Code of Ethics to be a guide for carrying out nursing responsibilities consistent with quality in nursing care and ethical obligations of the profession. The ANA recognizes the impact of ethical practice on overall patient safety and quality of care.
7. Adaptability: Healthcare changes at lightning speed these days, so nurses must adapt to change. When faced with a crisis, an adaptable nurse will be better equipped. Hiring managers in the available nursing career options will be looking for adaptable nurses in the face of change.
Success in nursing takes work. You will need to be diligent to ensure you are moving forward on your chosen nursing career path.
Get on a successful nursing career path with contract nursing. Discover the benefits of contract nursing at AMN Healthcare.