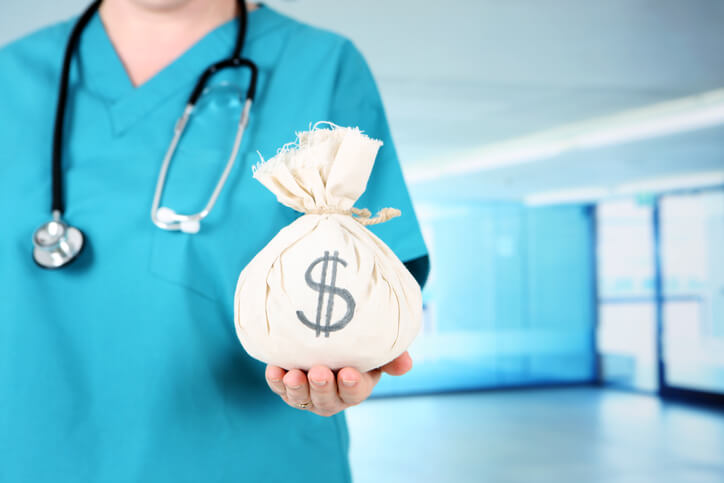 6 Ways to Make More Money as a Nurse
Nursing is a rewarding career that provides more than 3 million registered nurses (RNs) in the United States with various workplace choices and good salaries.
According to the 2016 U.S. Bureau of Labor Statistics report, the median nursing salary for RNs is $68,450 per year. The job growth rate between 2014 and 2024 is expected to rise by 16 percent, which is higher than the average for other occupations.
Although compensation is not the primary driving factor for most nurses who enter the profession, there are several options for RNs who want to know how to make extra money as a nurse.
Nurses can choose immediate or long-term options, ranging from taking nursing side jobs or travel nursing assignments to advancing their education for future opportunities.
Where Do the Majority of Nurses Work?
The country's 5,564 hospitals employ the majority of RNs. However, changes in healthcare delivery in recent years have resulted in earlier patient discharges and a growing number of nursing jobs outside the hospital setting. For instance, more chronic illnesses are now handled in outpatient clinics.
In addition to acute care, nurses can choose to work in outpatient ambulatory care, community health agencies, physicians' offices, skilled nursing facilities, home health, and other environments.
Nurse salaries can vary widely because of location, working environment, specific job responsibilities, and individual nurses' qualifications.
How To Make More Money As A Nurse
1. Complete your BSN degree.
Research by the American Association of Colleges of Nursing found that 79 percent of RN employers prefer to hire nurses with a bachelor's of science in nursing (BSN) degree as entry-level employees. There also appear to be greater advancement opportunities for BSN-prepared nurses.
In fact, Magnet hospitals and those pursuing Magnet status must demonstrate that the majority of their nurses have BSN degrees or are on the educational path to earn this degree.
Some hospitals will offer nurses tuition assistance or student loan repayment, based on their commitment to continue their employment for a certain amount of time.
Today's traditional and online BSN programs are designed to meet working adults' professional and personal needs.
2. Pursue experience in a nursing specialty.
Decide on a nursing specialty that will meet your professional and personal goals, then complete certification courses to increase your knowledge and skills. Certified nurses have a better chance to earn the top pay in their field.
Some nurse specialties also offer better compensation than others, so doing some research early in your career may help you decide which path to pursue.
3. Volunteer to work overtime on occasion.
Working some overtime not only provides more money-making opportunities but can show management you're a team member who'll pitch in when needed. Too much overtime can lead to fatigue or burnout, however, so set reasonable limits to guard yourself and your patients.
4. Get an advanced nursing degree.
Earning your graduate degree is one of the surest ways to make more money as a nurse, either as an advanced practice registered nurse (APRN), nurse manager, or other professional.
APRNs require a master's degree and lead to more independent practice as either a nurse practitioner (NP), certified registered nurse anesthetist (CRNA), certified nurse-midwife (CNM), or clinical nursing specialist (CNS). CRNAs make the highest average salaries among all APRNs, averaging close to $160,000, according to the U.S. Bureau of Labor Statistics.
Other career choices with master's or doctoral degrees include working as a nurse educator or nurse researcher or climbing the healthcare administration ladder.
5. Get creative with nursing side jobs.
When deciding how to make extra money as a nurse, some savvy RNs find that nursing side jobs can help them achieve their goals. Such extra opportunities might include:
Working per diem shifts on one of your days off
Teaching patients how to use medical equipment at home
Providing care for homebound patients
Tutoring nursing students online
Working as a camp nurse during weekends or vacation breaks
Writing blogs or other content for nursing publications
Giving flu injections at doctor's offices or special clinics
Teaching patient education classes
6. Become a travel nurse.
Experienced nurses with recent experience in their specialties can earn excellent compensation as travel nurses. Travelers work temporary contracts in their choice of locations around the country, and their travel nursing agency covers the majority of their expenses.
The shorter-term, critical staffing assignments offered by AMN Healthcare are some of the highest-paying jobs in the travel nursing industry. Employment benefits include a contracted nurse salary, free housing, bonuses, travel reimbursements, health insurance, 401K, and other standard employment benefits.
If making more money as a nurse is one of your top priorities, ask your nursing recruiter to connect you to the best-paying assignments.
LEARN HOW to make more money as a nurse from the travel nurse experts at AMN Healthcare!