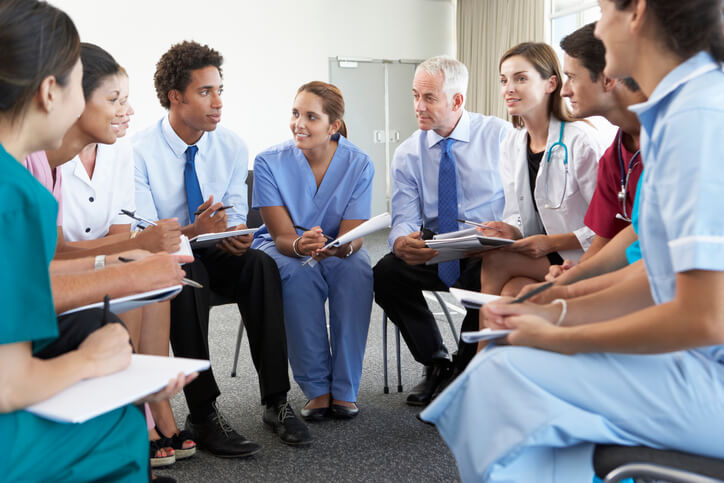 5 Ways RN Teams Can Work Together for Better Patient Outcomes
The most important goal for most healthcare professionals is to improve patient outcomes, but the intricacies of working with a team can sometimes hinder this. For RN teams, improving cooperation ensures the needs of the patient are always the priority and allows care to be administered smoothly. Check out these 5 ways nurse teams can work together to help their patients receive the highest standard of care.
Experience new team dynamics by applying for an open travel nursing position with NurseChoice.
5 ways to improve RN team cooperation and improve patient outcomes
1. Communication is key
The secret to ensuring any group works well together is strong communication, and nurse teams are no exception. Good communication between nurses limits medical mistakes and allows the team to make faster decisions for the patient. "Whether they're just switching between shifts of collaborating in a unit," says Jocelyn Nadua, RPN and Care Coordinator at C-Care Health Services, "RN teams should always be clear about patients' conditions, needs, and what steps they have personally taken on particular patients so that gaps of information are avoided and the team can make proper care decisions promptly."
2. Establish leadership
One of the most important elements to running a nurse team smoothly is respect for hierarchy. Most RN teams should have a head nurse who is recognized as the team leader, and it's important that all nurses on the team have respect for that authority. Democracy can be debilitating to small groups and prevent critical decisions from being made quickly. By deferring to an assigned team lead, nurses can ensure their patients receive the prompt care they need. This also makes it easier to coordinate with other healthcare professionals who are involved with a patient's care. If the information comes from one designated nurse, there is less opportunity for miscommunication. If you find yourself on a team that does not have established leadership, it's critical to appoint someone to the position for that shift.
3. Set clear expectations and goals
For a team to be effective, all individuals must contribute to the needs of the group. This can be impossible if clear goals and expectations are not established. The overall goal should always be improved care and better patient outcomes, but the necessary components to achieve this will vary between shifts. At the beginning of every shift, take a moment to understand the situation the team is entering and determine the priorities for the group. When setting goals, remember that it's a good idea to establish a team expectation that's related to improved general performance to encourage a smoothly functioning group. For example, the RN team can decide to focus on better communication and make an effort to refine the delivery of updates to the team leader. Remember to help nurses set individual goals as well, and encourage them to support each other in their efforts.
4. Be flexible
It's also valuable to remember that flexibility is critical to a high standard of care, so it's important to know which goals require less rigidity. If you've established your goals and your team is prepared with a plan of care, anticipate that there might be a need to reprioritize during the shift. Health care is a fast-paced environment and, by nature, requires the ability to change focus. RN teams should be prepared for this and be ready to establish a new plan when necessary.
5. Check in often and encourage feedback
To maintain flexibility, individual nurses must stay in contact with other members of their RN teams so that everyone has all the necessary information to provide patient care. The team leader should encourage regular feedback to identify possible problem areas so they can take action to correct the team's focus before it negatively impacts the patients. This also allows nurses the chance to voice personal concerns, giving the team leader the opportunity to promote harmony within the group. A pre-shift and post-shift meeting should be complemented by short, scheduled check-ins when the situation permits.
Effective nurse teams can contribute greatly to achieving better patient outcomes by combining the strengths of several nurses to produce a well-oiled system of care. The creation of a group dynamic can always lead to complications, so using these tips to prevent this ensures happier nurses.
Additional Nursing Resources: