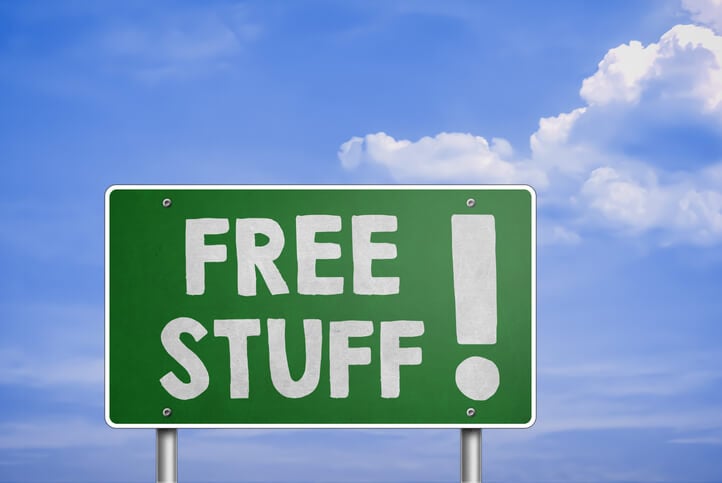 14 Nurse's Week Freebies RNs Don't Want to Miss
Nurses are the backbone of their community, offering comfort and care to residents when they need it most, and what better way to say thank you than an entire week dedicated to recognizing all the incredible sacrifices made by the RNs in your area?
Beginning on May 6th and ending on May 12th, the day was chosen to celebrate Florence Nightingale's birthday; businesses across the country offer a little something extra to show nurses appreciation for their hard work. To make the most out of Nurse Week in 2019, here are 14 of the best freebies nurses should take advantage of.
14 Nurse Week Freebies
1. Cinnabon
Cinnabon's partnership with the DAISY Foundation makes this freebie a guarantee every year. For 2019, nurses who bring their healthcare ID badge to a participating location can choose a complimentary MiniBon Roll or a 4-count package of BonBites.
2. Amazon
The retail giant is offering free Kindle nursing books in honor of this year's Nurse Week. Head on over now and see what's available to download.
3. Applebee's
The Applebee's Nurse Week promotions vary by location, so you may want to call your local establishment to find out what's being offered. Calling 888-592-7753 will also connect you with someone who can verify the promotion at your nearest Applebee's.
4. Buca di Beppo
Bring your nurse ID to participating locations to receive a complimentary meal at Buca di Beppo during Nurse Week.
5. Chick-fil-A
Some Chick-fil-A locations will also be offering freebies to nurses the week of May 6-12. Call your local restaurant to find out if they are participating and the promotion details in your area.
6. Chipotle
Although there are no official reports of Chipotle freebies being offered during the 2019 Nurse Week, medical professionals can receive a BOGO 50 percent off deal on Wednesdays at participating locations.
7. Culver's
Nurse Week promotions at Culver's will vary by location and can be accessed by bringing in a valid nursing ID. Call your local Culver's to find out if they are participating in nurse appreciation this year.
8. Dunkin' Donuts
From May 6-12, between 4-10 p.m., participating Dunkin' Donuts shops give nurses a complimentary 16-ounce Dunkin' Dark Roast iced coffee. Nurses must present a valid ID card to receive the free coffee.
9. Einstein Bro's Bagels
On May 11, nurses with an ID badge or wearing their scrubs can visit any participating Einstein Bro's Bagels location for a free Espresso Buzz Bagel and Shmear.
10. Freebirds World Burrito
Nurses with valid IDs can receive a free burrito on May 6th to purchase an adult-sized entree at Freebirds World Burrito.
11. Jimboy's Tacos
Showing a valid nurse ID during Nurse Week gets you BOGO original ground beef tacos from Jimboy's Tacos. Nurses are limited to three free tacos for this promotion.
12. Potbelly Sandwich Shop
Through May 12th, nurses who are wearing scrubs or show their IDs can receive a free cookie or fountain drink with the purchase of a salad or sandwich from Potbelly Sandwich Shop.
13. Sprinkles Cupcakes
Nurses can show their ID badge at participating Sprinkles Cupcakes locations to receive a complimentary sweet treat.
14. Haagen-Dazs
Although not technically in celebration of Nurse Week, May 14th is the Haagen-Dazs Free Cone Day. Despite taking place the following week, nurses should definitely get in on this one as well.
Along with these freebies, nurses can also take advantage of special discounts and deals during Nurse Week:
1. PDQ
Nurses who show their badge receive 50 percent of their entire check on May 8th.
2. Texas Steakhouse & Saloon
Those with a nursing badge can receive $5 off their $15 or more purchase through May 12th.
3. Uniform Advantage
Save 20 percent off athletic wear, shoes, and nurse mate clogs.
4. 1-800-Flowers
Get up to 50 percent off floral deliveries until the end of June.
5. Disney World
Receive discounts at the Dolphins and Swan resorts just for mentioning you are a nurse at booking.
As a caregiver for your community, you deserve appreciation for the work you put in to help your neighbors and fellow residents through their medical needs, so take advantage of the freebies and deals above.
Additional Nursing Resources: