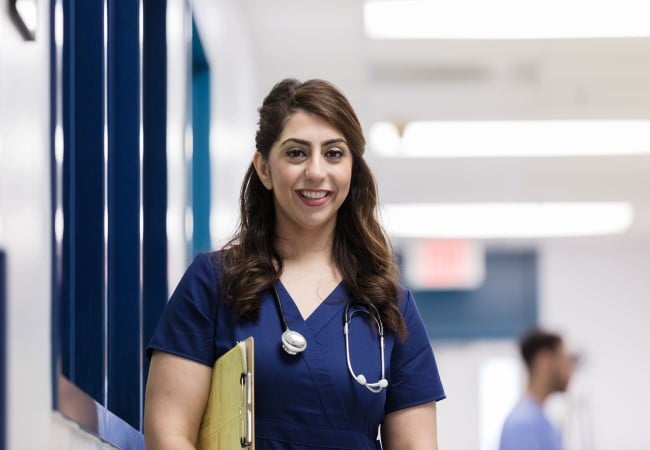 Number of Nurse Practitioners Doubles in a Decade
In March 2018, the American Association of Nurse Practitioners (AANP) released new data from 2017 showing that more than 248,000 nurse practitioners (NPs) are currently licensed to practice in the United States. This number has seen a substantial increase since 2007 when there were an estimated 120,000 NPs.
That means that over the last decade, the number of nurse practitioners has more than doubled!
Advocates report that patients are benefiting from the high-quality, comprehensive, patient-centered health care services provided by NPs now more than ever before.
"This is an important milestone for patients as well as for NPs," said AANP President Joyce Knestrick, Ph.D., APRN, CFNP, FAANP.
"Provider shortages, especially in primary care, have become a growing concern, but the growth of the NP profession is addressing that concern head-on," Knestrick continued. "Couple that with news that NPs conducted an estimated 1.02 billion patient visits last year alone, and it's easy to see why millions of Americans are making NPs their providers of choice."
A snapshot of the nurse practitioner workforce
Nurse practitioners average more than six years of academic and clinical preparation and have the skills and authority to evaluate patients, diagnose, and write prescriptions in all 50 states and D.C. The NP scope of practice laws still varies by state, however.
The average age of practicing NPs is 49, according to AANP's 2017 data. These masters'-prepared professionals are often lauded for bringing a comprehensive perspective to health care.
NPs have been providing primary, acute and specialty health care to patients of all ages for more than a half-century, and the NP workforce is growing at a fast rate. An additional 23,000 new NPs graduated from programs in the 2015 – 2016 academic year, up to 3,000 graduates, or 15.5%, from the previous academic year.
The AANP estimates that just over 85 percent of new graduates have been trained in primary care. Nearly two out of three new NPs entering the workforce have graduated from family NP programs.
From 2016-2026, the Bureau of Labor Statistics projects that the demand for NP jobs will grow by 36% compared to 37% for physician assistants and 13% for physicians (this excludes anesthesiologists and surgeons.)
SEE the AANP's current nurse practitioner infographic.
How many NP jobs are full-time?
Highlights from the AANP annual survey showed:
Nearly three-quarters (74.1%) of NPs had full-time nurse practitioner jobs (35+ hours/week);
More than half (58.6%) of those with full-time NP jobs worked overtime;);
More than one-third (35.4%) of full-time NPs took evening and weekend on-call);
The average nurse practitioner base salary in 2017 was $105,546 for full-time NPs);
Nurse practitioners interested in locum tenens NP jobs can choose from either full-time or part-time assignments.
Where do NPs work? The latest data showed that nurse practitioner jobs can be found in a variety of settings, including:
Private practice – 25%
Hospital outpatient clinics – 12.8%
Inpatient hospital units – 10.3%
Community health centers and Federally Qualified Health Centers - 8.2%
Emergency rooms/urgent care – 5.9%
The AANP reports that 86.6% of NPs are certified in an area of primary care, and 77.8% deliver primary care. Half (49.9%) of NPs hold hospital privileges, and 11.3% have long-term care privileges.
What are the most popular NP specialties?
According to the 2017 AANP sample survey, the following are the top 10 areas where NPs are certified:
Family practice – 60.6%
Adult – 15.7%
Acute Care – 6.4%
Pediatric: Primary care – 4.6%
Adult-Gerontology Primary Care – 4.4%
Women's Health – 3.4%
Gerontology – 2.2%
Psychiatric/Mental Health – Family – 2.1%
Adult-Gerontology Acute Care – 2.0%
Psychiatric/Mental Health – Adult – 1.7%
Source: AANP.
Similar Articles You May Also Like:
AMN Healthcare, the nation's leader in locum tenens staffing, matches practitioners with hundreds of NP jobs, physician jobs, and physician assistant jobs every year.
To find out what's out there for your physician career, search our locum tenens and permanent jobs from the link below.