15 Uses of Locum Tenens Physicians & Clinicians in Your Health Staffing Plan
As hospital leaders and medical group managers review their health staffing plans, there's a growing acknowledgment that the use of locum tenens physicians and clinicians isn't just an occasional option but, increasingly, a necessity.
That fact is reflected in our most recent Survey of Temporary Physician Staffing Trends, which found that a whopping 94% of healthcare facilities reported staffing locum physicians in 2016.
"Virtually every hospital in the United States now uses locum tenens doctors," says Staff Care President Sean Ebner. "They are emerging as a key part of the medical workforce in an era of physician shortages and evolving delivery models."
With that in mind, let's delve a little deeper into the many uses of locum tenens physicians and clinicians for today's healthcare employers, and offer some options that may help make your health staffing plan more successful.
15 Uses Of Locum Tenens Physicians & Clinicians In Your Healthcare Staffing Plan
1. Maintaining Care During Periods of Turnover. The primary use of locum tenens physicians is to fill in after a permanent doctor unexpectedly leaves — or even after an expected departure, but before a suitable permanent replacement can be found. According to the last Staff Care survey, 75% of health facility managers said they use locum tenens while seeking to add permanent doctors, up from 68% in 2014. "74% said they use locum tenens to fill in for providers who have left," the survey authors add, "up from 67% in 2014."
2. Maintaining Care During the Ongoing Physician Shortage. America's doctor shortage has left many hospitals, medical groups, and other facilities understaffed. The use of locum tenens physicians and clinicians to maintain services and revenue until permanent candidates can be recruited has become a central strategy for many healthcare staffing plans.
"Gaps in the medical staff, caused either by the shortage of physicians or by physician turnover, accelerate the need for temporary, locum tenens physicians to provide access to care and maintain revenue," note the authors of the Staff Care survey.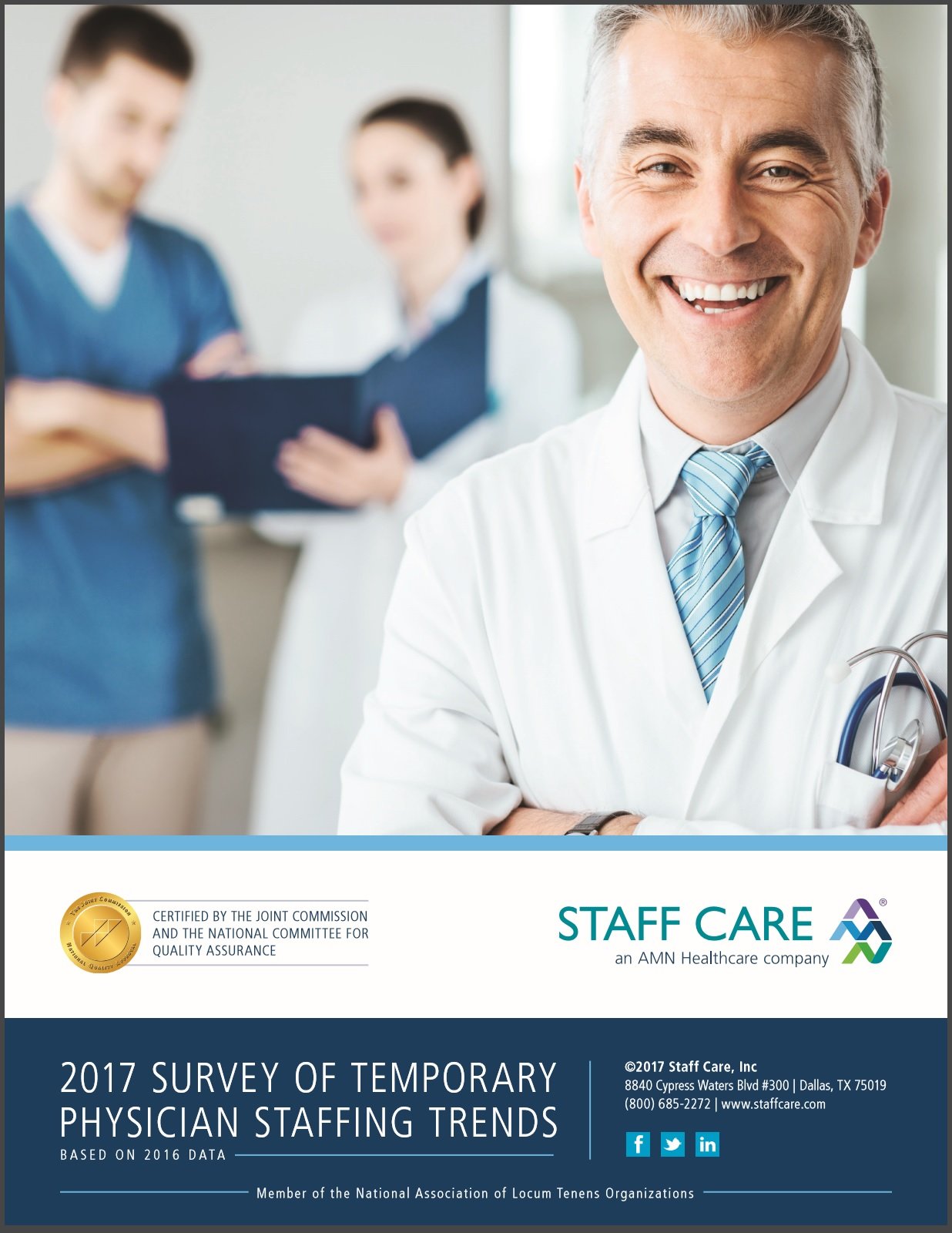 3. Filling in During Physician Vacations or Sabbaticals. Today, many younger physicians seek employment that offers generous vacation time, regular hours, and favorable coverage schedules. The number of locum tenens "physician days" needed to cover vacation time is running into the millions per year.
Some hospitals and medical groups are inclined to simply work their physicians harder or influence their doctors away from taking their allotted vacation time. But others wisely use locum tenens providers to ensure that physicians are able to take vacations as promised and to prevent physician burnout. This serves as both a recruiting tool, helping some hospitals and groups achieve a reputation for being "physician-friendly," and as a retention tool during a time when physician turnover is particularly hard to address.
4. Filling Health Staffing Gaps Left by Retired or Disabled Physicians. Four in ten physicians in the U.S. today are 55 years of age or older, and abrupt physician retirements are not uncommon, as we learned from AMN Healthcare's 2016 Survey of Physicians 55 and Older.
When an established doctor suddenly turns in his or her stethoscope, locum tenens physicians (and/or physician assistants or nurse practitioners, in some instances) can maintain continuity of care until the practice can reorganize and adjust. The same is true in cases of physical disability.
5. Filling in During Military Duty/Deployment. When physician or clinician reservists are called up for duty, locum tenens workers are often used to maintain services in the interim. In addition, locum tenens doctors are being used by military bases to maintain services when military physicians are deployed overseas.
6. Maintaining Care During Seasonal or Peak Usage Periods. During flu season or peak usage periods, locum tenens physicians and clinicians can help handle patient overflow. Having more staff on-hand via locum workers can also help prevent lengthy doctor appointment times (now more of a problem than ever before, according to a recent survey), and thus help keep patients from seeking care elsewhere.
7. Maintaining Care During Emergencies & Natural Disasters. Unexpected natural disasters can sharply accelerate the need for emergency care. In the aftermath of Hurricane Katrina, for example, Staff Care and other locum tenens firms filled many requests for temporary physicians to supply services required because of the disaster.
8. Bolstering Recruitment Efforts for Permanent Personnel. Locum physicians and clinicians can help build a patient base so that when a permanent physician joins the community he or she can hit the ground running. In addition, a locums physician with a thriving patient load demonstrates clearly to permanent recruitment candidates that a sound practice really exists. And it's not at all unusual for locum doctors and practitioners to see the advantages of working for a particular hospital or group and to join the staff full-time.
9. Trial Runs for Permanent Hires. In some cases, a locum tenens position is a "working interview" for the physician or clinician. In the event that they're offered a permanent position by the facility, that facility thereby receives both a short-term and a long-term benefit.
10. Trial Runs for New Services. Hospitals or large medical groups sometimes wish to experiment with new services but are hesitant to recruit new full-time physicians because they're not sure if the service will pan out. Using locum tenens physicians or clinicians is a great way to gauge patient receptiveness to new services, and then make a more informed decision regarding whether or not to add the service.
For example, a Staff Care client once test-marketed the viability of establishing a women's center by using a locums obstetrician/gynecologist, anesthesiologist, and mammographer to determine the potential caseload. This test clearly justified recruiting full-time clinicians and putting them on the payroll.
11. Setting up a New Location. Hospitals seeking to establish satellite clinics may not wish to gamble by recruiting a permanent physician to set up practice in a new location. Instead, they may staff the clinic with one or more locum tenens physicians to establish a foothold in the area. If the practice proves viable, they can then recruit a permanent doctor.
12. Boosting Personnel Levels to Gain New Business. Hospitals and medical groups seeking large managed care accounts often are reluctant or unable to recruit a significant number of permanent physicians until the account has been secured. However, they cannot secure such accounts until they can demonstrate they have the staff to service the account. Working with a pool of locum tenens physicians allows these organizations to show that they have the necessary manpower to execute the account and remain competitive in the bidding process.
13. Maintaining Trauma Level Status. Locum tenens physicians can provide trauma coverage when local doctors are either unavailable or unwilling to be on call. Typically, this means providing coverage at night and on weekends.
14. Maintaining Revenue. Hospitals and groups considering using locum tenens staffing should take a close look at the potential return on investment. While locum tenens physicians do represent a cost, this cost must be weighed against the revenue locum tenens physicians generate. Locum tenens physicians often more than pay for themselves by maintaining revenues for the hospital or group. (Related article: How the expense of hiring locum doctors compares to employing permanent physicians.)
15. Maintaining Continuity of Care. Last, but certainly not least, quality of care is largely dependent on continuity. Locum tenens physicians can maintain continuity of care for patients when current physician manpower levels are insufficient.