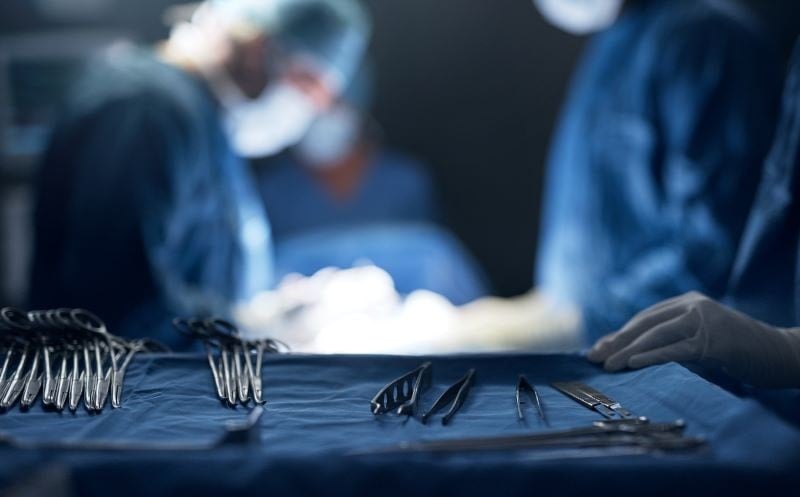 Elective Surgery Delays Amid COVID-19
The Pandemic's Impact on Procedures
As COVID-19 continues to ravage the country and overwhelm hospitals, many acute-care facilities again have faced delays in elective surgeries, leading to potential surgical backlogs.
"We are now in the process of starting to reopen as we have seen numbers [of COVID cases] taper off," said Michael Loftus, MD, chief medical officer of Jersey City Medical Center in New Jersey, part of the RWJ Barnabas Health System, which rescheduled procedures that could be postponed without risk to patient well-being, following New Jersey standards. "People have been understanding and accommodating about it."
Surgery delays and backlogs
At the beginning of the COVID-19 pandemic, elective surgeries were postponed to reduce the likelihood of spreading the novel coronavirus and to conserve personal protective equipment. In April of 2020, 59 percent fewer surgical cases were completed nationwide than the previous year in April 2019, according to a McKinsey & Company report.
At each subsequent surge in the number of COVID-19 cases flooding hospitals, elective surgeries have been often delayed, either because a lack of beds or nursing staff to provide needed care.
Healthcare workforce shortages are the top barrier to increasing the number of surgical cases, followed by inpatient bed availability, according to McKinsey.
A report from Morning Consult indicates 18 percent of healthcare workers have left their jobs during the pandemic, and 31 percent have considered leaving.
Hospital systems have changed how they operate when resuming surgeries, with more than half extending daily hours of operation, reevaluating block allocations in the operating room, and contacting patients the day prior to the scheduled surgery to reduce cancellations, according to the McKinsey report.
The report authors noted that, even if providers could operate 10 percent or 20 percent above historical levels, it could take two years to work through the surgical backlog.
A Michigan study in Bone & Joint Open found 92 percent of orthopedic providers were willing to extend clinic hours and 96 percent were willing to extend OR block times to help reduce the surgical backlog of cases.
Loftus reported that Jersey City Medical Center does not anticipate backlogs. It will extend hours or work overtime to ensure patients receive their needed procedures.
"We will do whatever we need to do to catch up," Loftus said. "Because this was a relatively brief window and something we have done before, we were able to shift rather than cancel."
Problems with delays in elective surgeries
Clinicians now recognize the negative effects delays in elective surgeries and other non-emergent procedures pose.
A study from cardiologists at the Icahn School of Medicine at Mount Sinai in New York reported in JAMA Network Open that delays in transcatheter aortic valve replacement for patients with aortic stenosis due to COVID-19 resulted in 10 percent of the patients having a cardiac event during the first month after the delay and 35 percent in the ensuing three months.
Not only can physical adverse outcomes occur, but patients often experience anxiety from these delays. Joint replacement surgery patients expressed concern about the length of the delay, which could lead to additional pain and suffering, according to an article in Arthroplasty Today.
Patients with cancer reported distress and worry about having their surgeries postponed, reported Boston researchers in Annals of Surgical Oncology.
Certain cancer screenings, particularly those requiring a procedure, declined at the start of the pandemic, according to a study of claims data reported in JAMA Oncology.
Norman E. Sharpless, MD, director of the National Cancer Institute, wrote an editorial in Science about the effects of delayed care, including surgeries, and how that will lead to nearly 10,000 excess deaths from colorectal and breast cancer.
"Clearly, postponing procedures and deferring care as a result of the pandemic was prudent at one time," Sharpless wrote. "However, ignoring life-threatening non–COVID-19 conditions such as cancer for too long may turn one public health crisis into many others."
Hospitals also have learned the financial burdens of canceling income-producing surgeries.
A more strategic approach to postponements
During the Delta COVID-19 surge, many hospitals, including Baylor Scott & White Health in Dallas and Vanderbilt University Medical Center in Nashville, Tennessee, have become more judicious in what procedures they postpone, taking it on a case-by-case basis and discussing it with the surgeons, according to an article in STAT.
Jersey City Medical Center assessed each case and whether the patient could safely wait. All oncology cases took place as originally scheduled.
"Each situation is unique," Loftus said. "The level of impact the COVID surge has had on the acute care facilities and ability to handle that surge is variable."
Some health systems, such as University Health in San Antonio, Texas, have shifted care to ambulatory surgical centers or will operate on patients at the hospital who will be discharged home after their procedures.
On the other hand, Jersey City Medical Center closed its ambulatory surgery center, shifting the center's staff to care for inpatients. Staff members normally float back and forth between the ambulatory center and the hospital. Ambulatory cases that needed to proceed were performed at the hospital. Patients who needed admission post-op were assigned beds.
"It wasn't so much about admission status as about the potential impact on the patient," Loftus said.
The Advisory Board recommends assessing the average margin per case, to learn which ones are most profitable. They also should prioritize cases that will help them maintain market share.
Ultimately, public health experts note that the solution will need to include more vaccinations and masking to reduce COVID-19 spread and the need for hospitalizations, so surgeries can proceed as in 2019. Healthcare providers will also need to manage their staffing levels appropriately in order to maintain top-level patient care.
AMN Healthcare's locum tenens surgeons can be available on short notice for periods ranging from a few days to six months or longer.