Physical Therapists in Short Supply, Need for More Student Support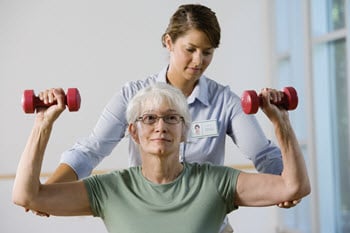 An aging population with more chronic diseases, combined with increasing numbers of Americans covered by health insurance, has led to a rising demand for physical therapy. Yet, despite an increase in new graduates, the shortage of physical therapy professionals is growing.
One problems is that PT students don't receive the support that's available for students of other clinical professions.
While nurse practitioners, physicians and many other healthcare professionals can participate in the National Health Service Corps Loan Repayment Program, and receive up to $50,000 toward student debt in return for two years of full-time clinical practice in the Corps, physical therapists are not eligible. The Physical Therapist Workforce and Patient Access Act (H.R. 2342/S. 1426), which would amend the Public Health Service Act, aims to change that fact.
National Health Service Could Help PT Shortage
The Corps is designed to increase access to primary healthcare services in rural and underserved communities. Currently, it provides care for more than 10 million of the neediest Americans at Federally Qualified Health Centers, hospital-affiliated primary care outpatient clinics, corrections facilities, mobile clinics and other facilities.
Pending legislation would add physical therapy to the definition of primary healthcare services, making physical therapists eligible for repayment of educational loans.
Today, a doctoral degree is required to enter PT practice. In 2013, the three-year degree program cost an average of $14,427 annually for public in-state schools and $31,716 annually for private universities, according to the American Physical Therapy Association (APTA).
National Health Service Corps could pay much of the PT doctoral tuition. The federal program will pay regardless of when a clinician graduated or the amount remaining on a loan. And in some cases, clinicians can apply for additional loan-repayment awards, after the initial contract. Clinicians can also work four years of half-time clinical service to meet their obligations to the program.
With a projected attrition rate of 3.5%, APTA estimates the country will have a shortage of 26,969 physical therapists by 2020. The U.S. Bureau of Labor Statistics Employment Projections, released in December 2015, stated that job openings for physical therapists due to growth and replacement needs would total 128,300 from 2014-2024.
Pending Legislation to Include PTs
Including PTs in the Corps would help boost the availability of rehabilitation services in underserved areas, in both the short- and long-term. Eighty-two percent of providers who start their careers with the Corps remain in those communities where they were originally placed.
For patients with chronic diseases, physical therapists can serve as an entry point to the healthcare system. They can help those patients with mobility issues, and PTs also have a direct effect on the person's quality of life and ability to work.
The National Health Service Corps legislation enjoys bipartisan support. Representatives John Shimkus (R-IL) and Diana DeGette (D-CO), introduced the bill in the U.S. House of Representatives and Senators Jon Tester (D-MT) and Roger Wicker (R-MS) in the Senate.