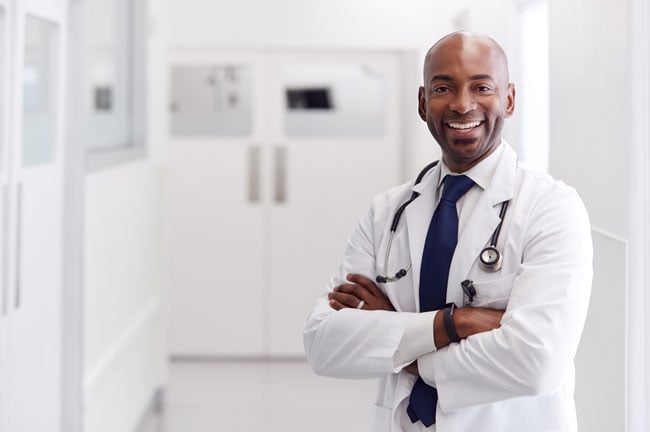 Top 10 Physician Trends in 2021
While no one has a crystal ball, experts believe some of the changes forced on the healthcare industry during the COVID-19 pandemic, such as telemedicine visits, are bound to remain strong in 2021.
"What 2020 has shown us is that innovation and use of technology is key to performance," said Amel Hammad, managing director and leader of the Healthcare Industry Practice at Conway MacKenzie, part of Riveron, a national advisory firm based in Chicago.
"In 2021, physicians need to think about how to continue to provide care to patients in innovative ways," she continued. "Once a vaccine is available to all, things will not go back to normal. We will not just pick up where we left off. Physicians will need to invest in technologies that allow them to provide the same type of visit they would provide in office, virtually."
What might the new year have in store for physicians?
10 trends expected to affect the practice of medicine in 2021
1. Telemedicine becomes a norm
Although virtual visits were expected to increase in 2020, they took off like a rocket.
"Because of the public health emergency of COVID-19, a lot of healthcare providers had to scramble to care for their patients," said Angie Howard, director of EHR optimization and provider experience at Medical Advantage, an advisory firm for physician practices, which is part of the TDC Group based in Napa, California. "Telehealth was one way to see their patients and not put their patients at risk, especially those that are chronically ill."
Hammad added, "Once, telehealth services were frowned upon but now have proven to be an efficient way to provide one-on-one care to patients to minimize the spread of a virus."
Patients and physicians both ended up appreciating the convenience of televisits. Clinicians can see more patients through telehealth. And some electronic medical record systems allow the televisit to be recorded and become part of the patients' records, and it is HIPAA compliant.
"Telehealth is the medicine of the future," Howard predicted.
Reimbursement for virtual visits have helped physicians. The Centers for Medicare & Medicaid Services (CMS) and many commercial insurers reimbursed physicians for evaluation and management visits in 2020. However, that Medicare coverage is coming to an end.
"The questions that need to be answered are, when is it necessary for an in-person visit?" Hammond said. "What tools do we need to be able to better leverage technology and telehealth services? What types of professionals do I need in the office setting to help meet the needs of the people we serve? What type of communication strategies do we need to take to inform the public that though during a pandemic, seeing the doctor may not be necessary, but why is it important now?
"Being proactive around answering these questions is critical to be prepared for providing physician service after COVID-19," she continued. "Given the vaccine is starting to become available, the 'end' of this will be near and waiting until then will put you behind the curve as most physician groups affiliated with larger health systems have already implemented tactical plans around these strategic considerations."
2. Patient resistance to in-person care
Patients will likely continue to avoid in-person visits, fearful of exposure to SARS-CoV-2, the virus that causes COVID-19. Most people like virtual visits. But as Hammond said, not everything can be done remotely, for instance, intra-articular injections of corticosteroids.
Jon Morris, MD, vice president, chief medical information officer and general manager of US Healthcare Solutions with IQVIA in Devon, Pennsylvania, reported in December fewer prescriptions and fewer new to-brand prescriptions are being written, year over year. During a webinar, he attributed the decrease to "fewer patients coming into the healthcare system" and "reduced demand in patient–physician interactions."
Eighty-six percent of physicians responding to The 2020 Survey of America's Physicians COVID-19 Impact Edition, which was conducted by AMN Healthcare on behalf of The Physicians Foundation, expressed concerns that in 2021 the healthcare system will be dealing with patients whose conditions were made worse by treatment delays during the pandemic.
3. Care continues to move to the home
The Council of Accountable Physician Practices (CAPP) in Washington, DC, anticipates more care moving to patients' home, away from brick-and-mortar facilities, and not solely telemedicine, because "home treatment for many patients can be safer, more convenient, less expensive, and more desirable." Specifically, CAPP expects growth of hospital-at-home programs.
Brigham and Women's Hospital in Boston launched a hospital-at-home initiative in 2016, providing hospital-level care to acutely ill patients in their homes. It has led to fewer unintended hospital events, reduced cost and patients being more physically active.
4. Remote patient monitoring and wearables
Caring for people at home combined with technology has led more patients monitoring their own heart rhythms, weight, blood pressure and other metrics. Often that information is electronically transmitted to their physician. Now, a billing code exists for the physician or nurse care manager to review that data and take action to prevent an emergency department visit or hospitalization, Howard said.
"It will be easy for patients to do this going forward," she added.
5. Technology for patient education
In addition to live video visits, asynchronous virtual care also is on the rise.
For instance, Mytonomy in Bethesda, Maryland, offers physicians a video education library, which they can ask patients to watch at home at their own pace about pre-op and post-op care, self-care for chronic conditions and healthy living.
"Asynchronous virtual care benefits the patient by giving them more control over their healthcare and a significantly more convenient option, accessible to them on any device, at any time," said Anjali Kataria, founder and CEO of Mytonomy. Studies of the care model indicate "improvement in patient activation and self-efficacy, which is correlated with better outcomes and reduced cost of care by involving the patient more directly in the care of their own health as an active learner in what to do to get healthier."
Kataria added the "power of this consumer-based learning/entertainment model is being unleashed in asynchronous virtual care, making it a powerful healthcare model."
6. Increased interest in becoming a physician
The number of people wanting to become physicians has increased since the pandemic and may help to relieve the physician shortage. The Association of American Medical Colleges (AAMC) estimates the United States will be short about 139,000 physicians by 2033.
Enrollment in medical schools was up 1.7 percent in the 2020 academic year, but the number of students applying for the 2021 school year was up 18 percent, according to AAMC.
7. Transition to paying for value
CAPP has predicted a continued movement toward value-based care, rather than volume. The organization stated that "Medical groups and health systems that provided care in value-based payment models had a more stable financial base, allowing them to weather the financial impact of the pandemic and meet their patients' needs in this crisis."
Better models of care and payment will be needed to keep primary care practices in business, CAPP reported.
8. Remedies for healthcare disparities
The COVID-19 pandemic has brought health disparities to light.
"Policymakers, healthcare providers and purchasers must collaborate to fundamentally address health disparities, which have once again been highlighted by the pandemic," according to CAPP.
Significant amounts of money is being spent to increase the number of minority physicians and to determine causes of disparities and bring about health equity.
9. Cash and Medicaid payments to increase
In 2021, Michael Kleinrock, senior director at IQVIA, predicted that unemployment related to COVID-19, which has caused people to lose their health insurance, will force people to turn to cash, discount cards or Medicaid. Peak Medicaid enrollment lags peak unemployment, often related to waiting periods for eligibility in some states.
Eighty-nine percent of physicians responding to The Physicians Foundation survey indicted ensuring access to high-quality, cost-effective care is an important future policy step.
10. More physician leaders
CAPP and 84 percent of physicians responding to The Physicians Foundation survey agree that more physicians will accept leadership roles to ensure strong, high-performing healthcare systems provide high-quality, cost-effective care to everyone.
The past year brought many unexpected challenges to physicians and other healthcare providers. While healthcare will likely never go back to pre-pandemic status, 2021 offers opportunities for medicine to evolve and change for the better.
AMN Healthcare is the nation's leading physician placement firm, with opportunities for physicians and advanced practitioners throughout the U.S.