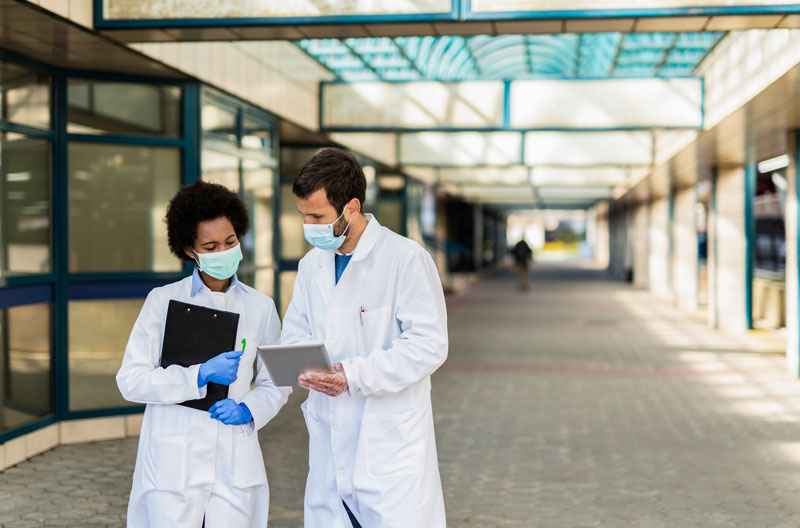 Physician Shortages in Medical Specialties in 2021: An Inside Look
Physician shortages have been affecting America's healthcare workforce for decades, contributing to a range of problems, from limited patient access and poorer outcomes to physician burnout.
Despite ongoing efforts by many healthcare leaders and academics to sound the alarm and find long-term solutions, "there doesn't seem to be a solution in sight," said Andy Olson, divisional vice president of recruiting for internal medicine subspecialties at AMN Healthcare, the nation's leader in physician recruitment.
"The physician shortage has always been part of the conversation, unfortunately," said Olson who has worked in physician search and recruitment at AMN Healthcare for more than 15 years. "We see the challenges every year, but sadly nothing has changed. Multiple bills have been introduced, and AMN Healthcare' leaders have even testified before Congress."
While Congress recently voted to add graduate medical education funding to last year's COVID-19 relief package and support 1,000 new residency slots, this increase will not come close to bridging the gap between physician supply and demand.
The projected shortfalls in physician specialties
The most recent projections from the American Association of Medical Colleges (AAMC) in June of 2020 show that the United States could see a shortage of between 54,100 and 139,000 physicians by 2033. This would include shortfalls in both primary and specialty care.
The range of physician shortages projected by 2033 include the following:
Primary care -- between 21,400 and 55,200 physicians
Nonprimary care specialties – between 33,700 and 86,700 physicians

Surgical specialties – between 17,100 and 28,700 physicians
Medical specialties – between 9,300 and 17,800
Other specialties (i.e. pathology, radiology, psychiatry) – between 17,100 and 41,900 physicians
The annual AAMC study found that physician demand will continue to grow faster than supply, largely driven by the aging population and an expected 10.4 percent population growth between 2018 and 2033.
The population under age 18 is projected to grow by only 3.9 percent, indicating low growth in demand for pediatric specialties. Yet the 65 and older population is projected to grow by 45.1 percent, indicating high demand for physician specialties that predominantly care for older Americans.
Additional findings showed that if currently underserved populations are given equal access to healthcare during this time period—which is a national goal—it could create even deeper shortages, with demand rising by an additional 74,100 to 145,500 physicians.
Demographics affecting shortages in medical specialties
"The country's demographics are definitely changing, and as we age as a nation, our physician population is impacted greatly," Olson said.
"We have made great advances in how we care for our elderly population," he continued. "The average life span continues to increase, which is wonderful, but the number of babies being born each year also continues to rise, or at minimum remain steady. What that tells us is there are more patients to care for now than ever before in our history."
"Most medical specialties also have roughly 50 percent or more of their physicians at the age of 55 or older," Olson noted. "We are on the verge of a perfect storm."
He pointed out that older patients have more chronic conditions and issues that affect physician demand in a variety of specialties, including a greater number of neurologic conditions, endocrinology issues, gastrointestinal issues and even cancer diagnoses.
Physician shortages are also expected to get worse as physician supply will be negatively impacted by a wave of retirements and older physicians who tend to cut back their hours.
"Without a plan to increase supply, it will get worse before it gets better," Olson said.
According to the 2020 American Medical Association Physician Specialty Report, (using data up through December 2019), 44.9 percent of all active physicians were 55 or older. The specialties with the largest number of physicians in the near-retirement group included:
Pulmonary disease physicians – 90.1 percent are age 55+
Preventive medicine physicians – 69.6 percent are 55+
Anatomic/clinical pathologists – 67.7 percent are 55+
Cardiologists – 62.8 percent are 55+
Psychiatrists – 61.3 percent are 55+
Thoracic surgeons– 60.1 percent are 55+
Orthopedic surgeons – 57.7 percent are 55+
"Although many of the physicians in these specialties extend their careers to help cover the need, they reduce their total hours worked, and many hospitals have bylaws that no longer require them to take call," said Mike Jowdry, vice president of recruiting for AMN Healthcare, who has worked in various divisions of the company for the last 20 years.
"We have yet to properly address increasing our residency and fellowship programs to make up for the perfect storm of physicians retiring or slowing down and the increase in overall demand for their services," Jowdry added.
The top physician specialties in "absolute demand"
A June 2020 white paper by AMN Healthcare outlined a number of factors that are affecting physician supply, demand and staffing during and post COVID-19.
In the months leading up to the pandemic, the following specialties were found to be the top 10 in "absolute demand" – i.e., number of job openings vs. number of physicians in a given specialty:
1. Neurology
2. Psychiatry
3. Gastroenterology
4. Hematology/Oncology
5. Dermatology
6. Urology
7. Otolaryngology
8. Geriatrics
9. Rheumatology
10. Family Medicine
While it's hard for anyone to predict how these specialties experiencing shortages may change in the new COVID environment, the paper's authors note several emerging trends, including an increase in overall demand for physicians:
"Most of the factors driving physician supply and demand, including an aging population, widespread chronic illness, and a static supply of physicians, will remain in place. It can be expected that general health, both physical and mental, will be negatively affected by the pandemic, accelerating demand for doctors. Added to these factors will be increased volatility in the physician workforce, as doctors react to what for many has been an extremely challenging time that has compromised their finances and their health."
"The 'new normal' therefore is likely to resemble the old normal in at least one regard -- shortages of both primary care and specialist physicians will prevail," they concluded.
How COVID is affecting physician demand across specialties
"A year ago, at least 50 percent of the physician recruitment business came to a screeching halt, when hospitals and groups put a pause on nonessential services and elective cases," Olson said. "Specialties like orthopedic surgery, routine GI routine screening and dermatology took a hit. But now it has started to pick back up, especially as more services are now delivered via telemedicine, including dermatology consults."
Jowdry expects that telemedicine will have an ongoing impact on the physician workforce.
"We don't see telehealth services going away," he said. "In fact, some candidates now are specifically looking for that, they have narrowed their search parameters. While many physicians want to practice in person, telemedicine will definitely be part of what candidates and clients are looking for in the future."
Olson and Jowdry outlined several specialty trends during the pandemic:
Pulmonary and critical care have remained in-demand specialties, Olson noted, often with ICUs being full to overflowing with COVID patients.

Cardiology has maintained consistent demand, and family practice has been flat, but Jowdry expects the latter to start slowly increasing.

After the initial drop in demand, gastroenterology (GI) physician requests continue to rise; "The need is still there, and has compounded itself in some cases. Hospitals and practices are getting back on track," said Jowdry.
Dermatology searches are also up again, as patients are now able to do some elective procedures like laser treatments, and people desire to get back to normal life.
AMN Healthcare has also seen more requests for geriatric medicine specialists lately, but the supply isn't expected to go up anytime soon. "As an industry we have to consider physician compensation and reimbursement rates, and find a way to incentivize entry into these fields," said Olson.
Orthopedic and plastic surgeons saw a drop in demand when the pandemic hit, but urology and ENT surgery didn't really slow down, as the aging population tends to always need these services.
The reduction in elective surgeries affected the demand for anesthesia providers, but they are already seeing a rebound. "We're seeing significant uptick in requests for anesthesiologists and CRNAs over last two quarters," said Jowdry.

Other physician specialties that have seen rising demand in recent months include psychiatry, neurology and radiology, with more imaging and patient encounters being done via telemedicine.
Pressing on toward future solutions
"What to do about physician shortages is long-term question; a lot of conversations still need to take place to overcome that expected shortage of more than 130,000 physicians by 2033," said Jowdry. "There is a lot of work that needs to be done. Telehealth will certainly allow for some physicians to have greater reach in their coverage, which will help, but that's just one piece of the puzzle."
Moving forward, AMN Healthcare will continue to conduct industry research, lobby government and work with our healthcare partners to address this ongoing crisis.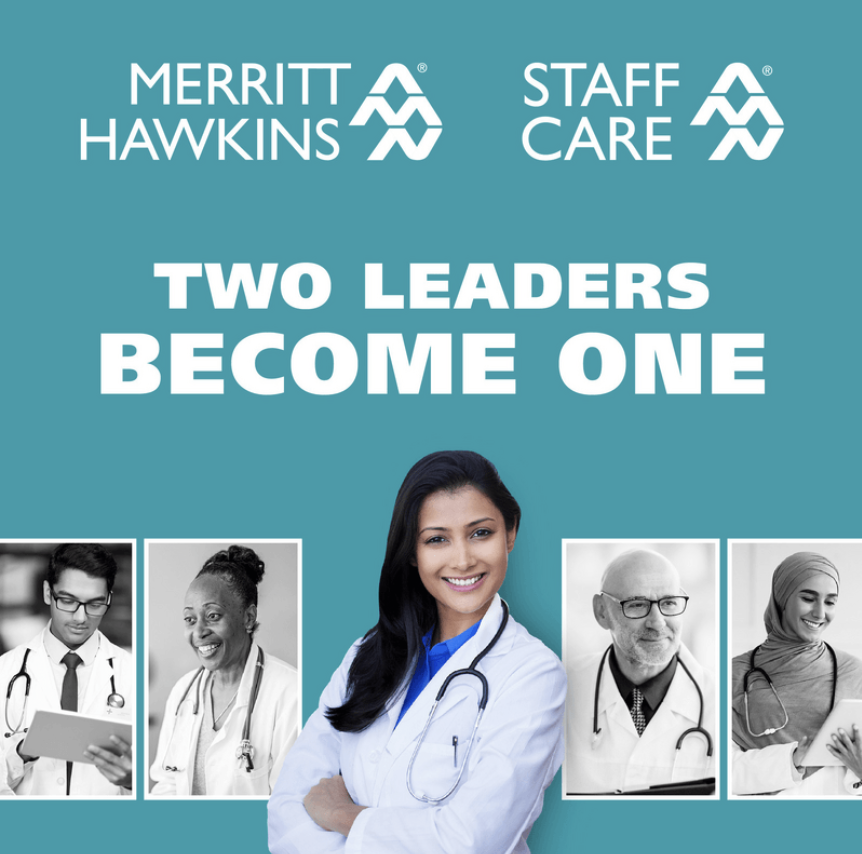 Welcome to AMN Healthcare
Bringing two Physician staffing leaders, Merritt Hawkins and Staff Care, together as AMN Healthcare.