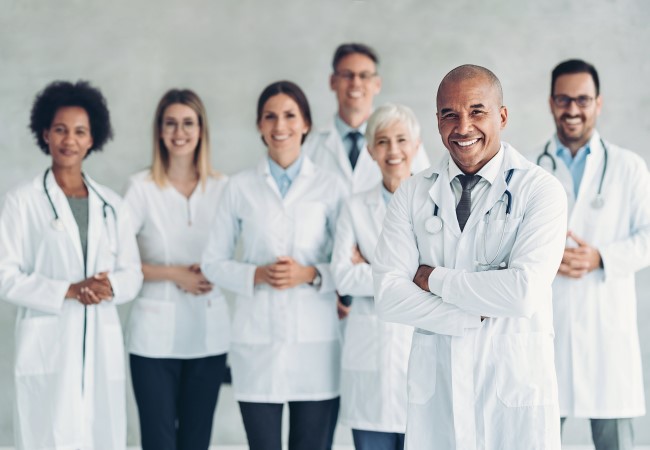 Most Sought-after Locum Tenens Specialties
Locum tenens physicians and advanced practitioners are in demand, across a wide range of medical specialties. And the demand for these temporary and part-time practitioners continues to grow.
An industry survey in 20171 found that 94 percent of healthcare facility managers reported using locum tenens physicians sometimes within the previous year, which was the highest response ever noted in the survey's 14-year history.
Yet some physician specialists may find more locum tenens assignments than others.
The most in-demand locum tenens specialties are often found in primary care, followed by acute care, urgent care clinics, and other types of healthcare facilities.
Recent industry surveys and our' own experience with client requests have found the following specialties to be most consistently in demand.
(NOTE: Some locum jobs are full-time, temporary positions, with free housing and travel benefits included. Others are part-time opportunities that could be close to home, serving as opportunities to supplement your income or transition from full-time practice.)
SEARCH LOCUM TENENS JOBS NOW >
5 Top Locum Tenens Specialties in Demand
America's emergency departments are busier than ever, handling nearly 150 million patient visits annually, according to data from the American College of Emergency Physicians and the Centers for Disease Control and Prevention. And a 2017 study by the University of Maryland School of Medicine showed that nearly half of all U.S. medical care is delivered by emergency departments.
This burgeoning patient volume in the ED has driven the need for locum tenens emergency physicians across all regions of the country. Locum assignments in emergency medicine are typically available in everything from large trauma centers to pediatric hospitals and free-standing emergency departments. FIND locum tenens emergency medicine jobs.
2. Urgent Care
Healthcare consumers continue to push for more convenient care options, which has been causing significant growth in urgent care and retail clinics. Health systems, specialty chains, and physician groups are getting on board to meet the demand, and many are turning to locum providers to fill their staffing needs.
Our recruiters are consistently busy meeting the demand for urgent care physicians. Some assignments include options to work in more than one facility, and the ability to choose your preferred shift. FIND locum tenens urgent care jobs.
3. Obstetrics and Gynecology (OB/GYN)
OB/GYN physicians and advanced practitioners are the key practitioners in women's health, especially during a woman's childbearing years. Recent studies have shown that the vast majority of women see their OB-GYN for their annual well-visit to the doctor, and many treat them as their primary care physicians.
While most OB/GYNs can provide a wide spectrum of services, others are more specialized in certain aspects of women's health. No matter your area of expertise, OB/GYN locum tenens assignments are widely available in physician practices, women's clinics, and hospital medicine. FIND locum tenens OB/GYN jobs.
4. Family Practice
Despite growth in specialty practices, family physicians and advanced practitioners continue to be in demand, thanks to the country's growing number of insured patients and a greater emphasis on preventive care, cost management, and care navigation.
Family physicians are the only specialists qualified to treat most ailments and provide comprehensive health care for people of all ages. They deliver a range of acute, chronic, and preventive medical care services while providing patients with a patient-centered medical home. Practitioners looking for locum tenens positions in family medicine can find a wide range of options. FIND locum tenens family practice jobs.
5. Hospital Medicine
A relatively new field, hospital medicine has grown rapidly in the 20-plus years since hospitalists were first identified as a unique specialty. And the field continues to grow, with more physicians leaving private practice and opting for employment at a variety of acute care facilities.
Hospitalists are called on to treat a wide variety of cases and often serve as the go-to physicians for hospitalized patients. Locum tenens hospitalist positions may be appropriate for physicians with training in internal medicine, pediatrics, and other specialties, depending on the facility. FIND locum tenens hospitalist jobs.
More locum tenens specialties in demand
As noted earlier, AMN Healthcare helps a variety of physician specialists and practitioners find the right locum tenens assignments.
In addition to the list above, our clients also have a healthy demand for locum tenens specialists in:
1Source: 2017 Survey of Temporary Physician Staffing Trends by AMN Healthcare